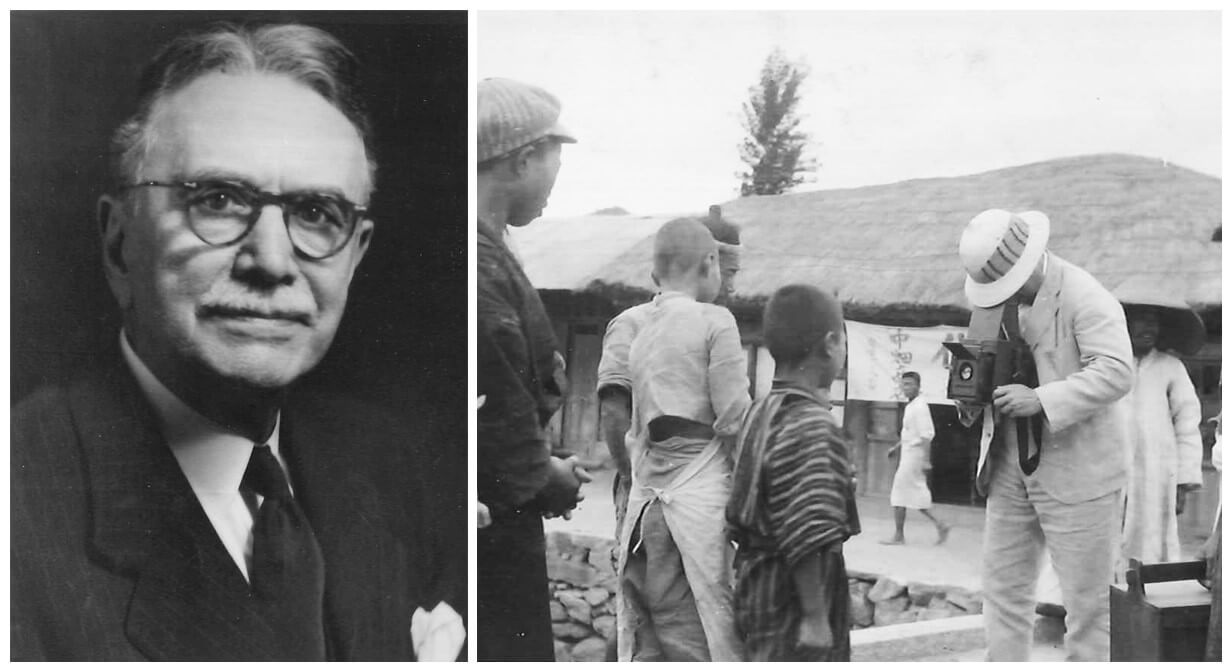 Herbert Welch, who founded the Methodist relief agency that later became UMCOR. Right: Welch taking photos in Korea, 1919, where he served as a mission bishop. PHOTO: GENERAL COMMISSION ON ARCHIVES AND HISTORY
---
By Christie R. House*

Which of these three, do you think, was a neighbor to the man who fell into the hands of the robbers?
Luke 10:36 (NRSV)
When Jesus was asked, "who is my neighbor," he answered with a story. The man who asked the question seemed more interested in what he needed to do to merit eternal life than he was in loving his neighbors. While he could recite the law – that God commands us to love our neighbors as we love ourselves – he was hoping for a reasonable limitation to the generosity of his outreach.

Jesus turns the definition of "neighbor" upside down when he tells the story of the Good Samaritan. What makes a person our neighbor is not that he or she lives close by, is a member of our faith community, or even whether we know the person at all. Jesus defines neighborliness as an action motivated by love, available to anyone and everyone we encounter who is suffering. If we recognize the need, we are called by God to respond as a neighbor. Jesus makes the "neighbor" all who heard the parable – all of us.

The United Methodist Committee on Relief has answered God's call to be a neighbor for nearly 80 years. Thomas Kemper, Global Ministries' general secretary, describes UMCOR's 1940 founding as "a powerful Wesleyan tradition of concern for the vulnerable. Its founding was triggered, in part, by memories of the horrendous effects of World War I on civilian populations. Bishop Herbert Welch, its founder, conceived the idea as a loving response to a world of violence. God's grace equips us for this obligation."
A tradition of response
Although the Methodist Committee on Overseas Relief concentrated its first efforts on relief for war-displaced communities in China, it wasn't long before the agency partnered with other ecumenical responses to serve displaced people in Europe and other regions affected by the war.

After the war, receiving relief was not dependent on whether the survivor's country of origin was an aggressor or a defender. Refugees held as prisoners of war on all sides received aid from MCOR through its ecumenical partnerships.

Today, UMCOR continues this tradition in work with immigrant communities and refugees globally. In the past year, UMCOR has supported partners in Iraq, Syria, South Sudan, Armenia, Bangladesh, the Philippines, Ecuador, Haiti and Nicaragua, among others. Along the U.S. and Mexico border, UMCOR grants assist U.S. churches and partners addressing migrant needs on both sides of the border.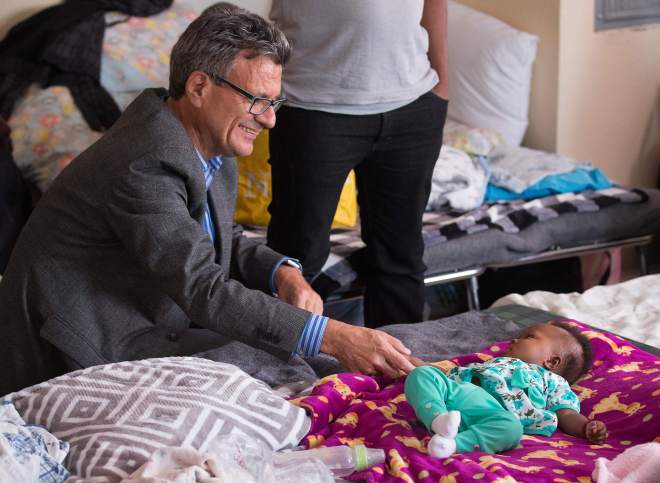 Last year, the Democratic Republic of the Congo experienced conflicts and land disputes that displaced people across the country. East Congo, which has endured prolonged periods of conflict since 1996, hosts millions of displaced people. United Methodists in Uvira shelter about 2,500 people who fled the latest outbreaks of violence. Central Congo experienced conflicts as well, particularly in the Kasai region. UMCOR approved solidarity grants so that all four DRC United Methodist episcopal areas can meet the needs of displaced populations.
U.S. responses, big and small
After Hurricane Andrew in 1992, UMCOR ramped up its ministries for U.S. disaster response. While Andrew was the strongest storm to hit the U.S. in decades, today's superstorms are often larger, cause more damage and occur more frequently. Training disaster response teams in U.S. episcopal areas allows UMCOR to respond alongside conference teams and churches in every state. Although news about disasters fades quickly, UMCOR programs provide multiyear, phased support for storm survivors. Case management, in which individuals and families are served by trained counselors on a case-by-case basis, helps survivors recover in ways that fit their unique circumstances.

Smaller, lesser-known storms may also require UMCOR to respond as a trusted neighbor. In 2018, for instance, a summer downpour dumped eight inches of rain on Brick, New Jersey, in just a few hours. Greenbriar senior residents had to be evacuated by boat. When the waters receded, about 100 homes in the senior community were uninhabitable. The disaster response team of the Greater New Jersey Conference worked with Ocean County United Methodists to apply for an UMCOR grant, which helped with building materials, appliances, and funds for licensed contractors. Greater New Jersey congregations sent volunteer teams to work with Jersey Shore United, the nonprofit agency that organized recovery efforts in the Greenbrier community.
From recovery to sustainability
In 1948, the Methodist relief agency's mandate expanded to include "rehabilitation," which implemented long-term development work intended to rebuild communities after conflict or natural disasters. UMCOR's current sustainable development programs encompass agricultural development, disaster risk reduction, health projects, water and sanitation projects and renewable energy solutions. The combination and integration of these programs assist communities to build back better after disaster. Vulnerable communities affected by climate change have become a growing concern for UMCOR.
In January 2019, Global Ministries hosted an agricultural summit in South Africa with agricultural missionaries and representatives from African annual conferences. Lorraine Charinda, from Zimbabwe, has been serving as an agricultural missionary in the North Katanga Episcopal Area of the DRC for about a year. When she arrived at Kamisamba farm, there was little more than dry fields and a few pigs – but also a couple workers. Within a year, they planted more than 74 acres, raised the pig count to 30, increased the number of workers, supplied vegetables for the annual conference, renovated the training center and trained farmers in eight districts. Helping the central conferences with better food security and crop yields is another way to express solidarity in the face of conflicts, challenges and displacement.
In the words of Bishop Herbert Welch, UMCOR was founded for "the relief of human suffering without distinction of race, color or creed." Today, UMCOR affirms that commitment, addressing the needs of unserved and vulnerable populations while maintaining the dignity of survivors. Well-implemented humanitarian assistance from a faith-based relief agency can be a real and tangible sign that God loves all people.
Visit www.umcor.org to sign up for email announcements, discover the latest UMCOR responses, and read stories about United Methodists serving their neighbors through UMCOR. Supporting UMCOR Sunday, March 31, gives UMCOR the capacity to respond where needed and when called, whatever the situation.
*Christie R. House is a senior writer and editor with Global Ministries.