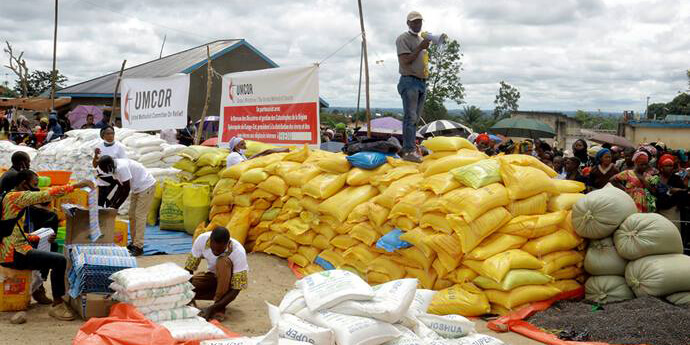 Jean Tshomba, coordinator of the United Methodist Committee on Relief's disaster management office in East Congo, explains to displaced people where the aid comes from and how it is distributed at Kalinda Stadium in the Mulekera commune in Beni, Congo. UMCOR provided almost $100,000 USD for food and other relief. Photo by Philippe Kituka Lolonga, UM News.
---
By Philippe Kituka Lolonga
June 3, 2021 | BENI, Congo (UM News)
In northeastern Congo, many farmers are afraid to work in their fields, due to threats by Allied Democratic Forces rebels. Hunger and starvation are daily realities.
In response, the United Methodist Committee on Relief recently provided almost $100,000 USD, buying a one-month supply of food and other necessities for more than 850 vulnerable households.
According to the United Nations High Commissioner for Refugees, violence has increased significantly in the eastern provinces of Congo. More than 20,000 security incidents were registered in 2020, an increase of 38% over 2019.
Tensions have risen since the launch of a government-led security operation against the ADF in October 2020. Armed groups have targeted civilians and displaced populations in the region, killing scores of people.
The European Civil Protection and Humanitarian Aid Operations reported a new wave of extreme violence affecting Beni in North Kivu. Since December 2020, 150 civilians have been killed and more than 100 people wounded or kidnapped. Most were women and children. On May 1, Congo President Felix Tshisekedi Tshilombo declared a state of siege in the regions of North Kivu and Ituri.
Some 67,000 people have fled their homes and are now living with host families in Beni. These populations are extremely vulnerable and in need of food, health supplies, and access to clean water and sanitation.
Kavira Mwavita, the mother of three children, lost her husband to the ADF violence. Now homeless, she received food and other items from the UMCOR-led distribution. "The church has given me hope for life," she said.
In January, Chantal Masika was raped by ADF soldiers. "The United Methodist Church has shown us love," she said. "I have never received any help, but today the church has given me a smile."
Her family of 10 moved to Beni after the assault.
"I ask the church to accompany us psychologically, too," Masika said, "because if I remember this rape in the presence of my husband, I am sometimes traumatized."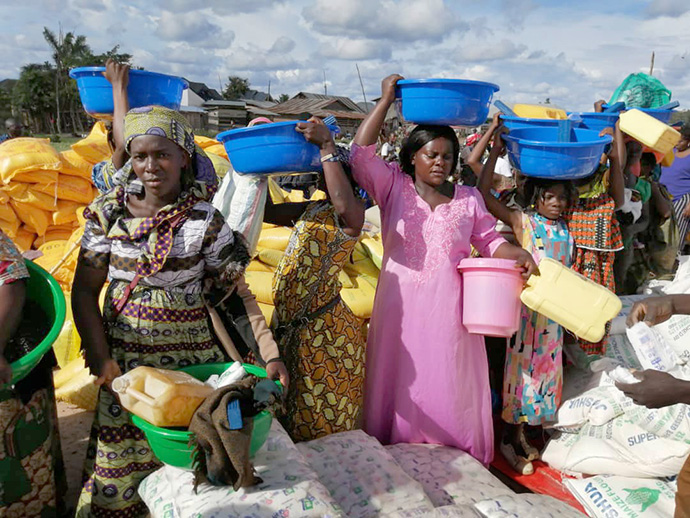 Henry Sinvansire, a Beni District lay leader and volunteer, said The United Methodist Church preaches by acts of kindness, rather than words. Even as the distribution was occurring, ADF forces burned down the Samboko Moliso United Methodist Church, 25 miles from Beni.
Justin Matembere, the village chief of Samboko, said, "This action of The United Methodist Church for us displaced is beneficial."
He expressed hope that other groups would "help us because we live homeless, and we are exposed to several health difficulties with our families."
He called on the Congolese government "to restore peace in our villages so that we can regain our homes."
The situation in Beni has been critical for two decades, with the insurgence of ADF. By rejecting food assistance from local authorities, survivors are trying to prompt the government to focus on eliminating the rebel forces. Affected populations are seeking help from faith-based and humanitarian organizations.
Bintou Diao is a program manager for UMCOR's International Disaster Response unit.
"The implementation (of the food distribution) was particularly interesting," she said, "because armed groups representing the displaced and the local community in Beni have been protesting, often violently, against local government authorities and humanitarian actors to express their frustration with the lack of security and the government's inability to restore peace in the area."
When the team arrived in Beni, they first engaged in negotiations with various local groups to get access to the displaced for the distribution.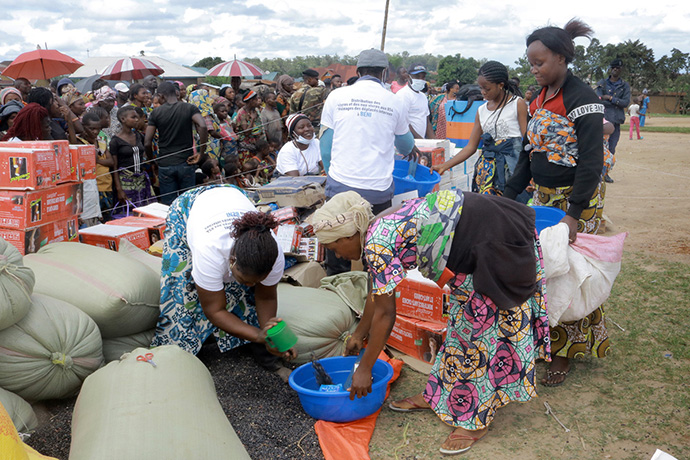 Jean Tshomba, coordinator of UMCOR's disaster management office in Eastern Congo, identified the most vulnerable displaced households, selecting recipients regardless of ethnicity, religion or race. He urged other humanitarian organizations and religious groups to join United Methodists in similar efforts.
Tshomba said the level of insecurity in the area and continuous gunshots made the process stressful and daunting at times. Yet, the team gained the trust of local leaders by demonstrating full transparency about their intentions and by involving some of their members in the relief activities.
Bishop Gabriel Yemba Unda of the East Congo Episcopal Area thanked UMCOR for the rapid intervention.
"I appeal to the entire population to unity, love and prayer," he said, "for the restoration of lasting peace and to support the president."
Philippe Kituka Lolonga is a communicator in the Kivu Conference.