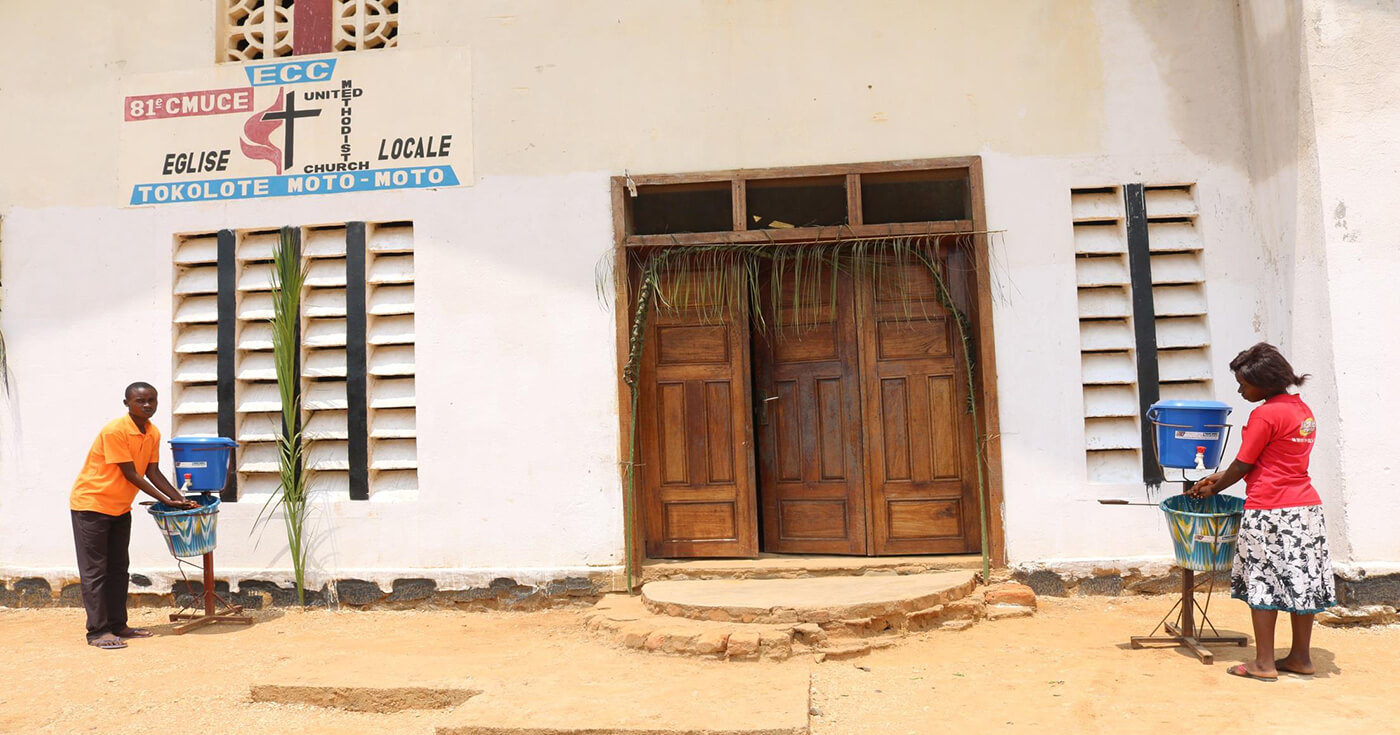 By Tatenda Mujeni, Megan Klingler, and Dr. Graciela Salvador-Davila
July 25, 2019 | ATLANTA
On July 18, the World Health Organization announced a confirmed case of Ebola in Goma, an eastern border city of the Democratic Republic of Congo. Goma, with over 1 million inhabitants, is located on Rwanda's western border and has high commercial activity, resulting in a porous border that facilitates continual crossings.
"A confirmed Ebola fatality in Goma City represents a major challenge for the East Congo health system. It is a perfect medium for the eastward spread of Ebola," says Dr. Graciela Salvador-Davila, director, Global Health, and technical advisor for Health Systems.
This most recent outbreak of Ebola in the DRC was first identified in August 2018 in the North Kivu province. This outbreak caused great alarm when the disease began spreading to the cities of Kindu and Kisangani, which have linkages to the larger commercial cities of Goma and Bukavu. Unlike previous Ebola outbreaks in the DRC that were contained to remote areas, the spread to urban centers, particularly the port city of Goma, has the potential to be catastrophic.
Dr. Salvador Davila adds, "The Global Ministries-supported network of UMC health facilities in the East Congo region are well-positioned to mitigate the spread of this killer disease." Within 24 hours of the WHO's announcement, Dr. Damas Lushima, the East Congo health board coordinator, received from Global Health a protocol developed in 2015 by the WHO, the African Union, the Liberian government and the U.S. Centers for Disease Control and Prevention on actions to be taken to reduce exposure to the Ebola virus. It also contained practical recommendations to screen, isolate and refer potential Ebola cases.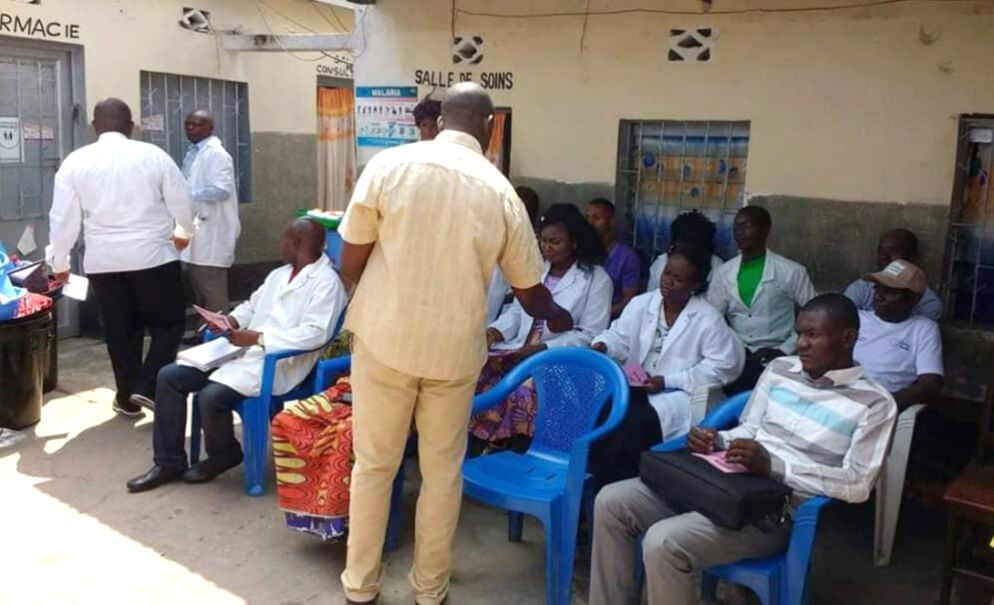 Combatting Ebola through training
Although such protocols are imperative, they are ineffective without a high level of trust in community leaders. Patients and family members must feel free to report signs and symptoms to health providers without concern for judgment or retaliation. In many instances, transporting patients outside their community was not welcomed. Rooted in their local communities, United Methodist health facilities are aware of these and other barriers. The UMC doctors, nurses and staff strive to make themselves approachable and are prepared to offer guidance and support to families in need.
On July 22, 2019, Global Health launched a refresher training for East Congo health staff aimed at standardizing Ebola knowledge among facility and community-based providers. It included identification of Ebola signs and symptoms, patient referral, potential patient isolation sites and infection-prevention practices. Freshly trained staff are now disseminating this information among colleagues and community members; in doing so, the Ebola circle of knowledge is expanding daily.

Partnerships make a difference
UMC clergy, church leaders and medical professionals are agents of change, with cultural experience and medical knowledge gained over many years of engagement with their communities. UMC pastors played a pivotal role in modifying burial behavior and rituals during Sierra Leone's 2014-2015 epidemic. This allowed mourners the opportunity to grieve appropriately without fear of further spreading the disease. These actions contributed to saving lives. Fortunately, the clergy of the East Congo Episcopal Area are trusted at the community, government and medical facility levels. These strong relationships ensure that community and health professionals will be assisted in educating and advocating for measures that will promote health and safety during this most recent outbreak.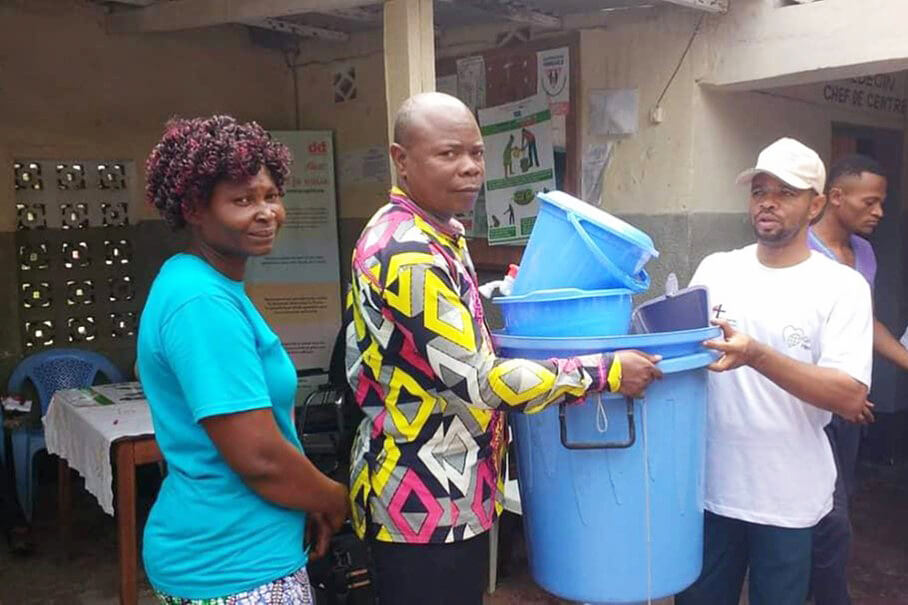 Global Ministries and the East Congo Health Office have been proactive in their approach to the Ebola outbreak in the DRC. The East Congo Episcopal Area received two grants from the Global Health unit in the last year, specifically to address Ebola community education and prevention.

Global Ministries, through its Global Health unit, has responded to previous Ebola outbreaks. In 2018, a grant was awarded to the East Congo Episcopal Area to increase awareness of the disease in the community and in health facilities in Kindu and Kisangani. The grant made it possible for leaders to communicate risk factors to limit the spread of the disease. Messaging included instruction on enhancing and reinforcing hygiene and handwashing practices delivered through a Short Messaging System (mass text messaging) and radio broadcasts and through hygiene trainings conducted in local churches, health facilities and schools.

Despite these and other efforts, Ebola continued to spread. Evidence of the disease in Beni, a city neighboring the larger cities of Goma and Bukavu, caused alarm and led the East Congo Episcopal Area to request an additional grant to support further education and prevention measures. The grant expanded the reach of the conference's efforts to the surrounding cities of Goma, Bukavu, Uvira, Rutshuru, Kiwanja and Bunyakiri. In addition to trainings and widespread educational appeals, the East Congo Episcopal Area Health Board also provided handwashing stations at local schools, churches and health facilities.

"We have churches, orphanages, schools and health facilities in Goma. Many UMC agencies and members are at risk," said Dr. Lushima in a conference call on July 18, 2019. "The General Board of Global Ministries and the East Congo Episcopal Area are ready and willing to offer their best efforts and practices to address the needs of their brothers and sisters. All agree that the loss of one life is one too many."

Tatenda Mujeni, MPH, is the program manager for Imagine No Malaria with Global Health. Megan Klingler, MPH, BSN, RN, is the primary healthcare specialist with Global Health. Dr. Graciela Salvador-Davila, MD, MS, MPH, is the director of Global Health and a technical advisor for Health Systems.