Barbara Brooks, deaconess, former Church, and Community Worker and US-2, currently serves as a Mission Volunteer in Reynosa, Mexico, on the border with McAllen, Texas. Inset: Barbara as a US-2 in Camden, South Carolina. Right: The bell and eagle on Boylan Haven Mather's former campus.
PHOTOS: COURTESY BARBARA BROOKS
By Christie R. House
July 20, 2021 | ATLANTA
God plants seeds every year as new classes of young adult missionaries are commissioned by Global Ministries and sent out to their assignments. US-2 missionaries, who serve in the U.S. outside their home communities, have been commissioned each year since the founding of the program in 1951.
It is difficult to keep track of where the individuals go after they leave the two-year program, what they end up doing and how their mission experience influences the rest of their lives. Reflection on those years of service often changes throughout the participants' lives depending on their ages and which dormant seeds have sent out new shoots of possibilities.
"My US-2 experience helped me to hone in on who I am and to be authentically me," Marcharkelti McKenzie said, class of 2014-2016. McKenzie is from North Carolina and served with Open Door Ministries in Prichard, Alabama.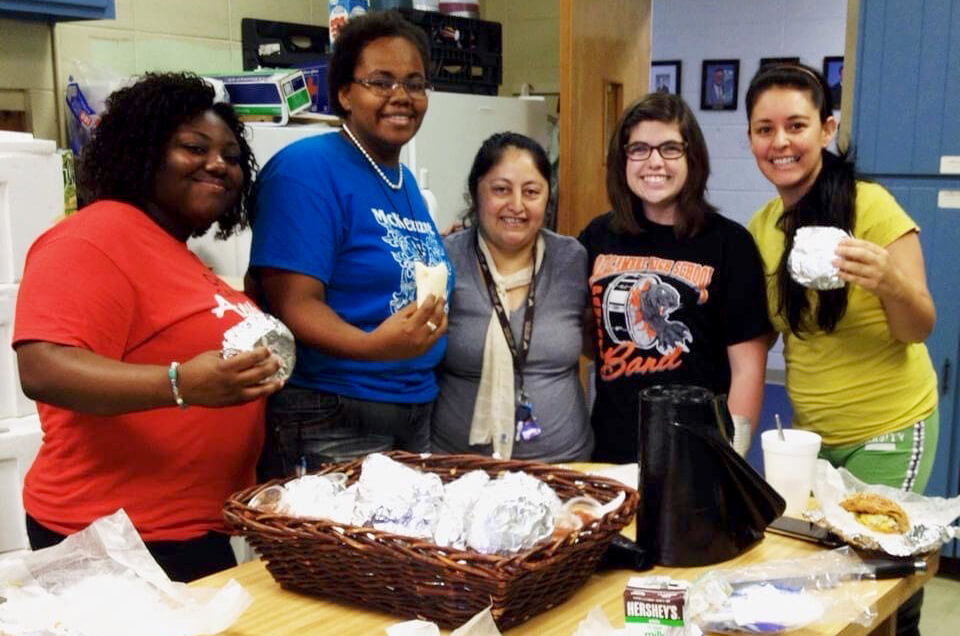 She admits it was a tough assignment, but the challenge of moving forward, away from family and traditional support networks, is part of what enriched her experience. Her job description was fairly fluid when she arrived, so she took the reins and created her own position across several different churches and ministries.
"St. John's UMC became one of my pillar workplaces. I developed a youth camp while I was there, and I did it from the ground up with St. John's members," she explained. "They didn't think they were able to do it, but I was able to show them they could. The program continues today."
US-2 beginnings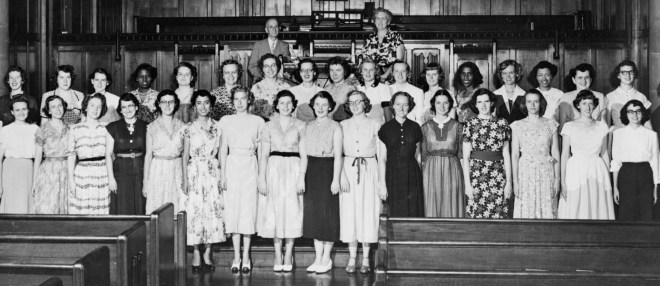 The US-2 program developed as part of a larger young adult mission movement after World War II to increase the missionary presence in war-torn Japan and Korea for 3-year assignments. These missionaries were known as "J3s" and "K3s." They were joined over time by LA3s serving in Latin America, A3s serving in African countries, and so forth. The regional 3s program gained recognition and support across the denomination.
In 1951, the Woman's Division of Christian Service, a predecessor of United Methodist Women, established the US-2 program as a 2-year service term within the United States. Originally, US-2 stood for "us too," among Methodist Women, and the program was only open to single women applicants when it began, which fell in line with a centuries-old tradition of women serving in mission. But by the following year, men had joined the US-2 ranks.
From the outset, small groups of ethnic-minority young adults, particularly African-Americans recruited from Central Jurisdiction congregations and Latin Americans from the former Rio Grande Missionary Conference, participated in the young adult programs.
The regional 3s program ended in the 1960s, but the US-2 program continued with Global Ministries. Today, Global Ministries commissions young adult missionaries for a two-year term of service as Global Mission Fellows, serving either in the United States as US-2s or as international GMFs outside their countries of origin.
Insights for a lifetime
Former and current US-2s reflecting on their years of service focus on different gifts, depending on their age and experience, but most mention some aspect of the following: finding Christian community, gaining a broader view of social justice in the world, and reaching beyond barriers – whether social, economic or racial – to form meaningful relationships.
Amy Brown, who served as a US-2 from 2004-2006, says being a part of the program helped her figure out her calling to work in the community. "Is God calling me to be in the local church in some way by going to seminary and being ordained, or is my calling to serve in a different way? The program helps young adults discern and see ministry in lots of different ways."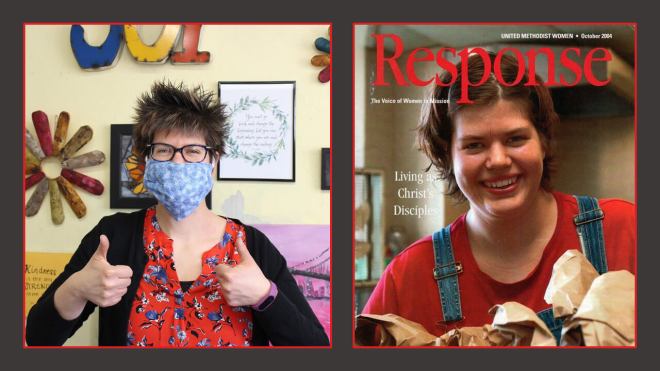 Brown, from Alabama, served two years with Networking, Organizing, and Advocating for the Homeless (NOAH), an outreach of Central United Methodist Church, Detroit Community Development Corporation, in Michigan. "It became clear to me at the end of my US-2 term that I had no desire to go to seminary," she said.
Her path was to stay in Detroit, a city she had grown to love and study for a master's degree in social work. She then returned to NOAH as the assistant director and in 2013, became NOAH's director.
Emily Palm, the current US-2 working with NOAH, studied neuroscience at college but decided to switch majors in her junior year to work with people in a direct service role. Her pastor in Northern Illinois, the Rev. Jane Eesley, suggested she look at the US-2 program since the coronavirus pandemic interrupted the international GMF program in 2020. Eesley had served as a mission intern – a former young adult missionary program of Global Ministries with both international and U.S. service components.
"I wanted some kind of direct service opportunity to get that practical experience, but most social work or casework jobs require a year of work experience – or they want you to have your master's degree already," Palm said. Now she devotes a couple of days a week to casework with NOAH clients as they navigate Detroit's social services on their journey to finding permanent homes. "I couldn't have an experience like I am having at NOAH except through the US-2 program," she confirmed.
For McKenzie, who is back in North Carolina, her experience helped her discern a call to ordained ministry, which was not something she had planned. She graduated from Gammon Theological Seminary in Atlanta with a Master of Divinity and has just received her first appointment as a supply pastor with John Wesley United Methodist Church in Fayetteville. She is in the process of seeking ordination. She says that the US-2 intentional community model of living helped her in many ways, but particularly with accompaniment, household budgeting, and healthier eating.
In later years
Former US-2s who are now retirement age and older reflect on how the program influenced their understanding of life service and purpose in the church. Barbara Brooks was commissioned in 1971. She was from a predominantly white community in Indiana and was assigned as a teacher with Boylan-Haven-Mather, an African-American Methodist high school in Camden, South Carolina.
"It was a fantastic assignment," she said. "I walked into a community. One of the things they told us in US-2 training at least two or three times a day was, you have to find the community and build the community where you are. I walked into a community where there was already a deaconess, a couple home missionaries, and another US-2. Community was built in. The Mather family was 'the family.'"
When asked if the change from the Midwest to Southeast and from a white to an African-American community was a culture shock, she answered: "Yes. And I loved it!" She taught physical education and after her US-2 term, she studied to meet the deaconess requirements. She continued to teach at Mather until it closed in 1983.
She worked in several deaconess assignments and as a Church and Community Worker at Bethlehem Center in Columbia, South Carolina. Eventually, a door opened for her to teach in Cali, Colombia, which she accepted. Today, though retired, Brooks continues to seek opportunities to serve in mission. Currently, she is in Reynosa, Mexico, as a Mission Volunteer with missionary Guillermo (Willie) Berman.
Brown noted that years later, she is still unpacking her US-2 experience. "I feel like the US-2 program is the best-kept secret in The United Methodist Church. You discover many United Methodists who have shared the experience, yet the program is not well known. In part, the beauty of the program is the interconnectedness of people in a small program."
For more information about the US-2 program's 70th anniversary, visit this page. US-2 alumni will have a chance to meet together virtually, October 1-2, 2021.
---
Christie R. House is a consultant editor and writer with Global Ministries and UMCOR.