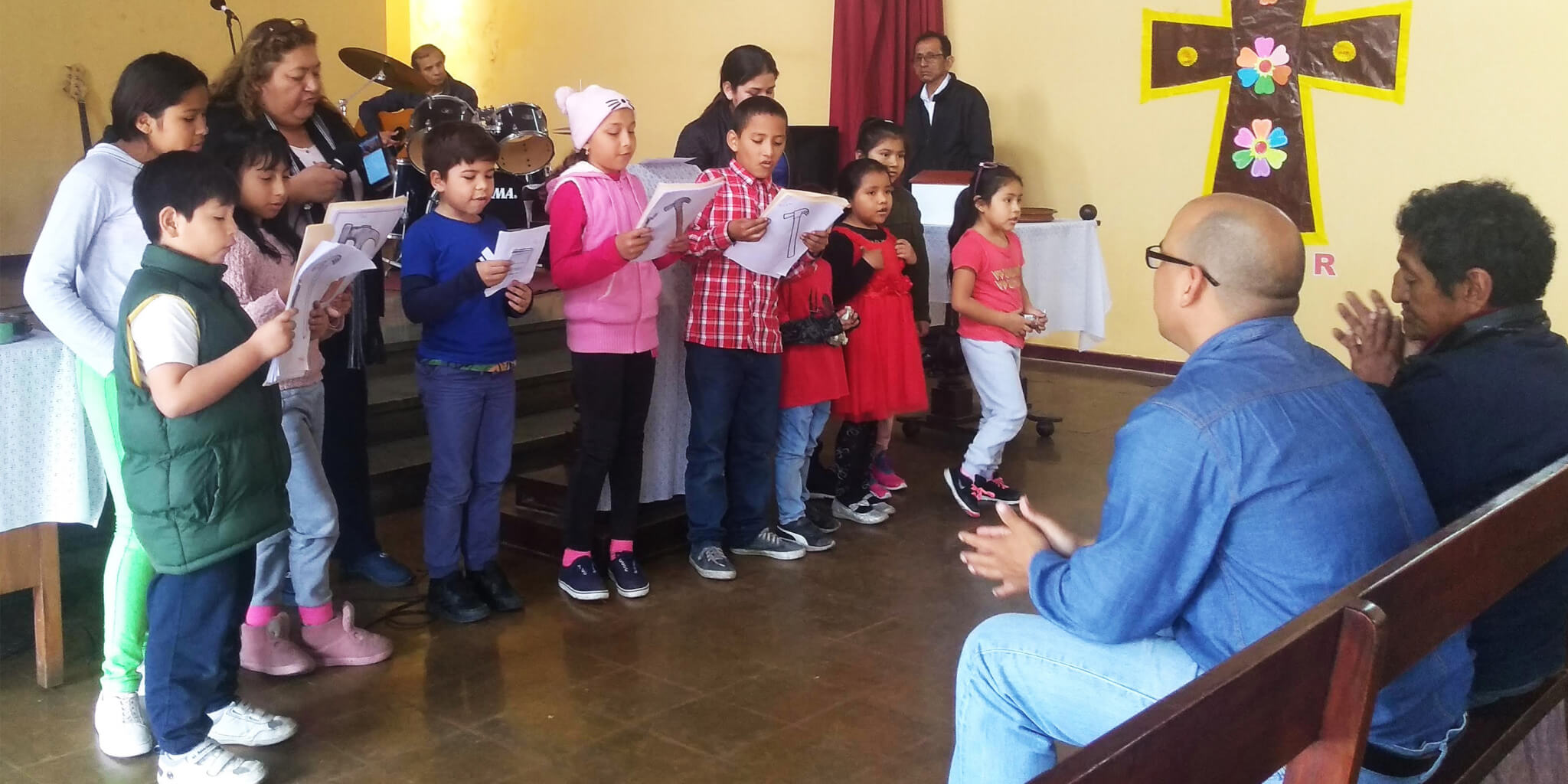 By Christie R. House
March 2020 | ATLANTA
The exodus of people from Venezuela has now exceeded 4.6 million, 16% of the country's population. Brookings Institute recently stated that the crisis in Venezuela has reached the same proportion as the refugee situation in Syria – without the war. The numbers fleeing the country continue to increase at a rapid pace. The United Nations High Commissioner for Refugees estimates that the number may reach 6 million in 2020.
Brookings described the Venezuelan situation as the largest and most underfunded refugee crisis in modern history. While this situation was politically manufactured by those in power to retain power, the effects on the Venezuelan people are devastating. The Venezuelan economy has contracted by 65% since 2013.
Whether Venezuelans leaving the country are considered refugees or economic migrants, a major humanitarian crisis unfolds in the Western Hemisphere. The United Nations estimates 300,000 are at risk in Venezuela because of shortages of medicine and limited access to medical treatment. The situation inside the country, given the political deterioration, becomes more violent. The UNHCR says that many Venezuelans meet the criteria for refugee status, but they don't apply because they are unaware of their international rights.
The United Methodist Committee on Relief has partnered with Methodist churches in three South American countries to help meet the needs of arriving Venezuelan migrants. Methodist congregations in Peru, Colombia and Brazil confirm that many of the migrants they encounter are women, often pregnant women, children, and families separated from loved ones. Many arrive with little or nothing.
A "Voice for the Voiceless" in Colombia
Colombia, which shares almost its whole eastern border with Venezuela, has received more Venezuelan migrants than any other country, over 2 million and counting. UMCOR entered into a new and ambitious venture with the Methodist Church of Colombia to create multiple information-sharing community clubs for kids called "A Voice for the Voiceless." The clubs also serve as hubs for their parents. These centers, in eight locations across the country, spread the word online and in person about available services and government resources. A second emphasis focuses on pregnant women and women with infants needing maternal-child health services.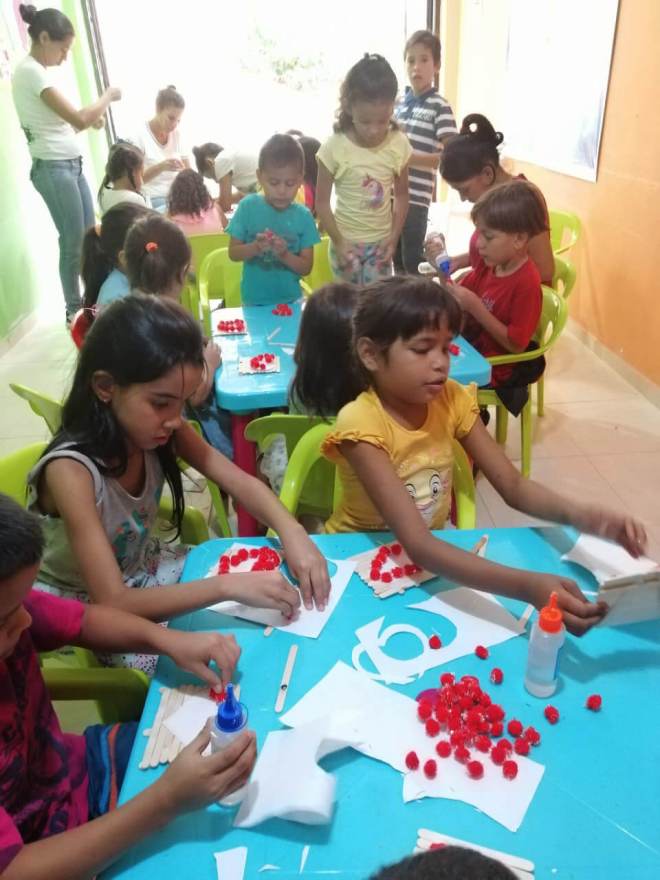 The church trains coordinators who organize response teams in each of the centers. Through home visits, the project offers accompaniment and support to migrant families.
The centers deliver basic-nutrient food packages to the families. Methodist health brigades visit pregnant women, infants and children to offer medical care. The centers, through the children's clubs and parents' meetings, also help to integrate Venezuelan migrants into local communities.
Belky Hernandez, a program coordinator in Bucaramanga, Colombia, tells the story of Johimary Victoria Ortega, age six. She and her family participate in the project's Girón Kid's Club. To start school in Colombia, Venezuelan children need extra help to catch up to the Colombian students. Johimary had never attended school. Unfortunately, there was no space in the three-month preparatory class for her to join. She was very sad, but she caught Hernandez' attention as she showed up the next day anyway and waited to see if there was an opening.
When another child dropped out, Johimary enrolled. Hernandez says: "During the three months she participated, she learned to read, write and form sentences, and she enjoyed every class she attended." Johimary entered Girón public school and starts first grade this year.
"Johimary always smiles," Hernandez noted. "She does not like to miss club activities. Her mother now has hope that Johimary and her sister will have a better future with new opportunities to strengthen their abilities and talents."
A "House of Hope" in Peru
Peru hosts the second largest Venezuelan population in South America, at more than 1 million. Carmen Mollo, who directs the Methodist Church of Peru's House of Hope in Lima, says the first refugees arrived three years ago, a few at a time. Now, the pace of migration increases.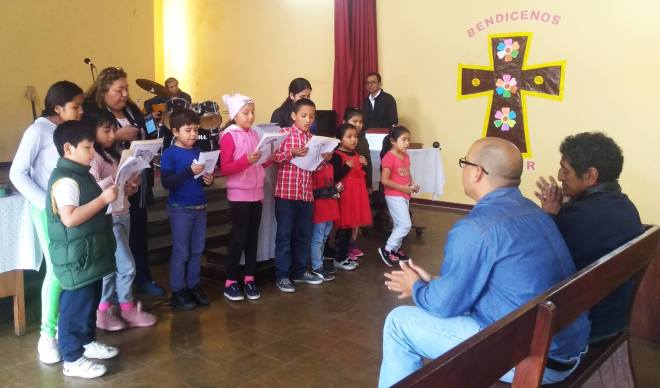 "One day, families looking for food and shelter knocked on the doors of the Methodist Church of Peru," Mollo said. "It was winter time, cold and drizzly. We opened the door, and the Casa de la Esperanza (House of Hope) was born."
UMCOR's support provided an opportunity for Miramar Methodist Church in the San Miguel District to remodel its building as a family shelter. Arriving migrants told of trauma throughout their journeys: assault, loss of money and possessions, and reaching Peru with nowhere stay.
Most of those in House of Hope are women with children or pregnant women. The shelter provides a food basket for nutritional needs and the church refers clients for medical care.
"The arrival of our brothers and sisters from Venezuela is an opportunity provided by God for us to manifest God's love in our neighbor," said Mollo. "They are teaching us the deep meaning of taking a leap of faith, as they have done. Casa de la Esperanza is not only a place of accommodation and supportive solidarity, it is also a space of human coexistence, where bonds of friendship flourish."
An emergency kit leads to more in Brazil
The Brazilian state of Roraima, which borders Venezuela's southeastern tip, receives an average of 1,300 Venezuelan migrants daily. Last year 184,338 thousand Venezuelans entered Brazil through Pacaraima. An estimated 32,000 live in Boa Vista.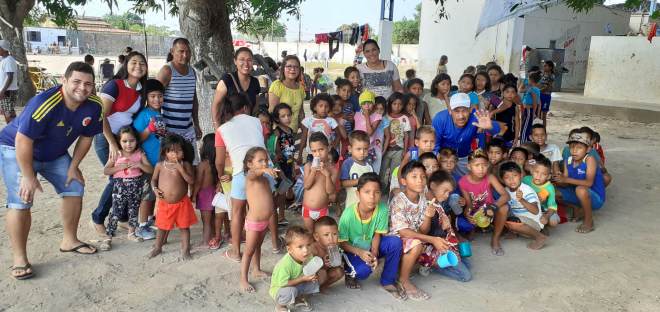 While the government of Brazil has set up a welcome center and shelters, they are at capacity. More migrants are ending up on the street. The government moves migrants to other parts of the country for resettlement.
The Methodist Church of Boa Vista reports that whole families, from infants to the elderly, are living on the streets. UMCOR partnered with Brazilian Methodists for two years through the Shade and Fresh Water Project in Boa Vista. This year the church was approved as a resettlement site, so it can register migrants for resettlement in the interior of the country. The Brazilian Methodist Church has also started a "House of Light" project in São Paulo, a major city in the interior, for migrants resettlling there.
An UMCOR grant for the Shade and Fresh Water project allowed the Boa Vista program to create and distribute emergency kits to migrants on the streets. The kits provide immediate relief but also pull the migrants into the church, where they can find other services and register for resettlement.
In the fall of 2019, a 32-year-old man, thin, sunburnt, with tattered clothes, arrived at the Boa Vista church because someone at the bus station told him it was a place that helps Venezuelans.
Charlys Daniel Morffi had been sleeping at the bus station for six months. He received an emergency kit and asked if he could come to a worship service. Then he joined the Shade and Fresh Water project.
In Venezuela, Morffi was a builder. He and his wife and two children had a house, a car and abundant food, but he lost everything as the Venezuelan economy plummeted. He sought relief in Brazil, but there were no vacancies in the shelters.
The first door that opened for him was his emergency kit from the Methodist church. He registered for resettlement and a place was found for him in Betim, Minas Gerais state. There, he found a job, rented a house, and brought the rest of his family from Venezuela to Brazil. They went through the same process at the Boa Vista church. The lives of this family were transformed by the delivery of an emergency kit.
Christie R. House is a consulting writer and editor with Global Ministries.