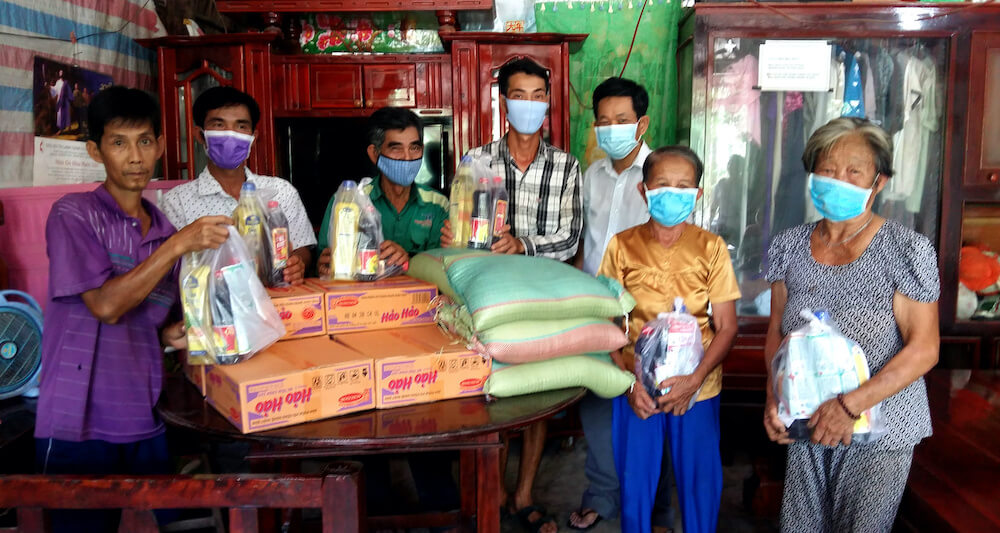 By Quynh-Hoa Nguyen
August 2020 | ATLANTA
We are all experiencing extraordinarily stressful and uncertain times along with our families, friends, churches and communities. Like many places in the world, Vietnam has been facing the economic impacts of the novel coronavirus. The poorest and most marginalized people are the first and most affected. The Vietnam Mission Initiative, for the very first time, was able to respond quickly with concrete love and compassion to serve vulnerable neighbors.
The Vietnam Mission Initiative distributed 746 food packets with rice, cooking oil, instant noodles and COVID-19 hygiene and prevention guidelines to people in the church and community in April and May. Those who received the packets were greatly impacted by the pandemic during the country's lockdown. Most of them make their living as street venders, lottery ticket sellers, waste pickers, motorbike taxi drivers, porters, factory workers and farm workers. Our priority is to support the most impacted, especially those in places where the pandemic hit hard. We are grateful to the generous and timely support of Global Ministries Asia Pacific Regional Office, Scranton Women's Leadership Center in South Korea, and the Wesley Foundation in Japan. Their funding helped VMI step up to take care of those most in need.
VMI's COVID-19 emergency response made the church visible to the community. This is the first time the church was widely open to the community, sharing and connecting with our neighbors. Quy, a disabled man who lives near the United Methodist Center in Saigon, did not know that a church was there until he came to receive a food packet. Linh, a next-door neighbor, happily joined to distribute the food packets as soon as she knew what the church was doing for the needy. Local authorities also recognized some of the churches for their quick response to alleviate suffering amid the coronavirus spread.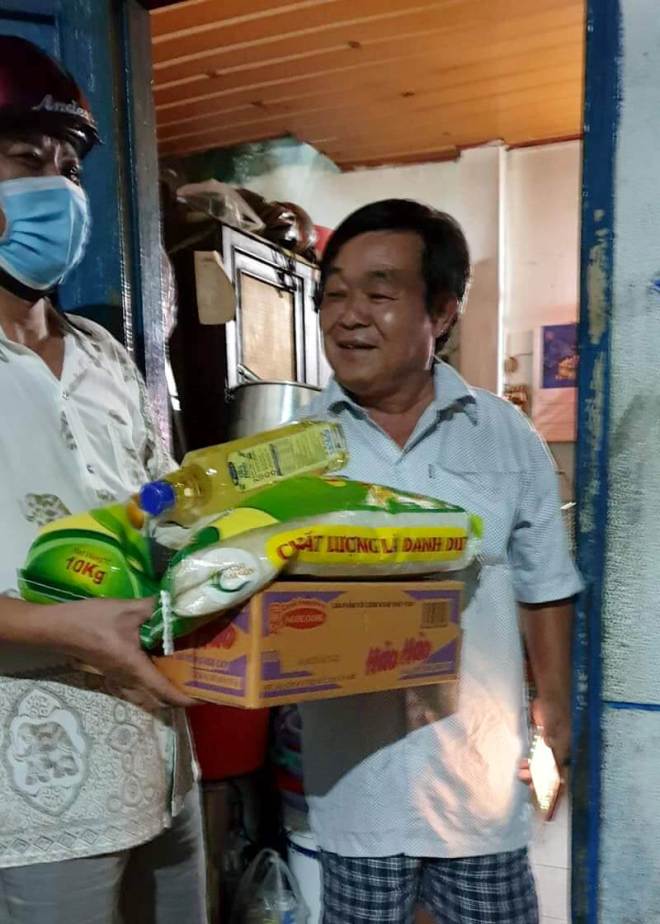 Lanh, 54 years old, used to rent a small house where his family of four lived and ran a small café in Saigon. But the coronavirus pandemic forced him to shut it down and he had no money to pay rent. His family then became homeless when the landlord took the house back. They now live temporarily at his father's house. To make his situation worse, he had a stroke early in April. He was so touched to receive a food packet, saying "Thank Heaven."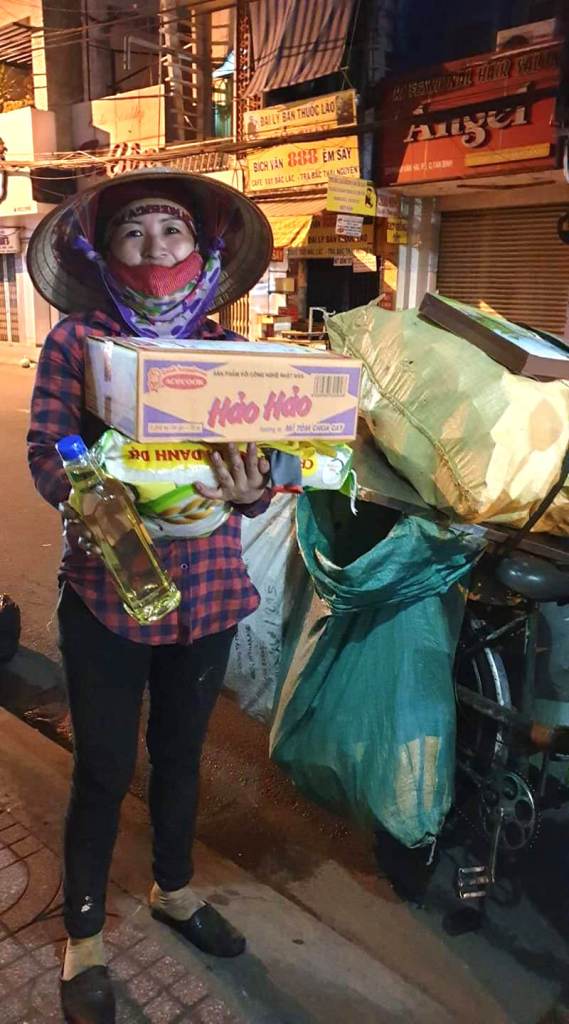 Mai, 37 years old, married with two young children, lives in a rented space in Saigon. She picks up waste, and her husband works for a waste buyer, but they have lost their jobs for a whole month because of the pandemic. The food packet was so significant for her family.
Minh, a widower in Long My, Mekong Delta, depends on the chicken, geese and vegetables he raises. He sells eggs to a hatchery, but he could not sell any during the pandemic.
Xuan lives with her aging parents and three young children in Can Tho. She sells toys, drinks and snacks to school children. The school was closed in March and April. She could not find a job during these difficult times.
Another neighbor sells lottery tickets in Can Tho. "I am Buddhist. Do I also get a food packet?" he asked. He was surprised to be a recipient. "God's love is for everyone no matter what religion," the pastor told him. He responded with a happy wide smile. It was absolutely very helpful to him during April when lotteries were banned.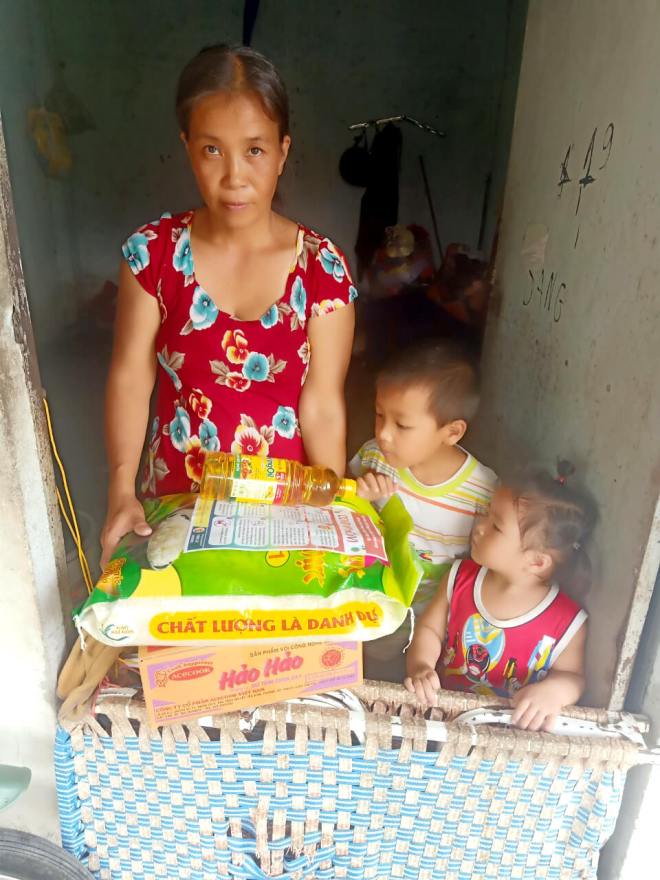 As I am transitioning from missionary service, I am very happy to introduce Rev. J. Park and his wife, T. Park, who will be serving in a Southeast Asia as country director and the Christian education coordinator, respectively. It will be a blessing to have them. I invite you to continue to support Vietnam and to support them and to pray for their safety, fruitful ministry, strong friendships and relationships with people they serve.
Beneficiaries' names have been changed.
Quynh-Hoa Nguyen has served with this Southeast Asian mission initiative since 2014. She has worked to develop new leaders through Christian Education and service opportunities.
Advance Project: #14932A, Vietnam Mission Initiative.