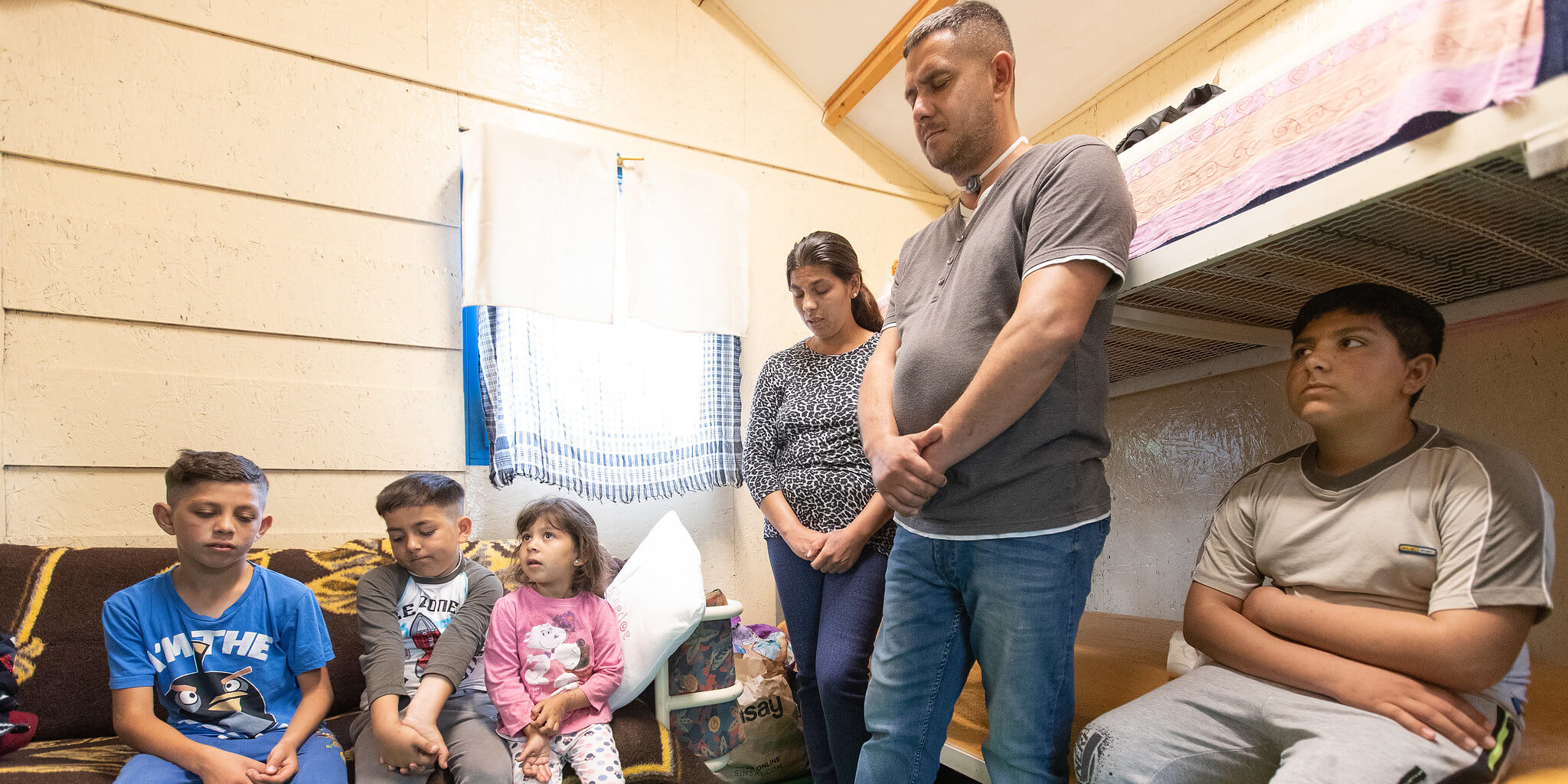 Robert, his wife, Renatta, and their four children pray in the small cabin they share at the United Methodist Dorcas church camp in Debrecen, Hungary, where they are staying after fleeing the war in Ukraine. The family is among many Roma who have found a place of welcome at the camp. PHOTO: MIKE DUBOSE, UM NEWS
By Christie R. House
The people of Ukraine have endured eight months of violence and destruction in a war that Russia recently escalated with attacks on civilians. Amid new terrors are also signs of hope, as churches, nongovernmental organizations (NGOs), ecumenical agencies and other nonprofit organizations band together to reach as many people as possible with care and support.
Since July, the United Methodist Committee on Relief (UMCOR) has approved more than $14 million for partners representing a wide spectrum of caring ministries across Ukraine and neighboring countries that have taken in refugees.
Roland Fernandes, general secretary for Global Ministries and UMCOR, said: "The response to the Russian invasion of Ukraine from donors has been phenomenal. Through the end of August, $23.2 million has been received. UMCOR's International Disaster Response and Global Migration staff have processed a total of more than $17 million in grants in response to the suffering there. We have had good collaboration with the UMC churches in Europe, existing and new partners and other UMC agencies."
UMCOR's partnerships and ecumenical work are summarized below into five broad categories – emergency relief, health care, shelter and housing, safety and security and refugees – ministries that are taking place both inside Ukraine and in neighboring countries.
Emergency relief
I'm staggered by the network of United Methodist churches and how they are working together and mobilizing resources. In the Ukraine Annual Conference, District Superintendent Oleg Starodubets and his wife Yuliya coordinate shelters in three locations in Uzhhorod for people who would prefer to remain in Western Ukraine rather than emigrate.
Katie Hills Uzoka, UMCOR director of International Disaster Response
Emergency relief includes whatever affected households and displaced families need the most at any given time. Food, household goods, water, cash programs, emergency sanitation measures, hygiene, and work with internally displaced populations are all examples of emergency relief in times of war.
UMCOR supported the UMC in Ukraine earlier in the year with several grants, including funds to assist with the purchase of a van to transport people and supplies. UMCOR continues to work closely with Oleg and Yuliya Starodubets to scale up their emergency operations and improve their shelter capabilities for people displaced inside Ukraine.
City Aid Center in Zaporizhzhia maintains a drop-in center there and one in Mukachevo and a delivery for home-bound people in Donetsk Oblast. People displaced by the war find food, hygiene items, cooking utensils and other household goods in these centers. A recent UMCOR grant of nearly $100,000 has helped City Aid Center keep its shelves stocked to meet the needs of those who come for help.
In Odessa Oblast and Mikolayiv Oblast, areas close to Crimea, UMCOR supports the emergency food and medical supplies distribution of International Blue Crescent (IBC), a Turkish Muslim aid organization. Adept at emergency response in areas of conflict that displace large numbers of people, IBC has partnered previously with UMCOR. Recent grants totaling nearly $1.25 million have supported IBC efforts to distribute substantial food rations in Odessa, Mikolayiv and Bolgrad, with a plan to establish a mobile bakery in Bolgrad to feed an additional 9,000 people a day. The latest grant also supported deliveries of medical supplies to hospitals in the affected areas.
In the conflict regions of Kharkiv and Donetsk, Ukraine, Rescue Now delivers food, hygiene kits and most recently, supplies to prepare for winter to more than a thousand people. An UMCOR grant of nearly $200,000 helps to renovate and equip a transit shelter in Pokrovsk, Ukraine, and assist 3,200 people in Eastern Ukraine with evacuation to safer locations.
Health care
Another shipment has arrived from our good friends and partners, the Arlene Campbell Humanitarian Foundation and UMCOR. Many thanks. All the items will serve our patients in exactly the operating room. Surgical kits and many other useful things arrived in this truck. Praise the Lord.
Dr. Vitaly Demyanchuk
Deputy Director of the Heart Institute in Kyiv, Ukraine
UMCOR has so far approved three grants in a partnership with the Arlene Campbell Humanitarian Foundation to ship desperately needed medical supplies to state hospitals across Ukraine. Since March, seven shipments have reached their intended locations, supplying hospitals with medicines, equipment and other kinds of medical necessities to keep them open and accessible to patients. Direct beneficiaries are 13 health facilities in Kharkiv, Kyiv, Chernihiv, Odessa, and in areas surrounding Kyiv, including Boryspil, Bahhoutivska, Irpin, Zhytomyr and Chernivtsi.
Shelter and housing
When the war in Ukraine began, the Methodists in Romania, through a grant from UMCOR, were able to provide free rooms to refugees and hire a Ukrainian refugee with psychologist credentials to conduct therapy circles for fellow refugees. The church also provided space for Ukrainian businesspeople with a mailing address to keep their operations running.
The Rev. Jack Amick, UMCOR director of Global Migration
A grant to the United Methodist Church in Romania has assisted the church's efforts to house refugees from Ukraine in Hotel Hanul Fullton, which the church rents. This hotel and ministry center hosts numerous programs to help Ukrainian refugees, as well as the rest of the community.
The International Orthodox Christian Charities (IOCC) is working with the United Nations High Commissioner on Refugees (UNHCR) on shelter needs of populations that have been displaced but also those that have remained in their homes, enduring tremendous damage. IOCC is working with Eleos-Ukraine to implement a $1.5 million grant from UMCOR that supports a broad spectrum of IOCC's mission, including: temporary shelter; protection for women and girls in shelter; permanent shelter for families and livestock; emergency food and household items for those in transition; and psychosocial care.
Another organization in Uzhhorod, Ukraine, operates several shelters and plans to provide "tiny houses" for displaced people arriving from warzones. Longer-term housing is an urgent need as winter is approaching and thousands of people are residing in settings ill-prepared for Ukrainian winters. One Collective, a U.S. Christian nonprofit working globally, provides housing but also employs internally displaced people in construction. UMCOR is supporting a portion of this building plan.
Habitat for Humanity International (HHI) is working with refugees from Ukraine in Poland to find independent temporary and mid-term housing.
Safety and security
I have been in Kyiv seeing first-hand the devastating effects of the conflict. The use of heavy artillery, landmines, cluster munitions, both in rural and populated areas, has left a devastating and deadly legacy.
Darren Cormack, chief executive of Mines Advisory Group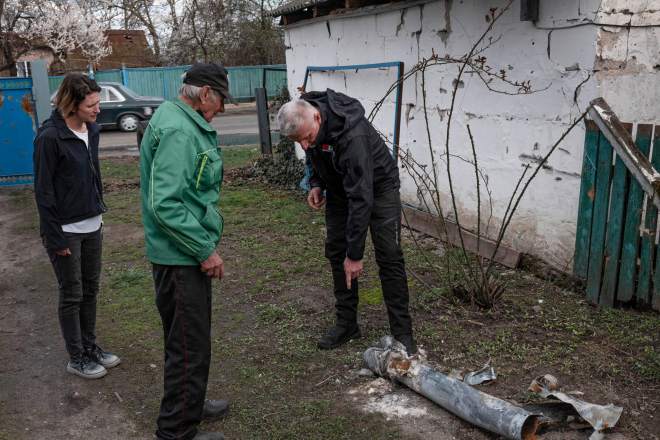 As war zones shift in Ukraine and some territories are liberated from Russian occupation, residents return home to find their neighborhoods and farms littered with mines and unexploded cluster munitions. A $2 million grant from UMCOR to Mines Advisory Group (MAG) will help demine reclaimed ground, enable MAG teams to identify the exact location of unexploded ordnances and provide Ukrainians living in or returning to these areas with knowledge to adopt safe behaviors, reducing the risk of accidents.
Refugees
In Buk, Czech Republic, Ukrainian refugees are being housed in a UMC country house. It was humbling to receive a wonderful lunch of incredible hospitality. Pastor Jana Krizova, of the Prague UMC, said, 'It's in the Methodist DNA to see a need and do something about it.'
Katie Hills Uzoka, UMCOR director of International Disaster Response
Response to the needs of refugees outside Ukraine also includes forms of emergency relief, health care, shelter and housing, and safety and security.
In addition to the grant for IOCC in Ukraine for shelter and care, UMCOR has partnered with IOCC for a second grant for refugee assistance in Poland and Romania. This grant, for $1.04 million, provides humanitarian aid in the form of cash distributions and vouchers, anti-trafficking training and integration services such as language classes to help refugees participate in their new communities.
UMCOR has made a significant $2.75 million contribution to ACT Alliance to provide ecumenical support for refugee services in Poland, Romania and Hungary as well as services for those displaced in Ukraine. Four different faith-based agencies are all working for access to and restoration of basic services and protection for conflict-affected people in Ukraine as well as multisector support for refugees in other countries.
Church World Service, which first joined in ministry for war relief after World War II with UMCOR's predecessor, the Methodist Committee for Overseas Relief, is using a $2 million grant from UMCOR to welcome, house, and work through case management and asylum referrals for refugees arriving in the United States from Ukraine. Major cities to be resourced will include: Chicago, Ill.; Jersey City, N.J.; New York City, N.Y.; Orange County, Calif.; and the Bay Area of California.
UMCOR has provided $233,000 to assist UMCs in Europe with their assistance efforts to an estimated 5,000 beneficiaries. Grants were given recently for United Methodist communities working to welcome, house and settle refugees in Bulgaria, Estonia and Hungary. An additional grant to Diaconia ECCB (Center of Relief and Development, Evangelical Church of Czech Brethren) in the Czech Republic concentrates specifically on humanitarian assistance to Ukrainian Roma refugees.
A request from UNHCR for help with legal assistance for refugees in Poland has presented UMCOR with an opportunity to support European Lawyers in Lesvos (ELIL). ELIL partners with four international law firms in Poland and coordinates with key humanitarian actors on the ground, receiving case referrals from UNHCR and UNICEF.
All of this is possible because of the generosity of United Methodists and other donors who have given more than $23 million for Ukraine war relief since Russia's invasion in February 2022. Remaining funds will make possible more grants to support a broad spectrum of relief efforts as the conflict continues, as will any additional funds given.
Christie R. House is a consultant writer and editor with Global Ministries and UMCOR.
Learn more about the work of Disaster Response and Migration
The United Methodist Committee on Relief International Disaster Response program (UMCOR IDR) serves as the primary channel for United Methodist assistance for disasters that strike outside the United States. Response includes food, water, hygiene and other essential nonfood supplies and shelter support for displaced people fleeing disasters. UMCOR's Global Migration program helps refugees and migrants as well as the churches and ecumenical networks that assist them.
Make a gift to help UMCOR provide for the basic needs of people and communities devastated by both natural and man-made disasters.