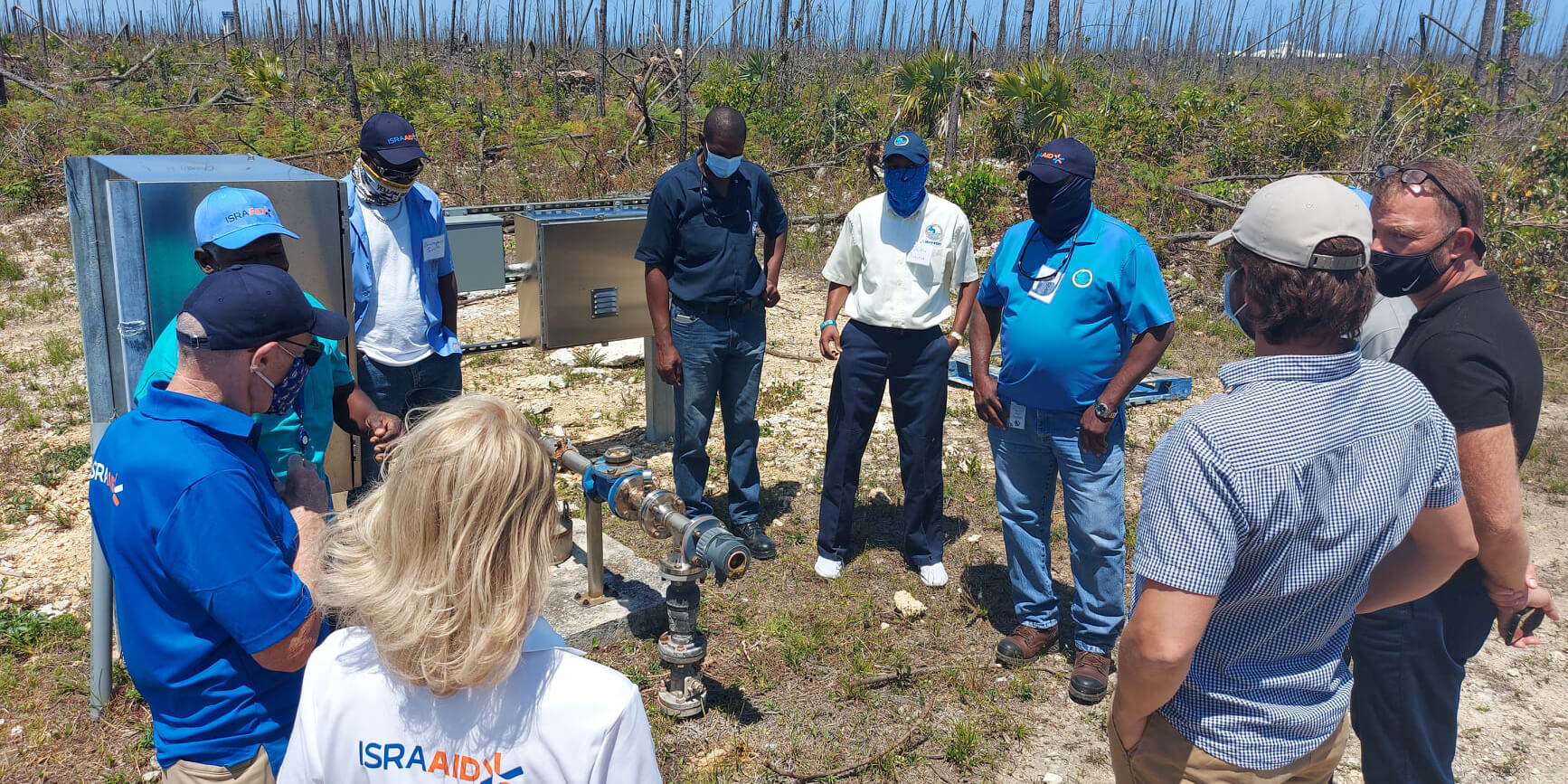 IsraAid training session with Bahamian water management workers on Abaco Island, Bahamas. PHOTO: ISRAAID
By Christie R. House
September 1, 2022 | ATLANTA
On September 1, 2019, Hurricane Dorian struck the Bahamas as a Category 5 storm with sustained winds of 185 miles an hour. It was the strongest storm ever to hit the Bahamas, at least back to 1851, when data on storms first began to be recorded. The islands were still recovering from Hurricane Matthew, which struck in October 2016.
"We've never had a storm with that amount of flooding before," reported Rochelle Floyd, who lives with her father and children on Grand Bahama Island. Grand Bahama and Abaco were the two hardest hit by Dorian, which slowed down and seemed to whirl endlessly around the two islands for two days.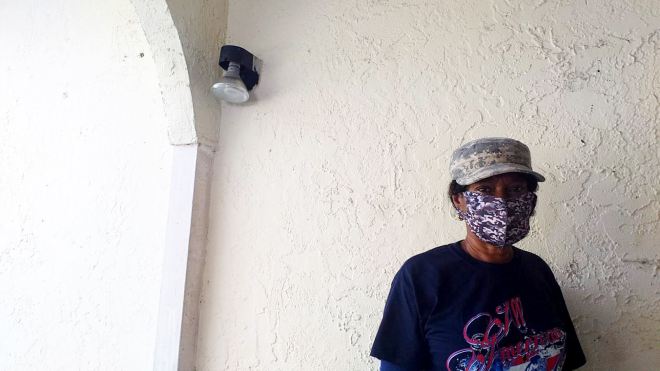 "We had decided to ride the storm out in a shelter. When we left I looked at my home and hoped there would be no damage," Floyd said. "When we returned to our home, we found that there had been flooding and extensive roof damage. In parts of my house you could look up and see the clouds.
"Inside, our home was wet, moldy and there was an odor. Looking at the damage, I was speechless and overwhelmed. My family and I began the cleaning process."
Fortunately, the Floyd family found friendship and assistance through the Methodist Church of the Caribbean and the Americas (MCCA), a Methodist community in the Bahamas that was in direct contact with the United Methodist Committee on Relief (UMCOR). A large grant from UMCOR supported MCCA efforts to rebuild some of the houses of those who were having difficult recoveries.
"When I heard from the church about UMCOR I was hoping that the information was true," Floyd said. "UMCOR saved my home and gave me a new perspective on life."
UMC gifts ease pain and loss in the Bahamas
"United Methodists responded generously after Hurricane Dorian, giving UMCOR the flexibility to respond in several different ways," said Roland Fernandes, general secretary for Global Ministries and UMCOR. "UMCOR released emergency grants to several partners quickly, but then took some time to determine what the unmet needs were and how best to proceed. We will have work to do in the Bahamas as long as our partners there are able to reach people who have not yet recovered."
An UMCOR partnership with the nonprofit agency IsraAid addressed chronic problems with saltwater contamination of freshwater water sources on Abaco and Grand Bahama. IsraAid worked on a sustainable groundwater management program focused on community engagement and training and building the professional capacity of Bahamian workers employed by the water authorities of both islands. The project also improved the water and sanitation infrastructure on the ground. Beneficiaries of the program include more than 52,000 residents of Grand Bahama and 18,000 residents of Abaco. Long-term groundwater monitoring and management mechanisms, now under Bahamian management, continue to improve the islands' ability to safeguard and improve disaster-resilient water resources.
UMCOR worked with two other partners on recovery projects since 2019. The Bahamas Methodist Habitat (BMH) supported rental assistance for Dorian survivors and helped rehabilitate the water system and cistern for BMH headquarters on Eleuthera, a designated hurricane shelter for the community. BMH also provided hurricane preparedness kits and vouchers to vulnerable people in Abaco for rebuilding and weatherizing their homes.
The Methodist Church in the Caribbean and the Americas, Bahamas Turks and Caicos Islands Conference, conducted a project to meet the housing rehabilitation needs of vulnerable Hurricane Dorian-affected households in Freeport, Grand Bahama. MCCA conducted housing repair assessment and essential housing repairs for a number of households, including Rochelle Floyd's. Repairs aim to enhance disaster resiliency as well as the dignity and wellbeing of household members.
The relationship with MCCA is an ongoing partnership for UMCOR. This year, UMCOR supported an additional food security project with MCCA to serve vulnerable populations in Nassau and Grand Bahama with basic food items. They are currently discussing additional grants.
Recovery continues three years later
While some houses survived enough to be reconstructed, others were completely lost. Some of the losses were in rental properties, which left the residents with nowhere to go. A significant number evacuated to islands that were less affected by Dorian. But then the pandemic reached the Bahamas and people who had found jobs, after losing their businesses to the hurricane, were out of work again.
In January 2022, the Bahamian government ended its pandemic unemployment extension benefits. "Because of this, I, along with thousands of other unemployed Bahamians, have been thrust back into the rat race called the job market, competing for whatever jobs are available," noted Brittney Stewart, a beneficiary of the MCCA food security program.
"My goal is to maintain myself, the needs of my daughter and to help contribute to the household that has supported me throughout this troubling time. This has been both a humbling and humiliating experience," Stewart continued. "I have experienced a multitude of personal setbacks that have seemed to avalanche into a mountain of problems I am forced to overcome. I pray without ceasing."
At least one of Stewart's prayers was answered through Wesley Malcolm Road Methodist Church, a distribution point for the MCCA food security program.
"'God is good," Stewart said to herself, as her cousin placed two grocery bags on the counter. "My heart was filled with joy as my prayers were answered. My brown bag blessing. Those brown paper bags of food spared us at least two weeks of grocery shopping and this was the relief I prayed for."
While a grant for coronavirus recovery may seem unrelated to Dorian recovery, the one-two punch delivered by Dorian and then loss of income from coronavirus shut-downs a year and two years later meant affected families, already stripped of any extra income trying to recuperate from Dorian, had no resources left to confront COVID-19. This grant with the MCCA provided needed relief to 400 households experiencing further setbacks.
The MCCA food relief went to Methodists and non-Methodist families alike. Cynthia Monroe, a member of Providence Methodist Church in Nassau, Bahamas, wanted to thank Methodist siblings for providing this relief, even three years after Dorian's devastation.
"I am a single mother of two. In 2012, I survived stage two breast cancer, had a mastectomy and four rounds of chemotherapy. I had a few challenges but it all worked out. Things have been a bit tough at times during the last couple of years, and because of the pandemic, my job was down-sized, so I have been working fewer days and earning less but thank the Lord I am still working. I want to thank UMCOR and the MCCA team for the generous food supply and the people who continue to support us. May God's blessings continue to be upon you all; it has lifted a burden off my shoulders at this time."
Christie R. House is a consultant writer and editor with Global Ministries and UMCOR.