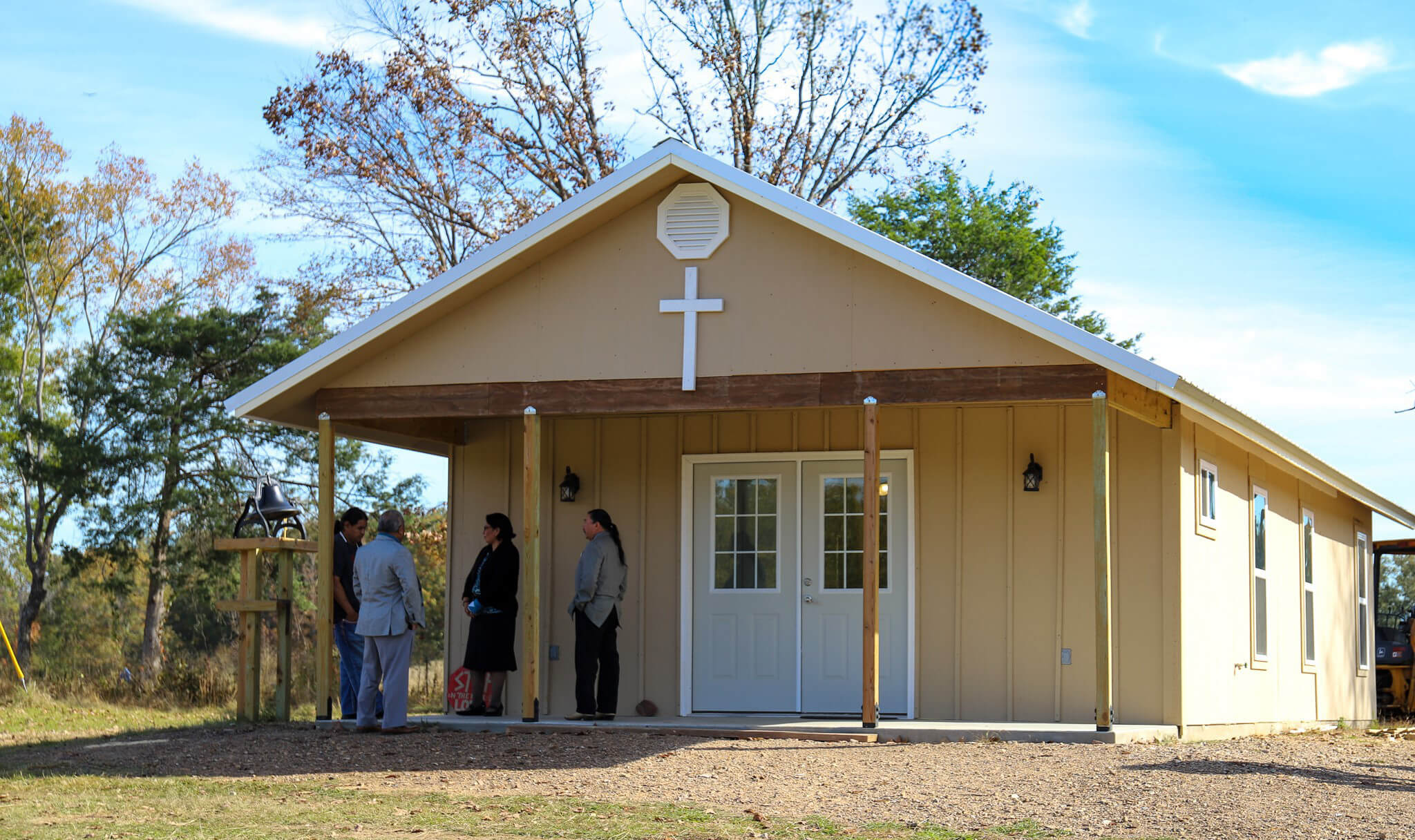 Good Springs Native American Church in Oklahoma City, one of the projects Wayne UMC from Eastern Pennsylvania worked on, now totally reconstructed. PHOTO: COURTESY OF OIMC
---
By Christie House
May 1, 2022 | ATLANTA
"We really needed to address our structure problems. When they pulled open the rotten siding, there were birds living in the walls of the church," said Tabitha Harris, a member of Kulli Tuklo United Methodist Church in Idabel, Oklahoma.
This small, rural church with a congregation made up of mostly Choctaw elders has lost members the past three years, some to old age and some to COVID-19. This church and others of the Oklahoma Indian Missionary Conference (OIMC) lack the physical resources to repair their buildings but their congregations are vitally important to their spiritual lives and their communities. Some of the churches, like Kulli Tuklo, cannot even get insurance to help maintain their buildings until some major repairs are made.
In 2020, Global Ministries therefore designated a significant portion of Native American Ministries Sunday funds for repair and reconstruction of Indigenous worship spaces.
The OIMC has 83 churches in Oklahoma, Texas and Kansas, with members representing more than 39 tribes. Most grant requests for Native American Ministry Sunday funds from OIMC churches relate to building repairs – especially roofs.
After consultation, representatives from Global Ministries and OIMC agreed that providing a block grant directly to the conference was the best way to manage and prioritize the immediate repair needs across the conference.
The block grant supports the OIMC´s strategic priority to increase the vitality of existing communities of faith, revitalize congregations, and create a space where indigenous models of ministry can thrive. The local churches also contribute a percentage of the funds for their projects, including in-kind contributions.
Some of them get a boost from Volunteer in Mission teams who come to help with the work. During the pandemic, volunteer teams could not come, but in January 2021, students from the Associated General Contractors of America Student Chapter of Kansas State University arrived to replace siding and a porch at the historic Kulli Tuklo United Methodist Church in Idabel, Oklahoma.
Historic meeting place restored
Kulli Tuklo, a Choctaw congregation, is one of the oldest congregations in the OIMC, according to the Rev. David Wilson, a member of the Choctaw Nation of Oklahoma who serves as the assistant to the bishop in the OIMC. "It was established after the Choctaw people were removed to Indian Territory," he said.
The church is the site where many Native peoples gathered after that forced removal, known as the Trail of Tears.
In addition to the Kansas State students, a youth team from Wayne United Methodist Church in Eastern Pennsylvania also arrived to help with siding. Wayne UMC is a returning partner for this work. In 2019, their teams contributed to a complete rebuilding of Good Springs UMC in Oklahoma City.
"They were fun to be around," Harris confirmed. "They liked to hear about our history and took pride in their work. We even raised a little money to send back with them, not much, but we thought we could help with their next project."
Today, thanks to funding from Global Ministries, the South Central Jurisdiction United Methodist Volunteers in Mission, Wayne UMC, the Kulli Tuklo UMC and labor from the Kansas State University, the church is now in much better shape, with brand new siding and a new porch. The roof is still on the wish list.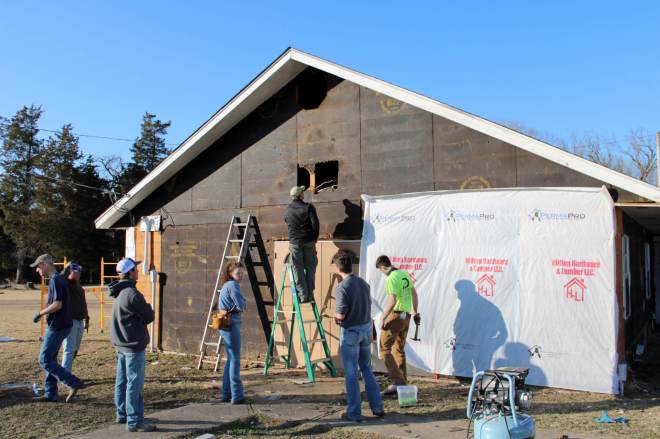 Elders protected in Broken Bow, Oklahoma
Every time it rained, water flowed like a river down the wall of the Yasho UMC sanctuary in Broken Bow, Oklahoma. But today, according to Kimberly McKinney, the lay missioner giving pastoral care to Yasho and a second church, Bethel Hill, the roof has been replaced and the church is dry.
"Our church is a multicultural congregation, with Choctaw, Cherokee, African American and Caucasian of all ages attending. We sing our tribal hymns and use the United Methodist Hymnal too," McKinney said. "We are a small congregation, but we pay our apportionments, keep church open every Sunday and Wednesday night for services, and we continue to keep our clothing pantry open once a month, free to anyone in need. We make a big impact in our community."
In addition to the need for a new roof for the sanctuary and the fellowship hall, Yasho needed to replace a covered walkway used by seniors and others who need assistance entering the building.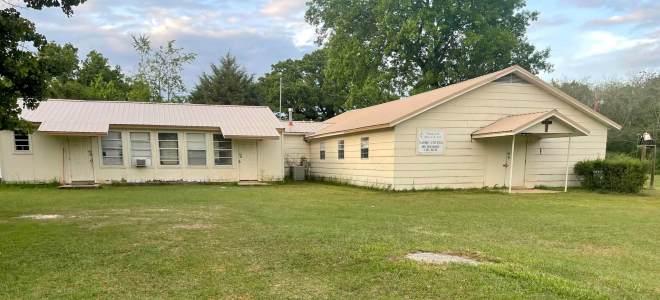 This congregation also has historic roots dating back to the Trail of Tears. McKinney said the name of the church comes from the Choctaw word yashau, meaning "big black pot." The oldest male member of the church told her this story:
"When we were forced to move, and our ancestors walked the Trail of Tears, there was a man who carried this big black pot. Every stop he would cook in it to feed the people. He would gather herbs and make medicine for those who were ill. When they made it to this area in Broken Bow, he put his black pot down and said, 'this is where we will gather to worship the Savior.'"
When Broken Bow became a town, the church was moved to where it now stands. "Yashau is a good name," McKinney said, "because there was healing, gathering and fellowship from that large black pot. It brought people to know Christ and His love for all."
Given the concentration of Native American congregations in the OIMC, much of the reconstruction work takes place there. However, Native American congregations outside the OIMC have also benefited from Native American Ministry Sunday funds. For instance, St. John's UMC in Bridgeton, New Jersey, spiritual home for a Nanticoke Lenni Lenape congregation, received funding to finish reconstruction of their church after a fire that happened years ago. In addition to providing a dedicated and safe worship place, the rebuilding project also allowed them to expand their food pantry for the community.
The goal of the grants designated for Native American church repair and reconstruction is to create safe and comfortable worship environments for churches serving Native communities and to build capacity for local churches to revitalize ministries. Tabitha Harris would add: "We may be a small congregation with little money to spare, but we sure can take care of people, provide them with good meals and good fellowship."
Members of the visiting teams from Kansas and Pennsylvania agreed!
Native American Ministries Sunday is May 1, 2022. Offerings can be given through your local church or online.
Christie R. House is a consultant writer and editor with Global Ministries and UMCOR.