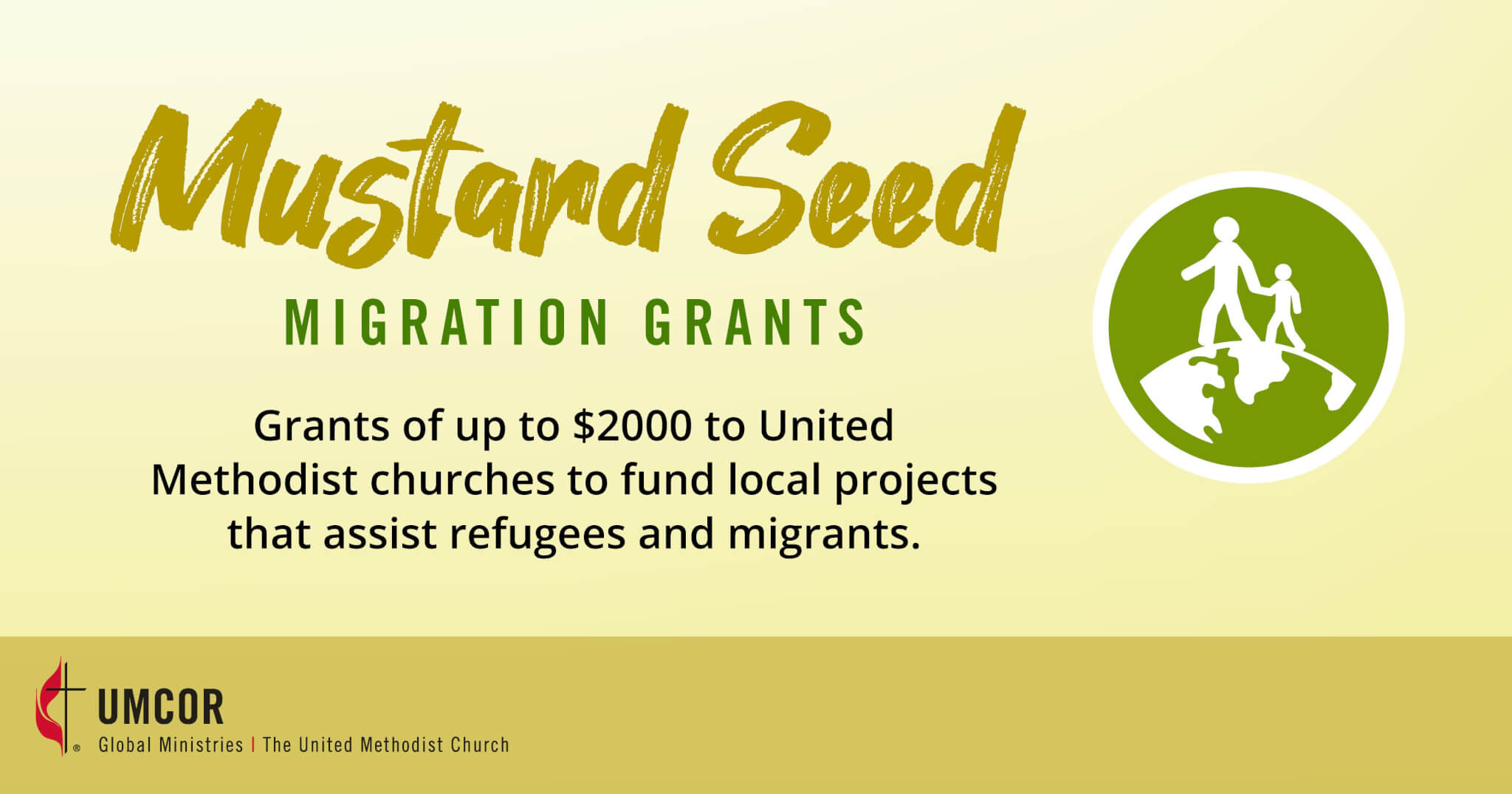 Every day, thousands of people flee their homes in search of a better life for their families. Global Ministries and the United Methodist Committee on Relief (UMCOR) provide support for refugees and migrants around the world, seeking to fulfill the biblical mandate to "love thy neighbor" and "welcome the stranger."
Tiny mustard seeds, as Jesus described in his parable, have a potential to grow into something big or pervasive that spreads throughout a field. Our hope is that by learning more about migrants in local communities and addressing their needs through these grants, the "seed" of welcoming strangers might be planted in new ways in congregations around the country.
What is the Mustard Seed Migration program?
The Mustard Seed Migration Grant program is designed to encourage local United Methodist churches to engage in ministry to migrants in their midst. UMCOR will award grants of $2,000 USD to up to 100 United Methodist local churches to engage in new, one-time community-based service projects and ministries focused on migrants and refugees.
The goal of this program is to nurture a deeper understanding and care for the most vulnerable in our communities. We also encourage participating congregations to think about what they might do on a long-term basis, how they might get involved in advocacy to address systemic injustices present in immigration policy or consider how they might more completely live into a new understanding of church as the kingdom of God, actively engaged in caring for the most vulnerable in the community.
The 2023 application cycle is now closed. stay tuned for 2024 application information.
For more information, please contact: mustardseed@umcor.org.
See the list of 2022 Mustard Seed Migration Grant recipients here.
Select Mustard Seed Grant Recipients
Meet spiritual and physical needs
In Texas, El Principe de Paz UMC of Del Rio was able to meet immediate spiritual and physical needs of refugee families with the support of an UMCOR Mustard Seed Migration Grant.
Provide clothing
Emory Fellowship, a United Methodist congregation in Washington, D.C., hosted a free clothing shopping event for 100 migrant families at a local school with an UMCOR Mustard Seed Migration Grant.
Provide Transportation
With a Mustard Seed Migration Grant, a coalition of United Methodist churches in Albany, New York provided transportation to refugee families for employment, shopping and general transportation through their Bicycles for Refugees program.
Provide sanctuary
Wesley Memorial UMC in Charlottesville, VA, has provided sanctuary to María Shavalan Sut since 2018. Through an UMCOR Mustard Seed Migration Grant, the church was able to help María, an Indigenous Mayan woman who fled Guatemala in 2015, launch a catering business and become more financially stable and self-sufficient.