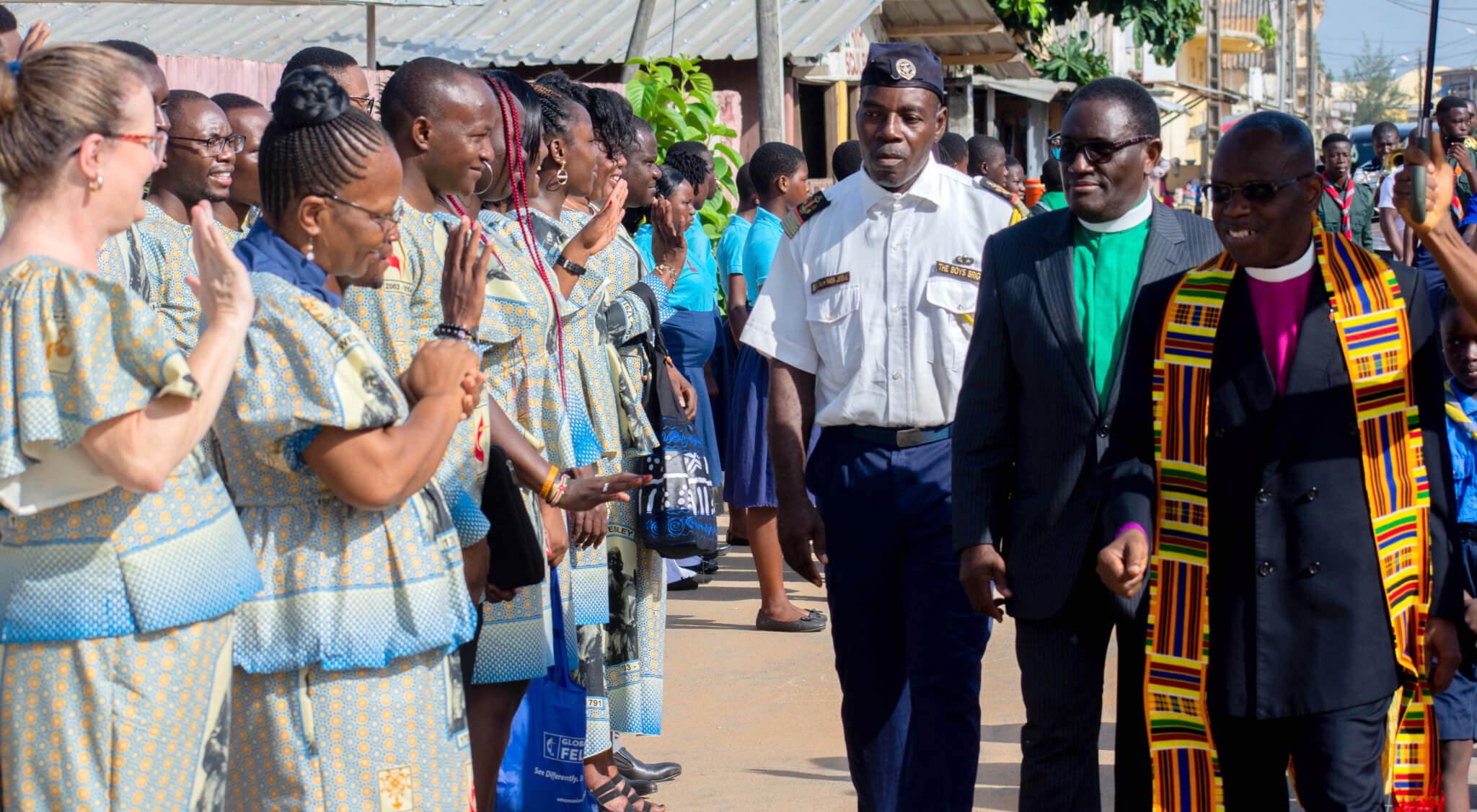 Missionaries to be commissioned, left in light blue, greet Bishop Boni and other church leadership as they enter the United Methodist Church in Côte d'Ivoire to conduct the service. PHOTO: ISAAC BROUNE
Fifty-four missionaries were commissioned for service in nine different worship services taking place around the world from April to July. Some begin service in new placements while others continue with work they began during the pandemic.
By Christie R. House
July 27, 2022 | ATLANTA
Augustinus Hutabarat, from Indonesia, was accepted and trained as a young adult Global Mission Fellow (GMF) and has served the Street Children Ministry in Phnom Penh for almost a year with the United Methodist Mission in Cambodia. The complications of the COVID-19 pandemic meant that he, and all other missionaries in the last three years, participated in online training, never actually meeting Global Ministries staff or colleague missionaries in person…until now.
As pandemic restrictions are lifted in many countries, small gatherings and travel have once again become possible, with certain precautions. From April through July, Global Ministries coordinated regional missionary gatherings so that 54 missionaries could be officially commissioned and have a few days to fellowship, worship and continue training together with other missionaries in the regions they serve.
So, on April 24, at Toul Kork Methodist Church in Cambodia, Augustinus Hutabarat was officially commissioned, along with five Global Missionaries and four more of his Global Mission Fellow colleagues.
"A day that cannot be forgotten, not only as a ceremony, but a spiritual journey that has just begun, finally we were commissioned!" Hutabarat exclaimed. "Through this commissioning I was reminded that, as a missionary, I have a duty from God to bring good news to everyone, that God loves all human beings, and that we must engage in our communities, connect with the church in mission, and grow in personal and social holiness."
Doing things together
Most of the missionaries participating in the commissioning services expressed joy and amazement at meeting face-to face. Some had begun their missionary service as early as 2020.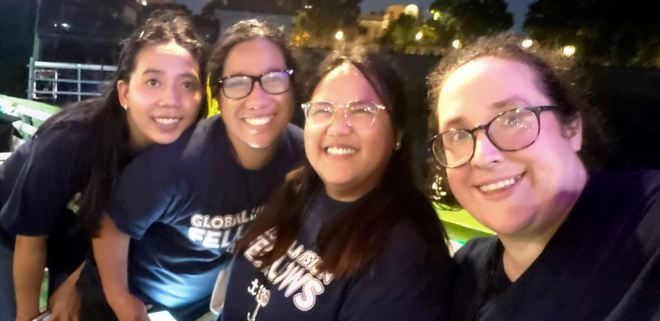 "As we gathered for the commissioning event, it felt surreal," noted Rachel Kuolou Therieh, who is from India and, like Hutabarat, serves in Cambodia. "Especially meeting Rev. Judy [Chung] in person after many months of online sessions. Having all the GMFs and Global Missionaries working in Asia in the same room was a wonderful experience. The four days with the team allowed me so much time to self-reflect, reaffirming my purpose and trashing my fear of the uncertain."
The Rev. Dr. Judy Chung, executive director of Global Ministries' Missionary Service, attended all the regional gatherings. Many were happy to meet her in person.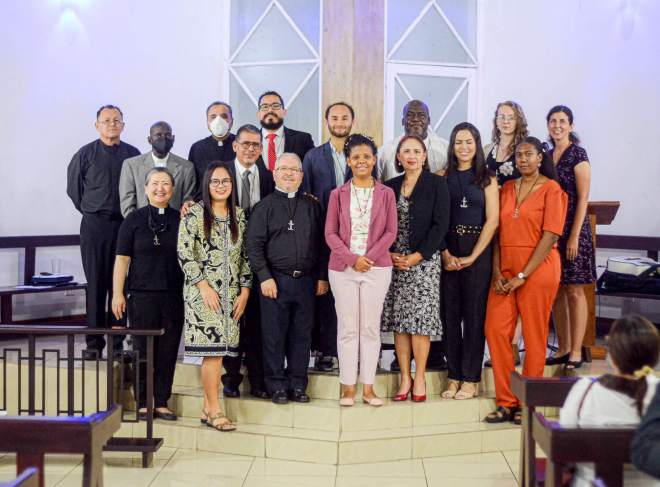 "It has been a great privilege to travel to four continents to participate in the commissioning of missionaries and Global Mission Fellows," Chung said. "It is amazing to see that the call of God overcomes challenges and obstacles, sending people forth into the world to share God's love. I am thankful to witness the power of God at work through these resilient and faithful missionaries and fellows."
In addition to the Cambodia event, commissioning events were held in Northern Ireland for missionaries in Europe; Côte d'Ivoire for missionaries in Africa; Costa Rica for those in Latin America; and individual U.S. events held in conjunction with the North Georgia, Florida, Michigan, Mississippi and Mountain Sky annual conferences.
Each of the events took on a different flavor, reflecting the cultural differences of the continents and countries where they lived and worked and the particular culture of Methodists and United Methodists where the events were held. All of the regional gatherings outside the U.S. included extended training, mission site visits and other trips.
In Côte d'Ivoire, Albarka Abbo Wakili, a GMF from Nigeria, traveled with other missionaries to Dabou, a town in the southern part of the country. They visited the UMC hospital, a local congregation and water tower projects. "I felt uplifted witnessing God's healing and grace at the hospital and God's imminent providence through the church by providing a primary need such as water projects and agriculture to communities."
The group meeting in Belfast, Northern Ireland, visited the Surf project of the Methodist Church of Ireland in Portrush, Northern Ireland, where two of the GMFs worked. Then they walked to the famous Giant's Causeway, the natural wonder of hexagonal basalt rock pillars that look like they had to be man-made, formed by volcanic eruption 6 million years ago.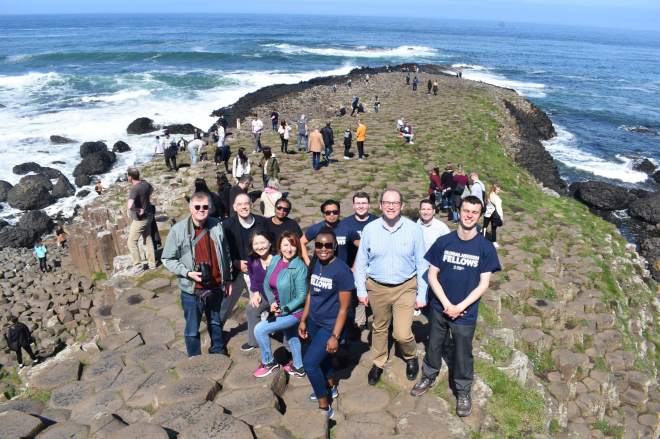 "God's creation is amazing," noted the Rev. Krista Givens, from the U.S., serving as the pastor for international ministry with La Siesta Evangelical Church in Alicante, Spain. "I am so thankful for the hospitality of our partners and the great time of fellowship and fun."
Hannah Reasoner, a Global Missionary from the U.S. serving in Bogotá, Colombia, appreciated the workshops led by fellow missionaries in her region. While she had worked with them extensively through online meetings, she was glad to meet them in person for the first time. A workshop led by missionary Osias Segura was engaging because it offered tools on how to respectfully navigate cultural difference and misunderstanding. Yorleni Rebeca Jiménez Rojas, a missionary and psychologist serving in Honduras, offered advice on the importance of self-care.
Inspired and fortified for service
In the United States, six U.S.-2 Global Mission Fellows were commissioned by annual conferences in Florida and Michigan, where the GMFs has already begun their two-year terms of service. In Mississippi, Althea Belton was commissioned to serve as a Church and Community Worker with Gulfside Assembly in Waveland. Courtney and Dan Randall were commissioned by the Mountain Sky Annual Conference as Missionary Advocates for the Western Jurisdiction, and the Rev. Dr. Sung Il Lee was commissioned in North Georgia to serve as a Global Missionary in Nausor, Fiji.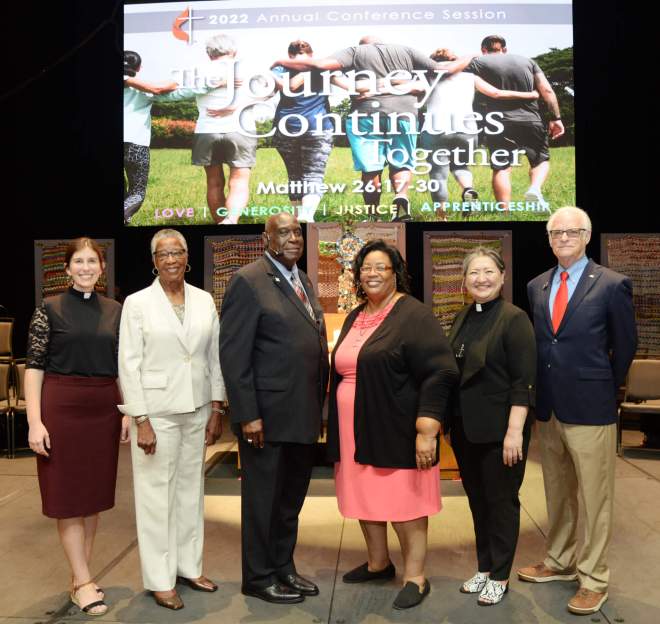 Returning to their places of service after the events, many of the missionaries expressed gratitude but also a renewed sense of calling and service, encouraged and supported by Global Ministries and their missionary colleagues.
"I am grateful for the village we have created and the communities we get to serve with," Venus Mae Gatdula, a GMF from the Philippines working in Cambodia reported. "Grateful for this life I chose in the life that God has chosen for me. Just as we declared the Wesley Covenant Prayer – I am no longer my own, but God's."
Christie R. House is a consultant writer and editor with Global Ministries and UMCOR.
Missionaries commissioned in 2022 regional services with service placements
Africa: Abidjan, Côte d'Ivoire
Global Missionaries
Blair Moses Kamanga – Mozambique
Leah Jane Magruder – South Africa
Edmund Melusi Makowa – East Congo Episcopal Area, Democratic Republic of Congo
Natallia Manyeza – Sierra Leone
Global Mission Fellows International
Sara Albert Amalia Bakhit – Mozambique
Imourana Bockarie – Zambia
Divine Kudzai Gaga – Liberia
Michael Mark Gandi – Zambia
Trobby Kandala – Sierra Leone
James Kanu – Kenya
Doel Kumwimba Kaloa – Zambia
Benjamin Langeni Mndeme – Kenya
Mary Sharon Mwango – Liberia
Sims Siamoonga – Kenya
Christopher Peace Theoway – Zambia
Albarka Abbo Wakili – Zambia
Elizabeth Nyalima Yambasu – Liberia
Asia: Phnom Penh, Cambodia
Global Missionaries
Patrick Booth – Cambodia
Min Kyu Lee – Wesley Divinity School, Philippines
C. S. Park – United Methodist Mission in Southeast Asia
J. Park – United Methodist Mission in Southeast Asia
Joy Prim – Hong Kong, SAR, China
Global Mission Fellows International
Jay Hezeil Doctor Abayon – Cambodia
Syna Be – South Korea
Venus Mae Barroga Gatdula – Cambodia
Agustinus Hutabarat – Cambodia
Rachel Kuolou Therieh – Cambodia
Europe: Belfast, Northern Ireland
Global Missionaries
Krista Suzanne Givens – Spain
Eliad Dias dos Santos – Italy
Global Mission Fellows, International
Ricardo Alfredo Martinez Escobar – Ireland
Erick Park Hunter – United Kingdom
Isabelle Mbako Matshik – Northern Ireland
Benjamin Thomas Rose – Northern Ireland
Latin America: San José, Costa Rica
Global Missionaries
Edwin Campomanes Ramirez – Guatemala
Luis De Souza Cardoso – Uruguay
Bruna Farat da Silva – Costa Rica
Alvaro Rodrigo Godinez Jimenez – Mexico
Ann Margaret Hidalgo – Costa Rica
Yorleni Rebeca Jiménez Rojas – Honduras
Hannah Kaitlyn Reasoner – Colombia
Global Mission Fellows International
Brayan Alejandro Martinez Davalos – Uruguay
Eliana Maria Alves – Honduras
Abigayle Chesca Bolado – Colombia
Reeba Imola Webster Bennett – Uruguay
United States
Georgia
Global Missionary
Rev. Dr. Sung Il Lee – Nausori, Fiji
Florida
Global Mission Fellows US-2
Precious Tatenda Kufarimai – Miami
Amber Marie Kupfer – Miami
Grace Elizabeth Rogers – Miami
Meleanitema Sapoi-Finau – Miami
Michigan
Global Mission Fellows US-2
Megan Marie Rittenberry – Grand Rapids
Cenaya Ward-Johns – Kalamazoo
Mississippi
Church and Community Worker
Althea Belton – Gulfside Assembly, Waveland
Montana
Mission Advocates
Courtney Randall – Western Jurisdiction
Dan Randall – Western Jurisdiction