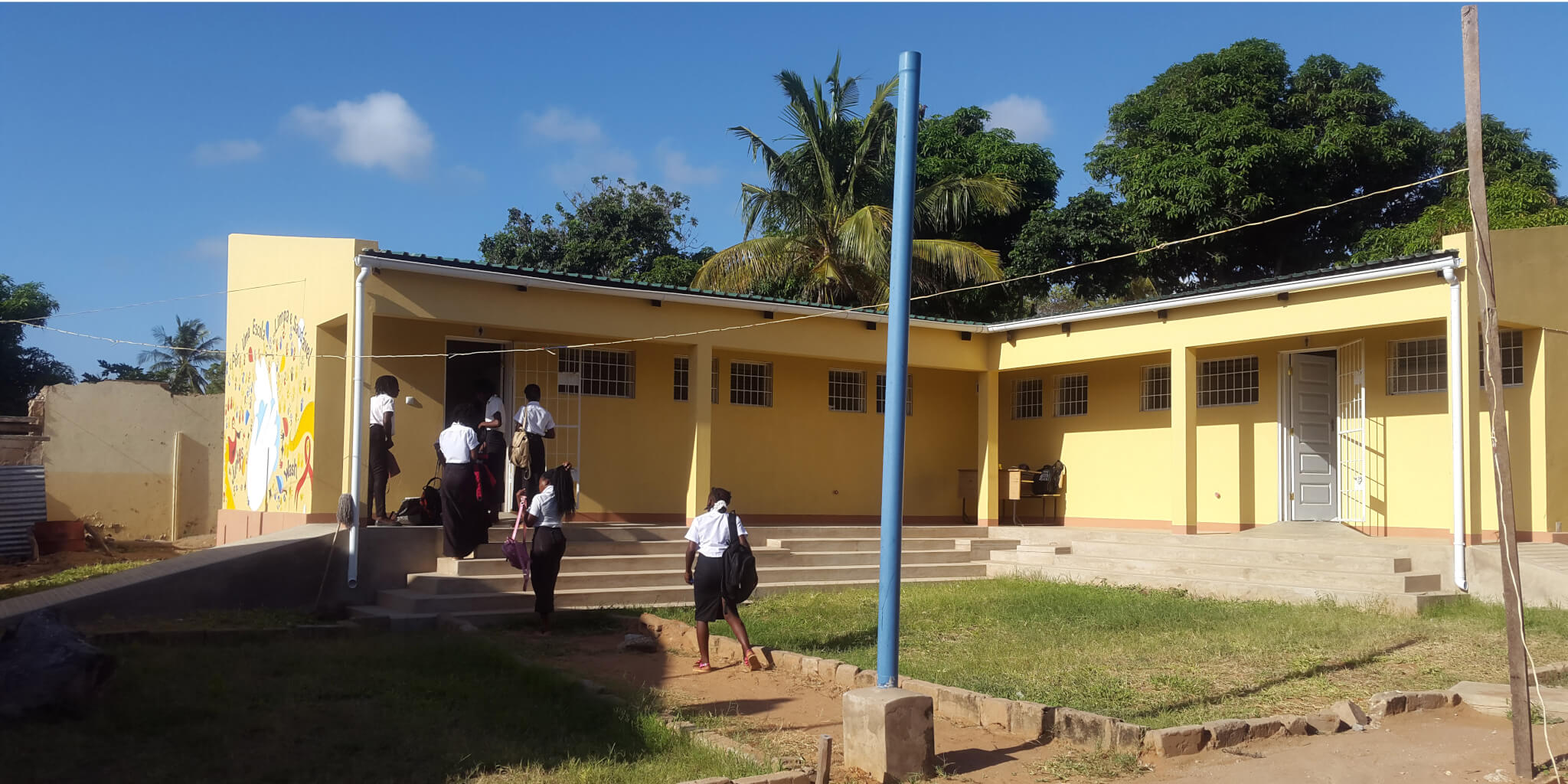 By Christie R. House
July 17, 2019 | ATLANTA
Like many of his classmates, Lourenco Fernando, a 12th grade student at Chicuque Secondary School (1º de Maio), was a bit skeptical when he heard that his school would be getting a whole new sanitation facility with separate bathrooms for boys and girls. His school, with an enrollment of more than 5,000 students, was hit by Cyclone Dineo in February 2017. The cyclone destroyed much of Inhambane Province, and the school lost classrooms as well as its bathroom facilities. But those old facilities were inadequate. Fernando had heard it before, he said. The quality of the last "new" facility was not good. "They did not last a year," he explained.
Not surprising, then, that he thought the facilities being built with the help of the United Methodist Committee on Relief would end up the same. "When the building started, I remember I went with my classmate to see it," he admitted. "It was so big that nobody believed the bathrooms were for students. Some even said they would not finish, but the builders were moving forward fast." Despite a few delays and challenges with the municipal water system, the building was finished. The separate bathroom facilities with multiple stalls also included showers, so students could clean up after physical education classes.
"I never thought I would one day see this at '1º de Maio' Secondary School!" Fernando declared.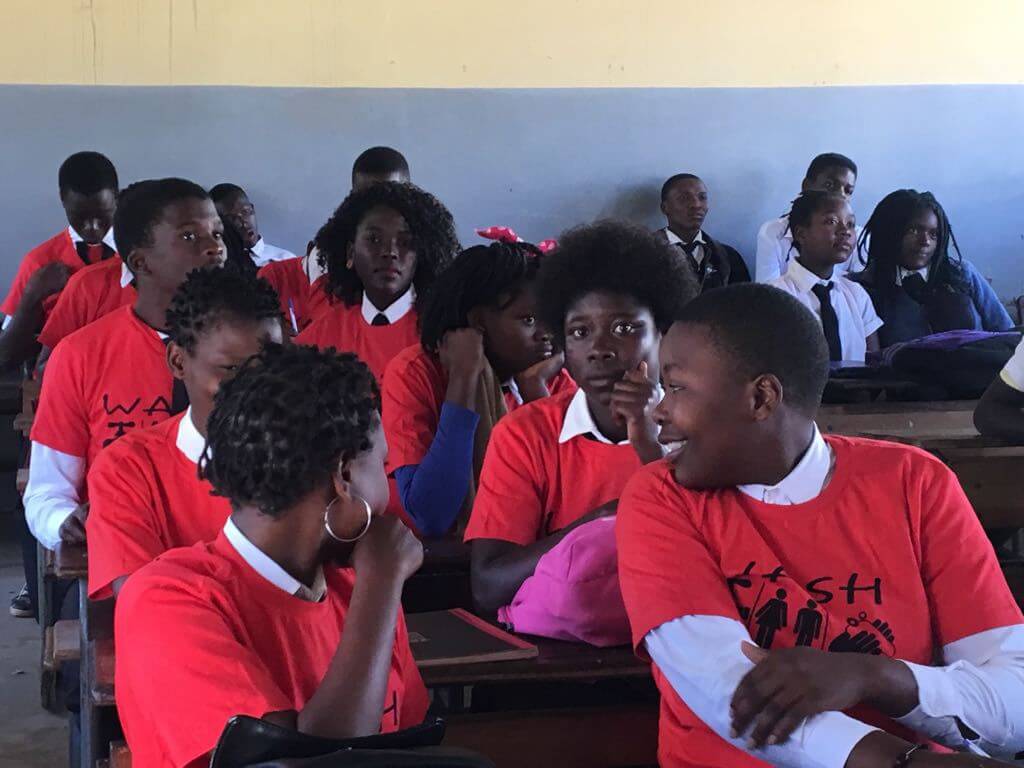 WASH the UMCOR way
The project with the Chicuque school was coordinated in part by Elizabeth McCormick, a Global Ministries missionary who was working with Chicuque Rural Hospital at that time. "Working with UMCOR for the school's WASH project was a great experience," she commented. "They gave me the freedom to depend on local leadership and wisdom."
Lorrie King, the program coordinator for UMCOR's Water, Hygiene and Sanitation (WASH) office, says UMCOR follows a best-practice model that requires both local leadership and an educational component to pass on vital information to beneficiaries so that they can use sanitation facilities properly, maintain them and improve their overall health as a result. Santos Carlos Fernando Sacaf was the local WASH project manager at the school.
"We had schools that were dramatically destroyed by the cyclone," Santos Carlos Fernando said. "The community helped out a lot, coming together to build temporary classrooms for the students. But we needed a little help."
The educational component was fulfilled by a "students teaching students" method, with students taking part in a WASH club, known as "Activistas" in Portuguese. They concentrated on learning about sanitation, handwashing and female hygiene. In addition, topics such as early marriage, sexually transmitted diseases, and birth control were also discussed. Their job was to then pass the message on to other students, to their families and to the wider community. They took their assignment seriously.
McCormick was impressed with the student initiative. "The students played an integral role in the educational component as well as the design of the bathroom. They were personally invested in the project and continue to share their health, sanitation and hygiene knowledge with their community."
Both through surveys and observation, they discovered that when they started out, only about 170 kids were using the old bathrooms in the first couple periods of the day and a mere 15 washed hands afterwards. But after the new facilities were completed and the Activistas had sprung into action, during the same class periods, more than 1,400 students were using the facilities, and almost as many were washing hands as well.
Menstrual pads and private toilet areas greatly improved hygiene and safety for young women at the school. The new facilities also have an electric pump and an extra water tank, so they work even when the municipal water supplies are not working. Incinerator trash bins and rain catch barrels contribute to the health benefits and sustainability of the project.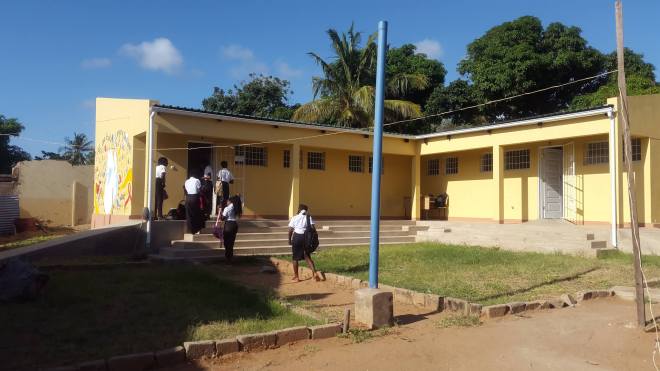 "I would like to thank the WASH team because they supported us in building the bathrooms and provided feminine hygiene material for girls. Before having the new bathroom, we had open defecation outside the school. As a lady, I am thankful because we have a changing area," was the word from Laura Reginaldo Mucopo, another high school student.
"I am also thankful because the WASH project provides cleaning material and products that keep our bathrooms clean and shining," she continued. "I hope to see this happening not only in our school but to many other schools. We are the only ones in the province with well-designed bathrooms that are inclusive. Everyone can have access, even people using wheelchairs."
Score one for human dignity. Help raise the score by supporting Advance # 3020600 for UMCOR WASH projects.
House is the senior writer/editor for Global Ministries. Thanks to students Lourenco Fernando and Laura Reginaldo Mucopo for providing written comments and quotes on the project.