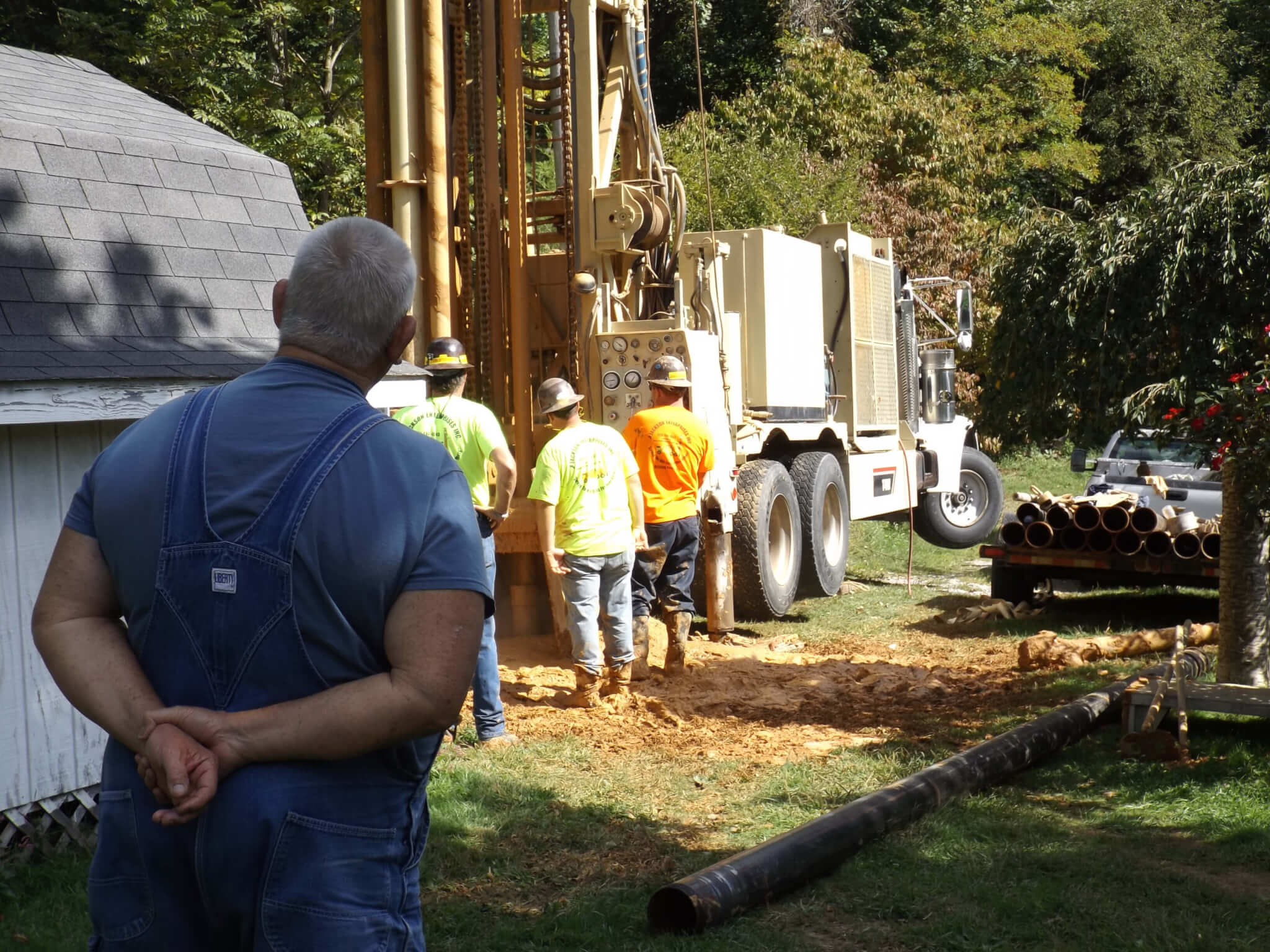 Grant Gibson watches as a big rig team contracted by the Jubilee Water Project digs his well. PHOTO: JUBILEE PROJECT
---
By Christie R. House
The United Methodist Jubilee Project in Sneedville, Tennessee, has met the unique needs of Hancock County residents since 1991. Sneedville, the county seat and only incorporated town, accounts for 1,300 of the county's 6,500 residents. The beautiful rural mountain scenes seen by tourists and hikers rarely reveal the stories of the people who have lived in these mountains for generations.
Four-year-old Tammy* loved to go to Head Start classes. She and her twin brother lived with their grandmother. While she enjoyed the playtime with other children, but she really looked forward to the opportunity to take a warm bath.
Her home on the mountain ridge had no indoor plumbing. Her grandmother drew water from a well outside and an outhouse was their only sanitation facility.
"The need for water here is amazing. People living up in the 'hollers' even today lack access to clean, fresh water," confirmed Lisa Nichols, the director of the Jubilee Project. Nichols is a seasoned Church and Community Worker missionary. She came to Jubilee in summer 2019 from a previous assignment in Rocky Mount, Virginia. Jubilee Project is a mission of the Holston Annual Conference.
Only about 34% of the county's residents are connected to the municipal water infrastructure, according to 2018 statistics from the First Tennessee Development District. The other 66% get their water from wells or springs. They use either their own septic system or, like Tammy's family, continue to use an outhouse built generations ago.
Need for water access and purity
"Sulfur is a problem in wells," noted Nichols. "In the springs, bacteria is a problem." Some people believe a mountain spring is the best water – but not for babies or people whose immune systems are compromised because of illness.
Sally Morris, a retired public nurse, oversees the Jubilee Water Project. She made many trips up the mountain to reach patients during her nursing career. Her interest in water grew out of her concern for the families she regularly treated. She treated children and then grandchildren in the same family. Tammy's family was one of those.
"We tried to do a grant to build a well for (Tammy's family), but the well couldn't be dug deep enough and wasn't producing," Morris remembers. The work had to be done in phases, but they didn't give up. Tammy's brother gave up his bedroom so that a bathroom could be built inside the house. "Before the grandmother died of cancer, we had finished indoor plumbing, a septic system and a bathroom," said Morris.
On average, Jubilee builds three wells annually. Funding comes from churches and other donors. Other kinds of Jubilee water projects include spring purification, catch systems for rainwater, storage, and filtration and septic systems for wastewater. Substandard housing must be shored up to accept any new Water Sanitation and Hygiene systems.
* Her name has been changed.
Support the work of missionaries like Lisa Nichols in the U.S. and global missionaries serving in other parts of the world by giving a gift to Missionaries Around the World, Advance #00779Z.
Christie R. House is a consulting writer and editor with Global Ministries.