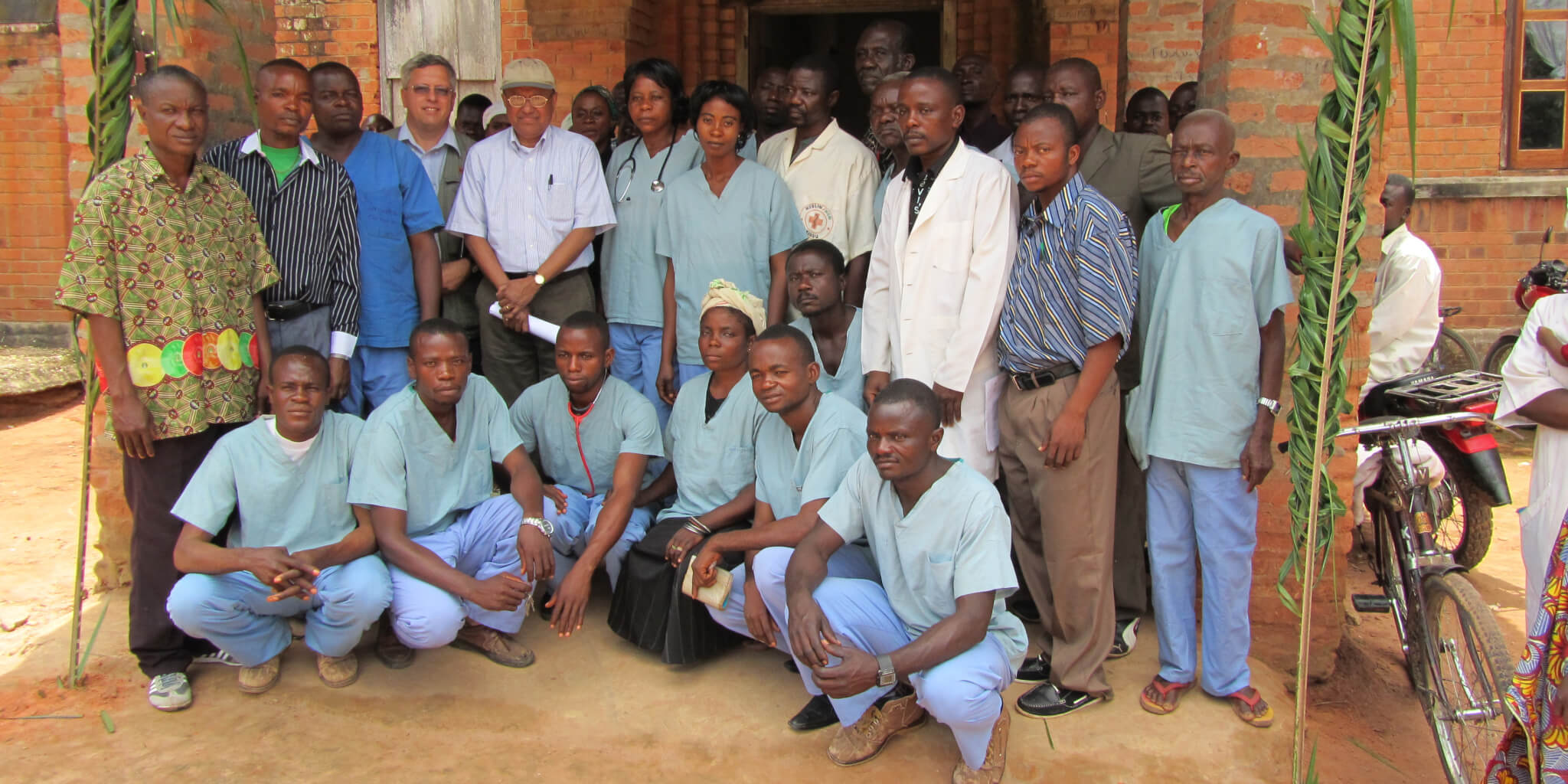 Staff of Tunda Hospital in East Congo, DRC, on the old grounds. Global Ministries' Health System Strengthening grants supported a brand new, solar-powered hospital complex to replace the crumbling infrastructure. PHOTO: COURTESY OF TED WARNOCK
---
By Christie R. House
November 5, 2021 | ATLANTA
When the apostle Paul wrote to the church at Philippi from his prison cell, he acknowledged fear, uncertainty and discord among the Philippians, yet his response was one of rejoicing.
In the opening worship of Global Ministries' board of directors meeting, Bishop Sue Haupert-Johnson of the North Georgia Episcopal Area referenced Philippians 2:1-5 and 4:4-7, offering a word of encouragement to participants.
A community in uncertainty and conflict needs to enlist the whole community to solve the problem – to seek the mind of Christ. And most importantly, their gentleness and the way they hold one another in love should define the process. In response to adversity, Paul reminds the Philippians that God is near, and he calls for prayer and supplication in thanksgiving and rejoicing – joy is birthed out of adversity.
Directors of the Board of Global Ministries and the United Methodist Committee on Relief, meeting October 26-29, took to heart the message of Paul's letter as they conducted their semiannual board meeting. Because of the postponement of General Conference from 2020, some directors begin their sixth year of service with Global Ministries, while others begin their 10th year.
In his address, Roland Fernandes, general secretary of Global Ministries and the United Methodist Committee on Relief, stressed that the church and the world are entering a new age. Defined by the COVID-19 pandemic, uncertainties about the future, climate change and systemic racism – and for United Methodists, uncertainty about the shape and form of the denomination itself, this new age is forming. In response, the church must adapt to new mission realities. But referencing Global Ministries' Theology of Mission, he quoted: "The Spirit is always moving to sweep the church into a new mission age. With openness and gratitude, we await the leading of the Spirit in ways not yet seen as God continues to work God's purposes out in our own day in a new way."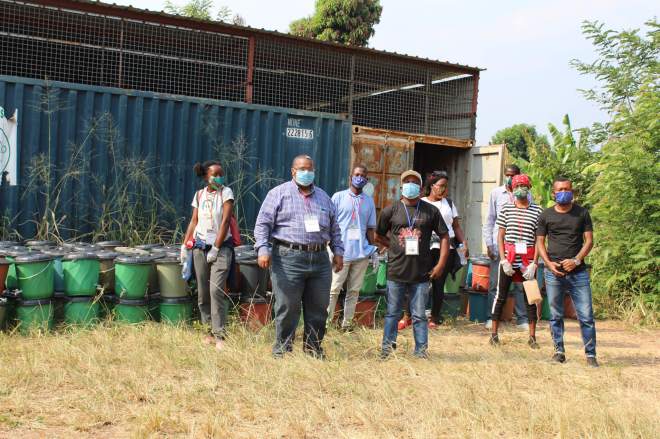 He reiterated his comments from the 2021 spring board meeting, that once the pandemic retreats, the changes it triggered, which have already spawned new ways of connecting and doing business, would continue to grow and reshape the world.
Likewise, Global Ministries is sharpening and shaping its mission to meet new challenges. "Our eyes and focus must be set upon the future," he said. "One of the questions we have been wrestling with in recent months is how to better connect with the church in mission. In this new age of witness, what does missional engagement mean today for the role of Global Ministries?"
Shaping the work of mission
Acknowledging the missio Dei, that mission work is in God's hands, Fernandes reported on the progress of the five touchstones he had outlined a year ago: sharpening focus; tightening accountability fiscally and programmatically; increasing collaboration within and outside the organization; expanding monitoring and evaluation measurement tools; and enhancing communication. Programmatically, Global Ministries' work is organized under four missional priorities: missionaries, evangelism and church revitalization, global health, and humanitarian relief and recovery.
The activities of the board meeting revolved around these touchstones and priorities. Inventory and evaluation of programs began just before the spring board meeting in preparation for a 2022-2024 strategic plan. Framework analyses are completed for three of the four program priorities. (The framework for missionaries is still in development.) An original list of 30 programs has been refined to 17, with some functions absorbed or reassigned to larger programs.
The report from interim treasurer Mike Gurick indicates that Global Ministries is in a strong financial position, with increased reserves. Fernandes attributed this to good market return, the generosity of donors and painful steps taken in 2018-19 to reduce costs in anticipation of a decrease in agency budgets outlined for the 2020 General Conference, an assembly that so far has not taken place because of the pandemic.
This favorable outlook made possible the further expansion of the Bishop John K. Yambasu Agriculture Initiative, named after the late Bishop Yambasu of Sierra Leone. This initiative currently focuses on African United Methodist episcopal areas and communities and works to improve food security and sustained economic growth through agriculture and animal production. Directors approved a total of $1.3 million to continue this work in Sierra Leone and to start work in Liberia, the two conferences of Zimbabwe, and Central Congo and North Katanga conferences in the Democratic Republic of Congo.
UMCOR directors approved $1.8 million in grants requested by programs in Global Health and UMCOR. Global Health continues to support and strengthen the health work of United Methodists in Africa, focusing on smaller primary health-care facilities and clinics, from which 80% of the population receives care. The work of Health Systems Strengthening provides a solid foundation for all other work and includes physical structures and supplies, with Water, Sanitation and Hygiene (WASH) work integrated into most projects, and training in administration and personnel. Approved grants continued support for mothers, newborns and children to improve health outcomes and for better diagnostic equipment, treatment and prevention of malaria.
A grant of nearly $100,000 for the Methodist Church of Haiti will support a mobile clinic and water purification, helping to fill a gap left by the loss and damage of health facilities in the 2021 earthquake. This grant is funded significantly with a gift received from First United Methodist Church in Roanoke Rapids, North Carolina, in memory of the Rev. Sam Dixon, the former head of UMCOR and a former pastor of the church. Dixon perished in the 2010 Haiti earthquake along with another Global Ministries' colleague, the Rev. Clint Rabb. The gift from First UMC was matched by UMCOR.
UMCOR grants approved include 11 for Global Migration, assisting partner organizations with migrants and refugees in eight countries. Encouraging United Methodist congregations to partner with Church World Service, an official U.S. resettlement agency, to resettle Afghan refugees in the United States, directors approved reimbursements of up to $1,000 for such UMC congregations.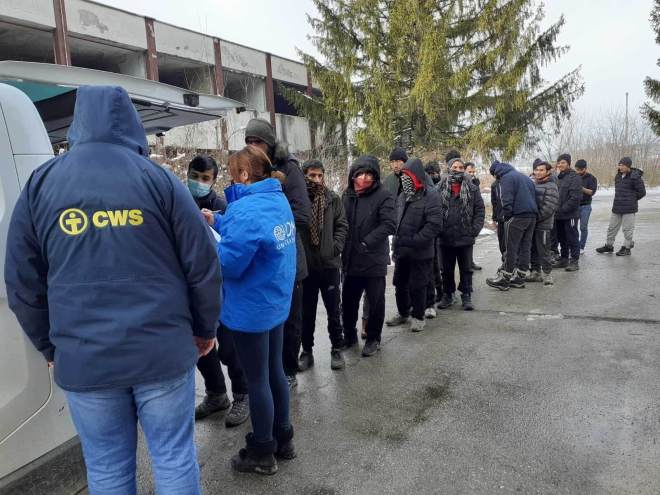 UMCOR directors also ratified grants totaling $6.3 million released through the emergency process. In all, directors approved and ratified grants of nearly $11 million at this meeting, including a range of grants in several mission categories, such as leadership development for church and society globally, support for racial/ethnic churches and their communities in the United States, and ministries in Latin America and the Caribbean.
David Wilson, a director from the Oklahoma Indian Missionary Conference, gave an update on Global Ministries' progress in researching and identifying Indian boarding schools of predecessor Methodist mission agencies. While Global Ministries possesses some records from mission schools, such as the Jesse Lee Home in Nome, Alaska, other schools did not keep records, or their records were lost. The National Native American Boarding School Healing Coalition has so far identified 367 schools across the country, 12 of which are Methodist schools, but which Methodist denomination or level of church body opened and administrated the schools is still under review.
The hope in identifying and acknowledging ownership of these boarding schools, part of a national system that forcibly took Native American children from their families and forbade them to speak their language or live their Native culture, is that reconciliation and healing might begin. Generations of Native communities have suffered from this national experiment – even those born after boarding schools closed feel the effects of this loss of culture, language and identity.
Directors also approved 2022 budget appropriations – a total of $26,160,189 for UMCOR and $43,367,946 for Global Ministries.
Hope and joy emerge in 2021
Global Ministries has moved to a hybrid work environment model, with some staff in the office, some working remotely and some who do both. This hybrid model will continue post-pandemic. This model has allowed Global Ministries to free up more of its office space for ministry.
Earlier in 2021, Action Ministries merged with HOPE Atlanta (Housing, Outreach, Prevention and Emergency services). Action Ministries operated a lunch program from the Global Ministries' facility that continues under HOPE. This move has extended ministry to serve the unhoused and hungry in the Old 4th Ward, where Global Ministries is located. HOPE Atlanta has partners across the greater Atlanta area. HOPE will be renting additional space from Global Ministries.
The Grace UMC congregation is planning a transition as part of a merger with Cascade United Methodist Church, a predominantly African American congregation with an estimated 7,000 members located on the Southwest side of Atlanta. Grace, in Midtown Atlanta, presents an opportunity for Cascade to extend its ministries to reach the local population in the 4th Ward, another predominantly and historically African American population in the city.
In his opening remarks, Fernandes observed that Methodist ideals of collaboration and connection are endangered in this time. After individuals and institutions have worked for months online, disconnected through the pandemic, he sees a need to draw closer together with other Methodists as a way to strengthen witness in this new age. Both Global Ministries and Grace UMC have chosen this direction, developing new partnerships to extend current ministries and the witness for God in the world.
During this board meeting, UMCOR directors engaged in small group discussions on how to better connect with the church in mission, weighing programs and grants, outreach and partnership. This discussion, just beginning, will continue in 2022.
"We continue to seek insight into this critical area," Fernandes said. "Though it will not be easy, I hope we will find joy and fulfillment in our work of shaping our witness in these rapidly changing times."
Christie R. House is a consultant writer and editor for Global Ministries and UMCOR.