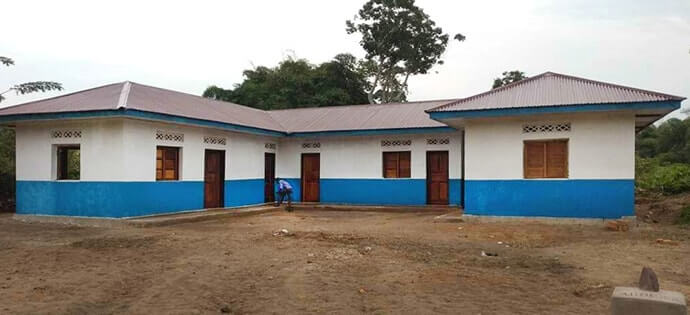 This photo shows the exterior of the health center opened by The United Methodist Church in East Congo. PHOTO COURTESY OF THE EQUATOR AND ORIENTAL ANNUAL CONFERENCE
By Judith Osongo Yanga
August 1, 2019 | OSIO, CONGO (UM News)
Osio is a village located more than 25 kilometers from Kisangani city. Each year for many years, the population of this village might travel thousands of kilometers to receive medical care.
Today, thanks to The United Methodist Church and the support of the Board of Global Ministries' Abundant Health initiative, this population is enjoying having a modern health center in their village. The center has a 20-bed capacity with a quality staff designated by East Congo Bishop Gabriel Unda Yemba, and offers general medical treatment with plans to add a maternity ward.
The goal is to make quality care accessible to all and change the image of the medical structures within the East Congo Episcopal Area, said Dr. Damas Lushima, general coordinator of health for the episcopal area.
"It is important to build a modern maternity to continue to improve the health of the mother and child," he added. "Abundant Health decided to build a health facility worthy of its name in the annual conference of the Equator and Oriental to alleviate some of the health problems that presents children and pregnant women in the rural Osio village."
"I am happy to see the Methodist community thought about the health of the population that is under my jurisdiction here in Osio," said Tshamunyonge Faustin, leader of the village.
In addition to upgrading the quality of care, the church helped improve the area infrastructure to increase access to a health center. Since there was no bridge nearby, crossing the Congo River to allow villagers to reach the university clinics or the large hospitals in Kisangani was an obstacle. They had to rely on canoes in an emergency.
The Oriental and Equator Conference covers a large geographic area, which also presents challenges to providing better health care access, said Albert Wembakoy, health supervisor for the conference.
"The need for well-constructed structures is as big as the conference itself because the majority of the members living in this conference are in rural areas," he said. "It is a great joy to see the population being brought closer to the structures of quality care in our annual conference."
The presence of the modern health center in Osio also aids in evangelization, said the Rev. Albert Onotamba, pastor of the local Albert Onotamba United Methodist Church that bears his name.
"We receive from time to time some people who today become effective members of our local church in Lubunga who testify to the service received at Osio health center," Onotamba said. "The health center does not only receive The United Methodists but also, and above all, the non-Methodists who come to receive the proper care."
"I pray that God will assist all the partners who think about the well-being of the people in the rural areas of our annual conference and our episcopal area," said the Rev. Willy Alimasi, Kisangani 1 District Superintendent.
Osongo Yanga is the director of communications for the East Congo Episcopal Area of The United Methodist Church.