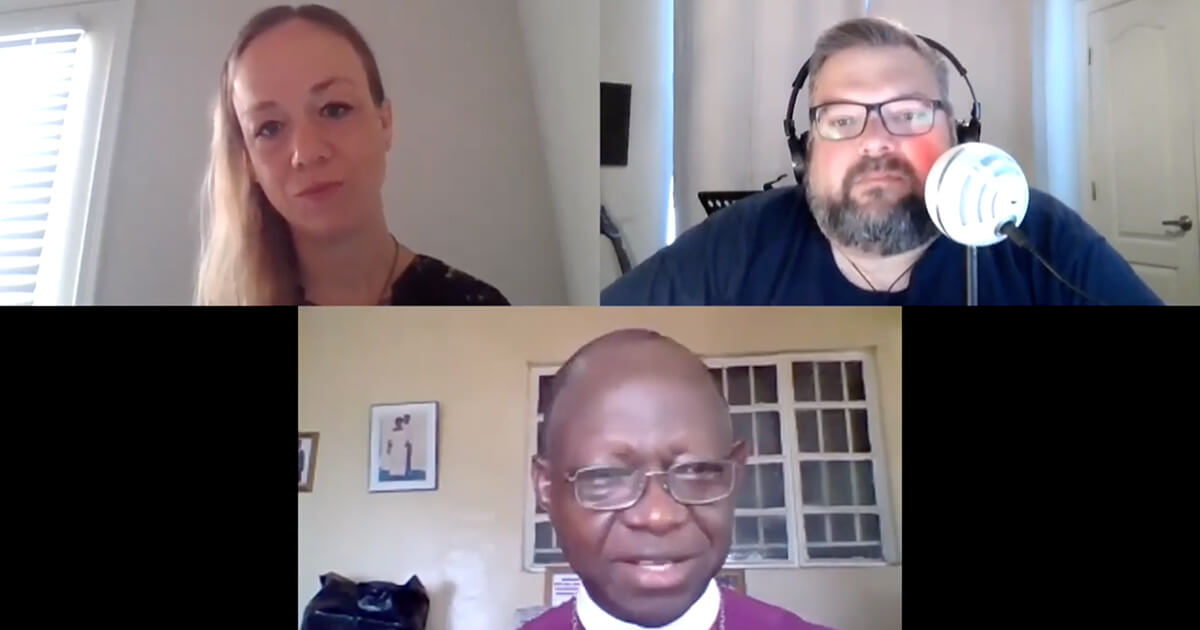 Article originally found on UMC.org
Bishop John Yambasu of the Sierra Leone Episcopal Area and Megan Klingler, a registered nurse who serves as the Primary Health Care Specialist of the Global Health Unit of United Methodist Global Ministries, share some great information about coronavirus and COVID-19, things we can do to help keep one another safe, and how the church is responding in Africa. We talk about why this virus is called "novel," what the difference is between an epidemic and a pandemic, and how social distancing is an important way to keep one another safe.
Bishop Yambasu also shares a couple of mini-sermons, sharing inspiring words for us to consider as we celebrate Holy Week and Easter during this time.
Our conversation took place on April 7, 2020.
This is our second episode recorded from home during this period of social distancing.
---
UMC.org coronavirus & COVID-19 resources
Bishop John Yambasu and Megan Klingler
Join the conversation
Help us spread the word
More Get Your Spirit in Shape episodes
Thank you for listening, downloading, and subscribing.
This episode posted on April 8, 2020.
---
Transcript
Prologue
Joe: Welcome to Get Your Spirit in Shape, the United Methodist Communications and UMC.org's podcast to help us keep our souls as healthy as our bodies. I'm Joe Iovino. Welcome to another of our reporting from home episodes as I and my colleagues are doing everything we can to practice social distancing to help prevent the spread of COVID-19 and the coronavirus.
On this episode we're talking about this global pandemic with two members of the Global Health Unit of Global Ministries of the United Methodist Church. I think you'll find this conversation informative and inspiring.
Conversation
Today I'm talking about the global pandemic of COVID-19 and coronavirus with two guests who are joining me via conference call. The first is Bishop Yambasu, the resident bishop of Sierra Leone which includes the Sierra Leone Conference and West Africa Central Conference. Bishop Yambasu also serves as the Vice President of Global Ministries Board of Directors and played a key role with health education and helping communities work together during the Ebola outbreak in his country. Welcome to Get Your Spirit in Shape, Bishop.
Bishop Yambasu: Oh, thanks, Joe. Thank you again. Thank you.
Joe: Can you give us a brief update of what's happening in Africa with the coronavirus?
Bishop Yambasu: It looks like crazy. Maybe that's the only word I have right now. It's crazy. It's confusion. It's like everything is messy.
As I communicate with colleague bishops we are thinking Sierra Leone would be the haven. I mean, everywhere in Africa, Sierra Leone will be the last place for people to seek refuge. And then just a couple of days ago we had the first 2 cases, and then another 2 cases and yesterday we have 2 more cases. So we're now have a total of 6 cases of corona infection across the country with so many more, the figures of those being in isolation becomes very clear. You understand because of statistics and communications.
But it's like everybody's on edge, and everybody is in a state of anxiety and worry and uncertainty, but just not knowing what is happening. Three days ago the president of the country, Maada Bio, announced a 3-day shutdown of the country. And just after that announcement the prices of social commodities like food and produce just skyrocketed beyond even monumental proportions.
Joe: Oh no.
Bishop Yambasu: And that was very stressful for many people. It's scary for many people when we have a nationwide shutdown because in Africa here many people…most people live by the day. It's like the Lord's Prayer, 'give us this day our daily bread.' People will only go…wait for the morning and then they go out searching for food, get something where they can ever and then bring home for the children to eat. So the shutdown is really scary.
We are experiencing the moment in Sierra Leone where…and this is the dry season…where the national grade…the national water supply, Guma Valley, the Guma Dam is dry. And so there is no water. And so the 3-day shutdown has really compounded the whole thing for many people who do not even have water at home to drink or to cook.
The other part of it is that, you know, when we are talking of coronavirus we are talking about practicing handwashing hygiene. And when there is no water for people to drink, the little they have they'll save it for drinking rather than washing hands. And this is really crazy. It's crazy. Except for those people who are in this part of the country, like in the City of Freetown, where there is water, they can manage to wash their hands. But the vast majority of people really are not just practicing that because they don't have water to drink. And so if they have any water at all, they will prefere to use it to cook and eat and drink rather than washing hands. So all of this has kind of compounded the problem.
There seems to be a little bit of lockdown on communications somehow. People at this time are very anxious to get information every morning or every 24 hours. That's really not coming out except from…some few information that you may stumble upon from the radio or TV stations. Just before the outbreak of corona the United Methodist Church engaged in a 3-day campaign with the floats and all the rest of that on hand sanitization and awareness building that everybody needs to keep safe. We did that for 3 days with the hope of win across the country for the rest of the provinces so that everybody will be informed that, yes, corona is here. It is real and it kills and for now there is no remedy.
But with the nationwide lockdown we only ended up in Freetown which is the most densely populated city in the country. And we cannot go any further. We are hoping today is the last day of the 3-day shutdown, that by tomorrow we can work together to see if we can replicate what we did in Freetown for the rest of the provinces. So it's kind of that's where we are as a nation.
Joe: Thank you very much. That's really informative. We're gonna get back to a lot of that. But before we go further I want to introduce my other guest, Megan Klingler who is a Registered Nurse serving as the primary healthcare specialist in Global Ministries' Global Health Unit. And Megan has worked in the developing world with primary healthcare and specializing in prevention and treatment of infectious disease. She was also in West Africa during the Ebola crisis and recently in the East Congo working to train trainers on breaking the transmission cycle of Ebola. Welcome, Megan.
Megan: Thank you so much. It's a pleasure to be here.
Bishop Yambasu: Welcome, Megan.
Megan: Thank you, Bishop.
Joe: I want to ask you, Megan, a couple of medical questions so that we can better understand what's happening. What do we know about COVID-19 and the coronavirus? And how is it different from the normal viruses that we see seasonally?
Megan: So coronavirus is from a large family of viruses, anything from the common cold to something more severe. So we saw it in 2002 most famously with SARS—Severe Acute Respiratory Syndrome. And we saw it again it its larger state in MERS—Middle Eastern Respiratory Syndrome. So it can vary in symptoms. It can vary in severability, how severe it is. But it is a quite common illness.
This one is called the Novel coronavirus because it was brand new. This has been the first time it was identified. So it was identified in Wuhan City and round December it was a cluster of pneumonia cases that they didn't know the cause. And when they isolated the cause they found the coronavirus.
The reason it is different from other viruses is it actually really similar to it; so that's what makes it so difficult to tell. So when you do testing, it's the only way we can really tell. That's why we're having people and promoting testings, because a lot of the symptoms are the same. So you have the fatigue, the cough, the achy body, not feeling good. It's often spread the same way as the flu; so respiratory droplets. So that's why a lot of the things that we hear is how to prevent respiratory illnesses, because they are all respiratory illnesses. The prevention is also the same way as the flu. So, covering your mouth, washing your hands like Bishop Yambasu said.
The big differences that we can tell between coronavirus and flu is at the microscopic level. So when we test the coronavirus, the reason that it gets its name, is because when you look at it under the microscope it actually has what looks like little crowns on the virus. So that's how it gets the 'corona' and crown.
The other thing, the difference between flu and coronavirus, is we have a vaccine for flu. Currently we don't have a vaccine for coronavirus. So I know that a lot of people, at least especially in America, they hesitate getting their flu vaccine. But I think this outbreak will show us the importance of these vaccine-preventable diseases.
Joe: That's important. That's good to know. And you answered one of my questions with why it's called 'novel.' I hadn't heard that before, believe it or not. But my other is, it's a pandemic, not an epidemic. Can you tell us quickly, like, what's the difference between an epidemic and a pandemic?
Megan: So, epidemic is when we larger than expected cases. So, you know, maybe in a normal year we see a few new cases, but we don't see this large outbreak of flu cases. Vaccine-preventable disease, especially in countries where we give a lot of vaccines, we don't expect to see that many of these disease. So when you start to see these vaccine-preventable diseases go into large amount, that's when we say that it's an epidemic. Something more than normal expected number of cases.
A pandemic is when we see it worldwide. So this outbreak was considered a pandemic when I believe it reached about 125 countries. So it reached not every country in the world but it went way over the majority of the world. We were starting to see cases of coronavirus.
Usually, we see these pandemics are usually things that are new. So novel. Bacteria novel pathogens and pathogens that people are not immune to. So that's really the reason that we're seeing this one spread so quickly.
Joe: Excellent. That's really helpful. Bishop, I wanted to ask you, too, around the United States churches are cancelling worship services and even for Easter and Holy Week this week. Is that happening in Sierra Leone as well?
Bishop Yambasu: In many parts of the country of the continent it is happening. I think a couple of days ago, as I just shared with you, the President of the country, Julius Maada Bio, announced a nationwide shutdown, and that included every movement of people, every gathering of people, including worship services in churches and in mosques. So we are in that kind of situation.
Just a couple of hours ago I was speaking to my dean of covenant and some conference staff about the current situation and where we're heading to. It's all very confusing for now. Nobody really knows how long this is going to end, and there's every likelihood that the nationwide shutdown will end tomorrow or maybe just a couple of days. They are using this 3 days to be able to do contact tracing for the 6 people who have been really proved to have the virus and their many contacts around, and then bring them back together to see what could be done. But it's very likely if this is not very substantial we might have an extended period of shutdown for 21 days as we are speculating.
Regarding the place of the church, this is going to have the specific consequences on us as a church, because we have over 180 clergypersons including about 50-70 evangelists only 200 to 250 pastors who carry out the work of the church in different parts of the world. Churches are closed. We're not raising offerings. People are not giving their tithes. And no donations are coming because everybody is shut down. The banking system is closed. So you cannot transact any business. And that means that by the time we come to the end of April we will have a huge number of pastors who will not be able to have salaries and the conference will have the responsibility to see how we can pay those salaries. But that isn't all.
The shutdown has also—like we had the case of Ebola. When Ebola broke out in this country many people, because of the Ebola were afraid to go to the hospital because they got the belief that they would get infection from the hospital, from the medical doctors and the nurses. And so right now people are not going to hospitals. And we have 9 health facilities in this country, and with a total of over 400 staff persons working, doctors and nurses and others.
So nobody is going to hospital. Where are they going to raise the money? And it means conference now also have the challenge of trying to raise funds to pay those salaries. And so we can go on and on and on. The conference has supported their working. We are able to get money to pay them through apportionment. Many churches would pay their apportionments to the church or the conference. And that's what we get to pay. With church closed down, no apportionment, no offering, no nothing. It's crazy. It's really crazy and messy.
But you know we are a people of hope. We're a people of hope. And I believe that like Saint Paul would say to the church in Corinth, 2 Corinthians, he would say, "We are troubled but not destroyed. We are pushed down on every side, but we are not crushed." I believe the church will survive the coronavirus. Our nations of the world will survive the coronavirus and God is going to bring back his kingdom on earth…
Megan: Amen.
Bishop Yambasu: …as it is in heaven. That's what we can hope on. And that's the trust that we have.
Joe: I was gonna ask you for a message for Easter. But I think you just did it.
[Laughter]
Bishop Yambasu: Well, you're right. We are a people of the resurrection, especially United Methodists. For there is hope that when a tree is brought down its roots will grow again. And so we'll believe that the church is alive and the interesting thing here is that it is only the physical walls of the church, the physical doors of the church that will close. But Jesus…
I think Peter would say to the people, "We all belong to the priesthood of believers," because we are God's temple. And so the physical church has been closed, but the spiritual church remains wide open. And in my Palm Sunday message to the nation through one of the TVs I said to them: This is an opportunity. Many times we become overwhelmed by the enormity of the challenges that are coronavirus has brought, but how beautiful it will be if we'll all become overwhelmed with the enormity of the power of God to bring something new into all of it.
As we look at the challenges there is hope. And I was saying to my people, coronavirus infection also has its own advantages. It also has its own good point. For many of us who, because of our work, we do not have time…
Thank you for observing the coronavirus use of discipline Megan. (She wiped her face with her sleeve and not her hand)
Who do not have time to spend with our families. We are all about work and work and work. Coronavirus is saying stay home with your family. And I said, the early church…the early church in Antioch went through the same when they were persecuted by the powers that be, and instead of worshipping openly in community worship, or mutual worship, they decided to go into their homes and in the secret places of their homes they will worship. They will praise God. And the church was able to spread.
We are no longer persecuted as Christians because we are free to worship in many parts of the world. The coronavirus has come as a kind of persecutor. But that does not mean that because the church is closed we cannot worship. We can still within the confines and safety of our homes and our family can become a congregation. And we can preach and the father could be the head of the church. He can be the pastor. The mother can also be the liturgy, the children can read Scripture and we can clap and we can praise and we can jump and we can praise God. And we can raise offerings and we can send those offerings to the churches. So the church is really not closed. The church is wide open. It only depends on how we all look at the situation.
Joe: That's a powerful message, Bishop. Thank you so much for reminding us of that. And Megan, along those lines I want to talk a little bit about social distancing because we are being told to not go to church, to not be around other people. Why is that important? Can you just remind us of the importance of staying apart?
Megan: I think the most important thing… I can't even follow this. But I think that Bishop Yambasu is doing such a fantastic job. I think the most important part is to know how this virus is spread.
So right now we can see that we have a lot of confusion. We're learning new and more things every day about this virus. So what I say today I'm just letting you know that this is today. Two weeks from now I'm not sure if this is gonna be the same. But right now we're finding out this virus… It changes. We always have to put a little disclaimer by everything we say.
We're seeing that this virus is caused by droplets. So I think the important thing is how droplets are spread. Droplets are spread when we cough, when we talk, when we sneeze. So I always tell people to think about that person that maybe talks and they spit when they talk. Those are the big ones, that you can actually see, but most of them we can't see. But that bitty little piece of droplet that comes out of their mouth and drops really quickly to the ground. So we know that droplets, because they're heavier and they're made more out of water, they're denser. They don't travel very far. So they travel…we usually typical say one meter or 3 feet. And so that's the reason we're saying stay at least…. In Africa WHO is saying stay at least one meter, and in the U.S. we're saying stay 2 meters or 6 feet away from each other. So we know that the droplets can travel those 3 to 6 feet, so we're just recommending people stay away that distance of even being infected or even having a chance of being infected.
That's also why we're saying if you have to be closer than 3 feet, to wear that mask. So that protects the droplets from getting out of your mouth, and also prevents the droplets from getting to your mouth from the other person.
And the reason we're saying wash your hands is because these droplets, as you know, they fly out, they land on things. Then we touch those things unknowingly, and we touch our face throughout the day so many times that we don't even realize we touch our face. And our eyes. Right now my eyes are watering because our pollen count is very high here in Atlanta. We touch. We scratch our nose. Or we just get nervous and we put something in our mouth. So that's why we're trying to say, Wash your hands frequently. Cover your mouth if you cough or sneeze. Also cover it so the protection of you, the protection of others.
We don't know right now who is sick, who is not sick. We're actually seeing a large number of patients that are asymptomatic. So when you say asymptomatic we're saying they don't show any signs and symptoms. So that's sort of the dangerous things that we're discovering about this virus. A lot of people look healthy. They look like you and I. And they're actually…they're carrying the virus actively with them. So they go into these stores. They go into the churches…
You know, with Ebola it was a little bit easier because we could take the temperature when they go into a congregation. If they have a high temperature we could say, I'm sorry, please worship at home today. We know you have a fever. With the coronavirus unfortunately a lot of these healthy-looking people can enter into these closed areas without knowing that they have the symptoms or they're carrying the virus.
Joe: You brought up the Ebola comparison. And I wanted to ask, that. Both of you have worked through the Ebola crisis in West Africa, I'm curious if there are some things that we've learned from that that will help us through the coronavirus treatments.
Bishop Yambasu: I think, yes. In Sierra Leone we have learned a whole lot of lessons, from the experiences of the Ebola outbreak in this country in 2014. I led the interfaith taskforce on Ebola in this country it. And we were everywhere in this country to the point that certain point I was almost always on the TV and radio and everybody was calling me 'the Ebola bishop.' You know, which is kind of very interesting.
But those experiences are kind of really ahead of us. One, the level of hysteria, you know, with the outbreak of coronavirus is not as much as we experienced because when we experienced Ebola everybody was in complete…what was really…we were really hysterical. Very confused. This time in Sierra Leone, this time around, there is a kind of calmness. People just trying to sit for a while to rethink Ebola, to rethink what to do and those lessons. Are the lessons are basically the same.
The only difference is that in here in the case of coronavirus you are living in the same house with somebody you don't even know whether that person is infected for 10 days or how many days. You don't know. So by the time you come to know about it it's already at the terminal state.
With Ebola we knew those rules. We knew when we would not touch the person. You know when you're not able to touch the corpse. We knew when it was too late. And so people were able to keep themselves safe. And so since we don't know the complexities that coronavirus brings, we apply those same rules. Don't touch. Keep a safe distance and wash your hands and wash your face and wash regularly with soap for a couple of minutes. And drink enough water just in case. And then you've got to have none of that with a lockdown. You've got to have some basic drugs. And everybody was ready. You have to have some basic drugs if you are told, just in case, because many people died during the Ebola period, not of Ebola but of other diseases. But just because they were afraid to go to the hospital. With nobody there to pick them up, they died at home.
The other thing, we are now talking, we organized ourselves as interreligious are working as president of the council of churches, we are also borrowing the things of Ebola what was safe and dignified burial.
People die of corona and sometimes they are just gonna wait. Parents not knowing, family not know where they have been buried. And we are now saying, No, we have got to give them safe and dignified burial. We can keep a distance. And now we are saying we have just come to a point together with the ministry of social work here, we have postponed all kinds of weddings in this country. But you can't postpone all the funerals. When somebody is dead, the best we can do is dispose of that body.
So we are saying, not more than 25 persons, including the clergy, to be present. Not more than 25. And they stay at the safe distance at the funeral home. And so we do the funeral and there's no funeral procession, only the pastor and 2 or 3 members of the family who accompany the corpse into the cemetery and then the person is buried. And that's the end.
So there are a number of good experiences that we have brought here. It's a little bit difficult for us to be able to convince the government about that. But if it worked in times of Ebola I'm sure it will work in times of corona infection also.
I'm not saying it was good that we had Ebola, at least from those experiences we are now better off. Most in a better position to be able to handle corona.
In the days of Ebola, because of our family ties, when somebody is sick we keep the person at home. But now those experiences of Ebola …if you keep an infected person at home all of you are going to die. And so people are now very much open to call one-seven-seven, or 1-7-7, your hotline. So the moment somebody begins to suffer from sneezing and coughing everybody is now calling the hotline, and people are coming in for help. So that's again one good lesson that we have learned.
Megan: I just want to second and just say that I went to Liberia which was also affected in the Western Africa Ebola outbreak. I went to Liberia in November and the amount of handwashing stations, the amount of hand sanitizers that they were still using post-Ebola, it was quite impressive that that will give them and Sierra Leone and hopefully Guinea and now East Africa and Nigeria a heads up in this Ebola outbreak. So infection prevention control standards that weren't even thought of years and years ago in advance are now, because of the Ebola outbreak, people in healthcare facilities are more used to wearing PPDs—personal protection device. They're more used to washing their hands between patients. People are in the culture of washing their hands before they go into health facilities. I think that this is a huge strength that Western Africa is bringing into this coronavirus outbreak, or pandemic now.
Bishop Yambasu: You are right, Megan. In fact, we have some. It's not enough. Stockpile of old PPEs and other that we used in times of Ebola, we never disposed of that. And now these are the things that our hospitals and health workers are using. And sometimes giving away a little bit of what we have to other health facilities. And that's making things very easy for us. So, yes, we have got a lot of learning experiences from Ebola.
Megan: It's unfortunate, but I think you guys are a step ahead because you had to go through a very rough few years.
Bishop Yambasu: We give God the glory for that. We thank God for that.
Joe: Before we go I just have one more thing I wanted to ask each of you, is what should people be doing at this time? And Megan, I want to start with you. What should we be doing during this period?
Megan: So I think Bishop Yambasu touched on some of this. I was talking amongst my group because I think was just beginning. So we talked about how you could be a good neighbor. This goes in the U.S., this goes in Sierra Leone. This goes across the world. So, especially if you have somebody that lives next door that's immunocompromised, that's elderly, one of these risk groups, see how you can assist them. If they do open up bans and allow people to go out, ask them if they need anything from the grocery store. Ask them if they need you to pick up their mail or take out the garbage. But stay your safe distance of 6 feet away from them, or 2 meters away from them. Check on them. Call people. Let them know that you're thinking of them. I know WHO was talking about whether we should change it from social distancing to physical distancing because having that word 'social' people are feeling like there's a social breakdown right now. And people aren't caring. So, encourage…call people, check on people. Let them know that you're thinking about them especially when you don't see them outside anymore.
Try to donate. As Bishop Yambasu was talking, money is tight right now. So try to donate to these places. If you're still working…. Right now I'm still working. I'm still gathering a paycheck. Others are not. The amount of people that are unemployed right now is growing exponentially each and every day. So how can people like me that are still seeing a paycheck help those that are not? So whether it's a donation of food at food pantries or giving funds that they can help pay rent or help pay the church salaries.
Share talents. I saw one of my old math teachers was advertising on Facebook to help children that are working from home and learning at home. She was offering her math skills, her 20 years of math skills to help parents that were stuck trying to teach geometry at home. So that was a great thing.
Then just encourage leaders so people like Bishop Yambasu to have a voice. I think we listen to the people that we trust and we know that our clergy, our lay leaders, our bishops, are so well respected and so well trusted. What I say as an American does not hold very much weight in Africa. What he says…what Bishop Yambasu and other bishops say amongst their people have so much weight. So I would encourage you to share positive messages and letting people know that you're there.
Joe: Bishop Yambasu, what would you add to that?
Bishop Yambasu: Thank you, my conversations with some of my colleagues, some of the bishops here, is that I have looked at corona with another eye. I have said, Could it be that God has used corona to call us to attention, to focus on him. You know, I've been involved all this while with a global crisis in The United Methodist Church, where if you are not a centrist or you are not in progressive, or traditionalist, you are not a good Methodist at all. And as a result of that we'll be tearing and tearing each other up by pressing each other's fingers in each other's eyes, as if we have not ever been together before. And so my thinking is, is God saying to us through corona, Can you focus on me? Can you United Methodists stop tearing each other apart? Can you just focus on me for a while?
And so, he has brought this natural pause so that United Methodists can pause for a while, and can give themselves a breathing space, we take a deep breath and by the time we come to terms with what is happening maybe God is saying, Can you come back to the table and see how you can love each other and move my gospel, move my kingdom forward?
So I said this to all of us it is a time for personal self-reflection, whether you be a layperson, you be a clergy, or whoever, a communicator. This is a global issue. It's not a one-church issue.
Like I was saying, like I said during the time of Ebola, you see, corona does not distinguish between you being a centrist or progressive or traditionalist. When it comes it comes for everybody. Corona does not come for you being a Muslim or me being a Methodist or Anglican, whatever. And so because it is all-inclusive, it's time for all of us as the body of Christ, as a mission, as a global church, as a world to come together to see that God is saying to us, especially as United Methodists, can you pause for a while? Can you stop this fighting? Can you stop this piercing of your fingers at each other's eye and focus on why and know that I am God?
Joe: While we're all apart it's time for us to take time for some self-reflection. I think that's a really important piece that you've offered to us.
Megan: I just wonder if I could add that I would encourage people to also fact check before they believe or share something. I know so many people are doing their own research and that's great to be very informed, but they need to make sure that they don't choose sources that are approved. I recommend WHO and CDC. So that's one of the things that I would like to add.
Joe: Good. Yes, that's really important because we do hear tons and tons of rumors that are out there. Well, I want to thank you both on behalf of the audience and the entire church for the work that you are doing and also thank you for the time that you took today to talk to us, to help us learn more about what's happening in Africa and just more about coronavirus in general and the way the United Methodist Church is responding and all the things that are happening in our lives. Thank you so much for your time today.
Megan: Thank you.
Bishop Yambasu: Thank you. Thank you. You're the best. God bless you.
Epilogue
Joe: That was Bishop John Yambasu, resident bishop of the Sierra Leone area which includes the Sierra Leone Conference and the West Africa Conference, and also Megan Klingler, a Registered Nurse who serves as the primary care health specialist in the Global Health Unit of Global Ministries of the United Methodist Church. To learn more about them and the work that the United Methodist Church during the Ebola outbreak and during this coronavirus COVID-19 pandemic visit UMC.org/podcasts and look for this episode. We've included some links on the page to help you find more information. And while you're there remember that you can subscribe to Get Your Spirit in Shape, to have all of our episodes downloaded to your device as soon as they're available. Thank you so much for listening. I'll be back soon with another conversation that'll help us keep our souls as healthy as our bodies. I'm Joe Iovino. Peace.