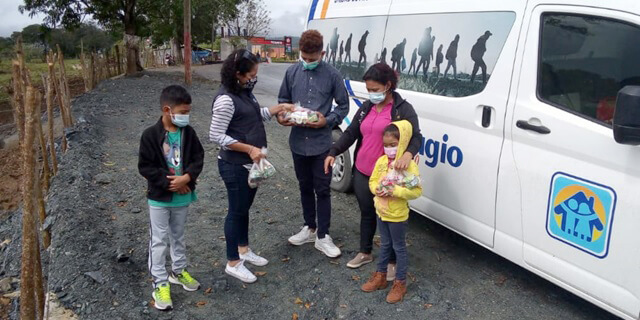 Women with their children traveling through Guatemala receive food rations, water and facemasks from el Refugio del la Niñez. PHOTO: COURTESY EL REFUGIO DE LA NIÑEZ
---
UMCOR helps to feed women, children and adolescents
By Christie R. House 
February 12, 2021 | ATLANTA
In response to the emergency needs of migrants making their way into Guatemala as they head toward the United States, the United Methodist Committee on Relief partnered with El Refugio de la Niñez, a Guatemalan human rights organization, to provide short-term food rations along the journey. El Refugio contributes to the protection of vulnerable groups, particularly women, children and adolescents in transit.
In Guatemala, El Refugio reports that a "State of Prevention" has been issued because of the 2021 migrant caravans and the approximately 5,000 Hondurans currently in transit. Many are described as "climate migrants," people who have not recovered after hurricanes Eta and Iota swept through Honduras in November 2020. Yorleni Jimenez Rojas, a missionary with the United Methodist Mission in Honduras, has spoken directly with people on the streets of San Pedro Sula.
"With this situation, people are driven to migrate to seek better options," she noted. "A man told us 'I have nothing more to lose, I already lost everything here.' In these contexts, it is common to find women alone in charge of their children. They have been abandoned by their partners, and they face raising their children alone, with few resources and no job opportunities. For this reason, the recent caravans have had a 'woman's face.' Desperation drives them to start this dangerous journey."
The Guatemalan government has organized different camps along the route to ensure adherence to migratory regulations, which includes a COVID-19 test. El Refugio del la Niñez has been present in each camp to provide information on the rights of migrants and to identify cases with special protection needs. It has coordinated support among its partners and resources for protecting unaccompanied children and adolescents in conjunction with the Guatemalan Secretariat of Social Welfare and the Attorney General's Office.
As a result of interactions with migrants in the camps, El Refugio de la Niñez identified the need for food, mainly for mothers, children and adolescents. The UMCOR grant provided 853 food ration packets.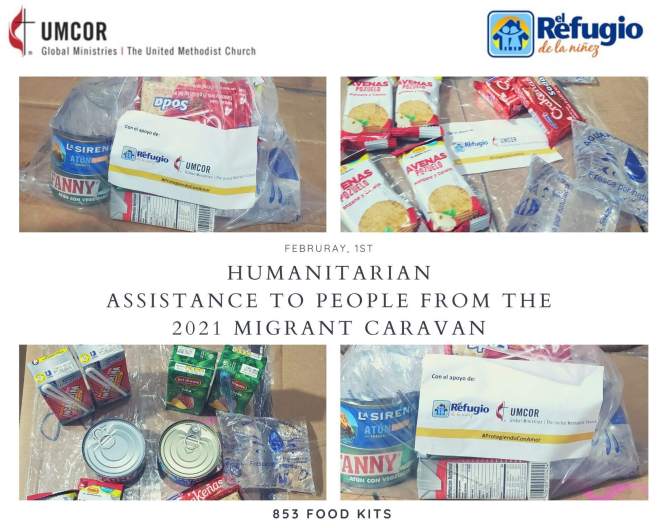 The current situations in the United States and Mexico, complicated by rising cases of COVID-19, make it highly unlikely that many will reach the United States.
Roland Fernandes, General Secretary for UMCOR and Global Ministries, the United Methodist mission agency, says that the humanitarian needs of the most vulnerable are of great concern.
"It is our responsibility to meet the needs of migrants in whatever ways UMCOR can," he said. "They have already lost so much because of hurricanes Eta and Iota, which wiped out their homes and their crops and therefore their livelihoods. Women, children and youth, especially, need basic resources and a caring presence, wherever they are on their journey and wherever they eventually end up."
Christie R. House is a consultant writer and editor with Global Ministries and UMCOR.