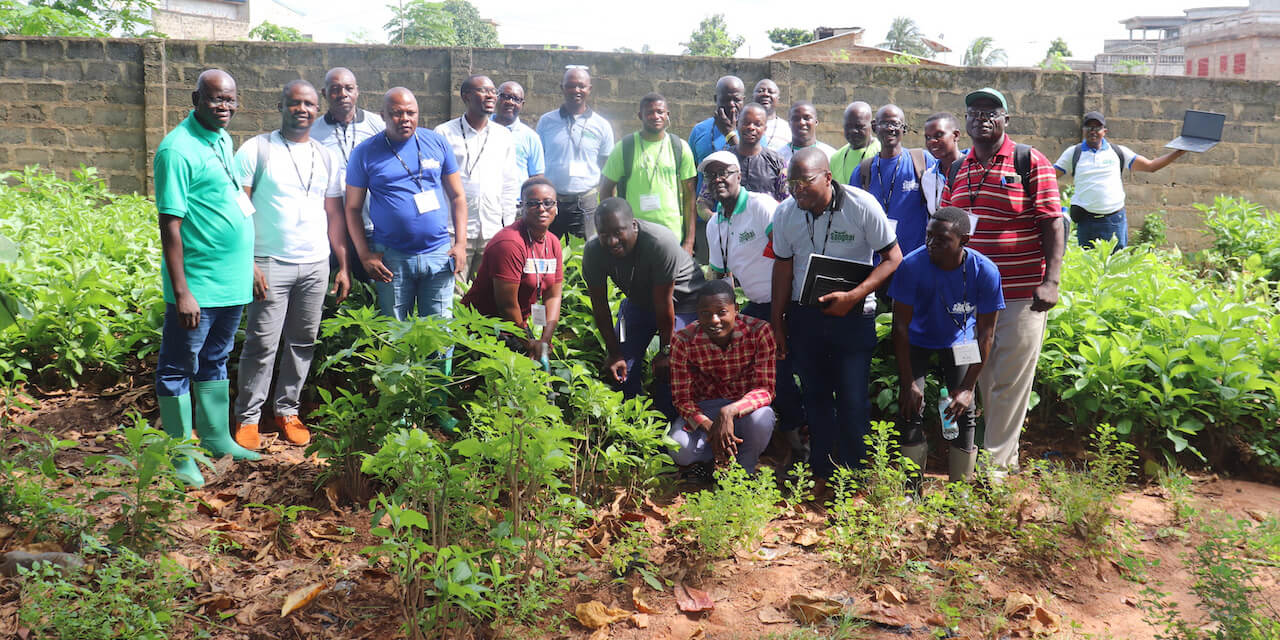 Participants flank Daniel Adouvoeke (center), 32-year-old agricultural entrepreneur, in his crop farm at Koutongbe in rural Porto Novo, Benin. PHOTO: PHILEAS JUSU
By Phileas Jusu
November 3, 2022 | PORTO NOVO, BENIN
A team of 27 Yambasu Agriculture Initiative (YAI) trainees attending the Songhai Center in Porto Novo, Benin, visited two farms of graduates who have gone into farming entrepreneurship after receiving training from the center.
The goal of the visit was to learn from the experiences of the graduates. They learned how potential for growth at a local level can be harnessed, the challenges agricultural entrepreneurs face and how crop farming, animal husbandry and fish farming are practiced.
Another reason for the visit, according to Apollinaire Kolle, the Songhai tour guide, was to let participants know that even on one hectare of land (about 2.4 acres), one can do great things. Eliezer Djossou, director of Ferme La Verge Fleuri, rears chickens, rabbits and pigs in addition to crop farming on 7,000 sq. meters of land in Takon, rural Porto Novo. He also runs a palm oil farm on 22 hectares elsewhere in his community.
Welcoming his guests, Djossou explained that there is synergy between his animal farm and the palm oil plantation; animal waste from his farm is processed as organic manure and sent to the plantation. Training from Songhai taught him that such synergies have enormous effects in cutting costs as well as maximizing yields. He said that implementing this practice has given rise to healthier plants and increased yields.
Another Songhai graduate, 32-year-old Daniel Adouvoeke, runs Agro Miracle Farm on 2,500 sq. meters in Koutongbe. Adouvoeke also owns two other farms – one in Avrankou on 510 sq. meters where he has a banana and pawpaw plantation and another in Adjarra on 470 sq. meters of land where he does fish farming.
"Being an entrepreneur," he said, "is a good thing. But being a young entrepreneur is not easy. It comes along with challenges." Adouvoeke is grateful that the Benin government supports agribusiness by training young farm entrepreneurs. But other challenges still remain. "Being an entrepreneur actually means sacrificing for the good of the majority. To become an entrepreneur means forgetting riches at the moment while focusing on the future," he said.
Adouvoeke has two employees on his farm. He has continued to pay them and provide training so that they can not only take care of their families and dependants, but also train for future growth. "When we wake up every morning, we should be thinking of how we can reduce poverty in Africa by employing people and giving them a means of livelihood," he said.
Adouvoeke spent 11 years studying agriculture. He spent four years learning forestry in school and was given a scholarship to study forestry for another four years. He later entered university for three more years to earn a bachelor's degree.
Adouvoeke set up his farm in 2016, starting with just 12 beds of lettuce. In the end, he sold all 12 beds of lettuce for less than one dollar. "You can imagine how discouraging that was. After all those years of study, I set up a farm, harvest and then sell for less than one dollar. So, it gave me a moment to rethink," he recalled. "The challenges will come – they are not negotiable. Every entrepreneur faces challenges. It is upon us to learn from them and develop something positive. This is not something you would learn in the classroom," Adouvoeke said.
Today, he is a proud owner of three farms.
Several YAI trainees shared their experience after one week of training and a visit to the graduate farms:
"Coming to Songhai has been a blessing for me," said Elfreda Brima-Fawundu from Sierra Leone. "After visiting the farms, I now know that one can start small and grow big," she said.
The Rev. Solomon Rogers, the YAI program director from Sierra Leone, gained this realization: "Get a ready market before you produce. I am now going to ensure my market is ready before I harvest my first crops. There must be people ready to buy pork before my pigs mature in the piggery," he said.
For Bolsum Gambo Auta from Nigeria, "The take home is a motivation to impact the local community by leveraging available resources for food production and profitability, job creation, skill acquisition on the organic system of farming, and revenue generation for our conference."

Named after the late Bishop John K. Yambasu, the Yambasu Agriculture Initiative mobilizes existing land and human resources within the church, improving community livelihoods and food security long-term and moving toward sustainable financial solvency of United Methodist episcopal areas in Africa.
Phileas Jusu is the director of communications for the Sierra Leone Annual Conference.