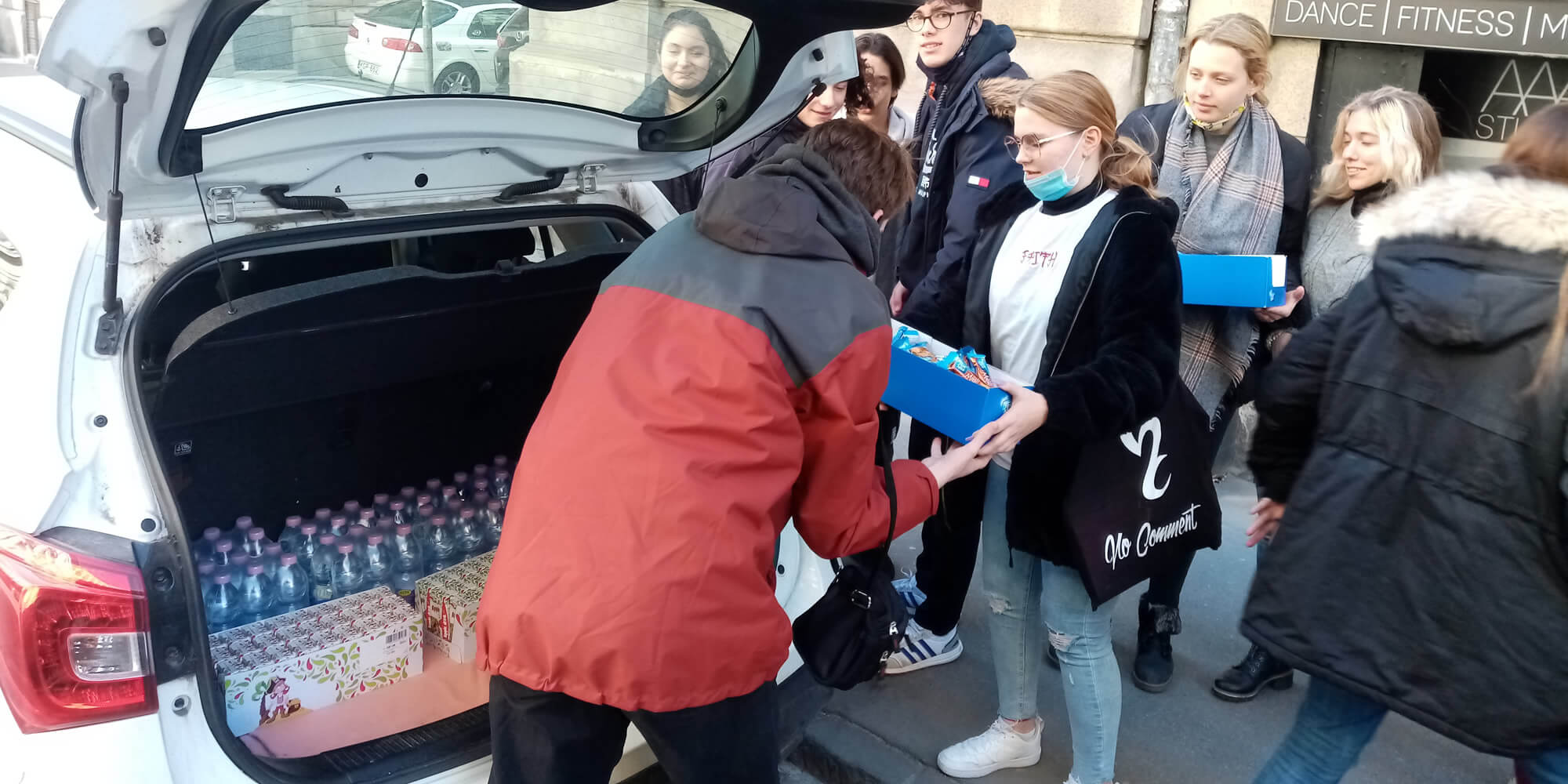 In Hungary, Methodists are playing a vital role in offering assistance and aid to Ukrainian refugees. PHOTO: Courtesy of Dr. László A. Khaled, district superintendent of the UMC in Hungary
By Elliott Wright
March 4, 2022 | ATLANTA
Even as they face uncertainties, the small United Methodist communities in Ukraine are reaching out to help their neighbors as their country is under attack by Russia, according to reports reaching Western Europe and the United States.
"The superintendent and pastors there are overwhelmed with local concerns, but they take time to stay connected to the church beyond their borders and let us know what they are doing to respond to human needs," said the Rev. Üllas Tankler, the European/Eurasian representative of the General Board of Global Ministries, in a Zoom conversation.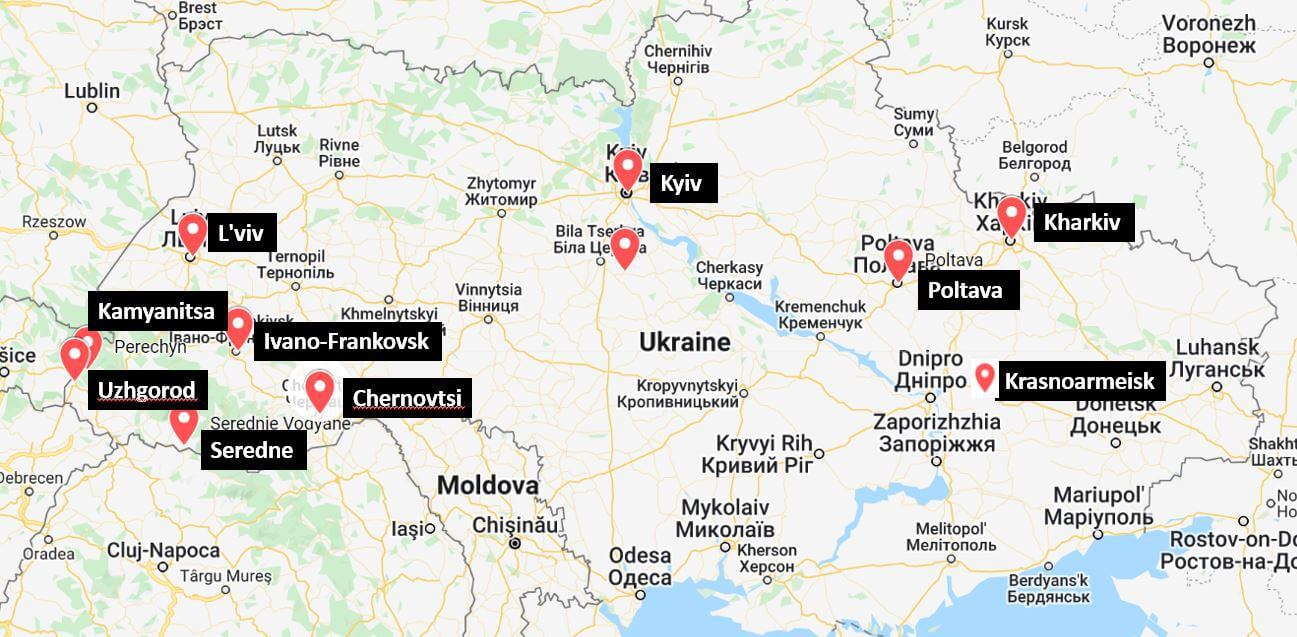 United Methodist church communities in Ukraine. Design by the Rev. Mel Munchinsky
Three priorities
Tankler, who is based in Estonia, stressed that United Methodist congregations in Ukraine are few and small in membership. "We have 10 churches with combined communities of around 500 people," he said. Most of the churches are in larger cities. There is also a student ministry in Kyiv that appeals primarily to foreign students. The church in Lviv has a strong student and young adult focus.
"I hear three issues of immediate concern in the messages from United Methodists in Ukraine," Tankler said. "First, they want to help those in need immediately around them. The present emphasis is on internally displaced people, notably in the west, around Lviv. Then, general humanitarian concerns within the county, and third, doing something to help those leaving Ukraine, initially becoming refugees in adjoining Poland, Hungary, Romania or Slovakia."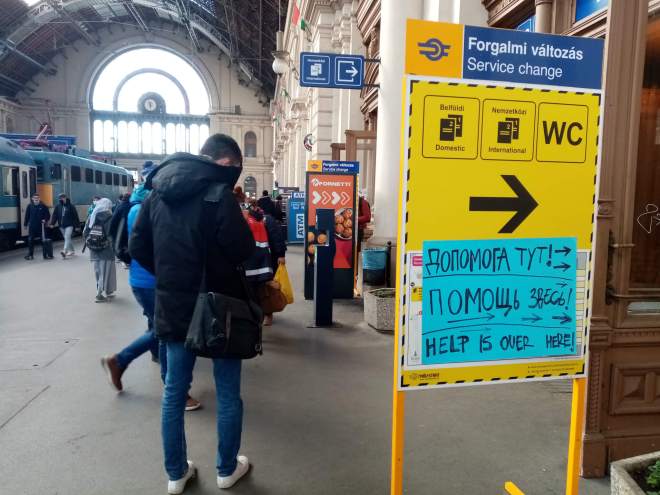 United Methodist Committee on Relief response
UMCOR is in direct conversation with Methodist leadership in Ukraine, Hungary, Poland, Romania and Slovakia. United Methodist churches in these countries are already assisting internally displaced people (IDP) and refugees within and from Ukraine with food, water, shelter and other needs. UMCOR has approved grants that will immediately strengthen these efforts.
Displaced inside Ukraine
As they are able, United Methodist churches are offering their space to people displaced by the fighting, according to the Rev. Mel Munchinsky, a retired pastor in Arizona and coordinator of Global Ministries' In Mission Together (IMT) program that covers Ukraine. Most of those are in the western and central areas of the country but, Munchinsky said in a telephone interview that he has heard from a pastor in Lugansk, the region in the east where the Russian forces entered in late February and is sometimes considered a pro-Russian breakaway state.
The pastor, Munchinsky said, is also a medical doctor and is working to rally other physicians to respond to medical needs created by the crisis.
In Mission Together promotes partnerships between churches in the United States and Western Europe and countries of Eastern Europe. The relationships fund pastors' salaries, outreach and building construction and encourage personal exchanges, including mission team visitations.
Ukraine is part of the Ukraine-Moldova Provisional Annual Conference, which is included in the Eurasia Episcopal Area based in Moscow. Some of its congregations predate the Soviet era in which churches were suppressed. Most have emerged in the post-Soviet period through United Methodist mission initiatives, out of which the Eurasia Episcopal Area emerged.
Vast area, mostly Eastern Orthodox
Ukraine covers a vast land area of 233,031 square miles, extending from the borders of Poland and Romania in the west, bordering on Russia on the east and south and touching on Russia and Belarus on the north. A majority of the population of some 44.3 million is ethnically Ukrainian and affiliated with Eastern Orthodox Christianity, although there is a division between parishes related to the
Russian Orthodox Church and those that identify with a Ukrainian Orthodox Church. There is a large community that practices an Orthodox worship liturgy but recognizes the authority of the pope in Rome.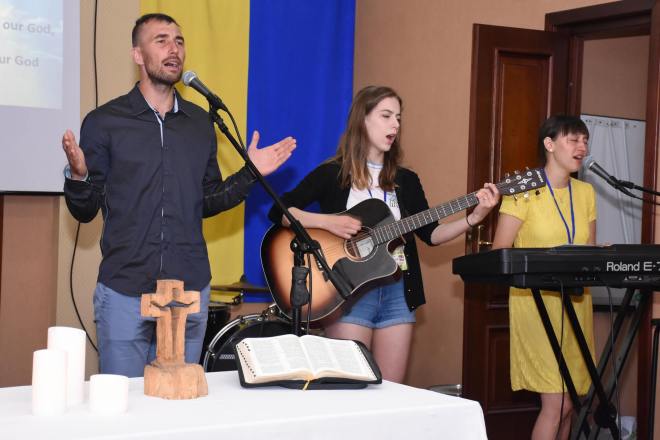 Protestants form a small minority, as do Roman Catholics, Muslims and Jews. Munchinsky observed that while non-Orthodox numbers may be small, there is a sense of religious diversity in Ukraine. The Ukrainian president, Volodymyr Zelenskyy, who is leading the resistance to the Russian invasion, is Jewish.
Methodist presence
The year 2019 marked the 130th anniversary of Methodism in Eurasia. The origins were in the era of Russian imperial rule over the region. One early center was Uzhgorod, a city in far-western Ukraine, near the border with Slovakia, according to a history compiled by the (today's) neighboring Central Conference of Central and Southern Europe. The historical survey reports that in March 1923, the missionary organization of the Methodist Episcopal Church, South, in the U.S., bought a building for the community in Uzhgorod. The United Methodist Church there is the oldest in Ukraine.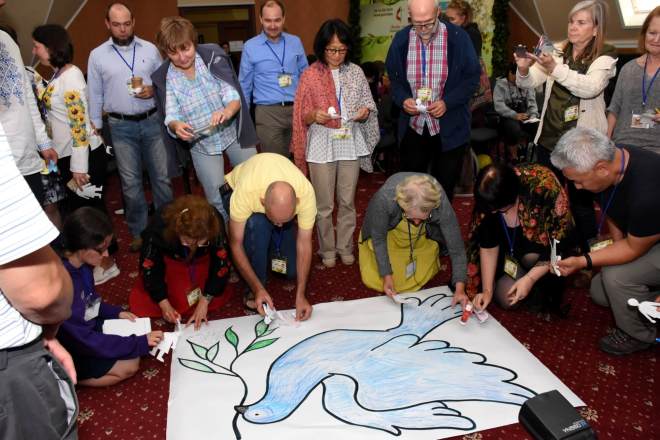 But Methodist church development in the area would be put on hold by the forces set loose by the Russian Revolution of 1917 and the onset of World War II. The Soviet Union extended its control over Eastern Europe and Central Asia. Providentially, the congregation in Uzhgorod survived Soviet rule, congregants being counted as members of the Methodist Church in Tallinn, Estonia, since they were not allowed to register as Methodists in Ukraine.
New opportunities followed the collapse of the Soviet Union in 1989. New congregations and student ministries emerged, assisted by Global Ministries' missionaries and Global Mission Fellows. Mission volunteer individuals and teams were welcomed; partner church ties were established with congregations in the U.S. and Western Europe, and considerable support came from the Mission Fund for Europe.
There were challenging political factors from the outset in the late 20th century. While Ukraine declared its independence from Russia in 1991, relations with Moscow have been rocky over the years. In 2014, Russia seized and annexed the Crimea. That seizure resulted in the loss of five congregations to the Ukraine Annual Conference. The five were transferred to the South Russia Annual Conference since they were operationally no longer in Ukraine.
You can help the church in Ukraine provide for neighbors
UMCOR will provide assistance as possible to United Methodists in Ukraine by responding to the needs of internally displaced persons through its International Disaster Response and Recovery (IDR) fund. Gifts to support the people of Ukraine can be made in the following ways:
· Online at https://umcmission.org/advance-project/982450
· By toll-free telephone: 888-252-6174
· By check made out to Global Ministries/UMCOR with "Advance #982450-Ukraine" written on the memo line, either mailed and addressed to Global Ministries/UMCOR, GPO, P.O. Box 9068, New York, NY, 10087-9068 or given at or through any United Methodist church
Elliott Wright is a writer long associated with Global Ministries.