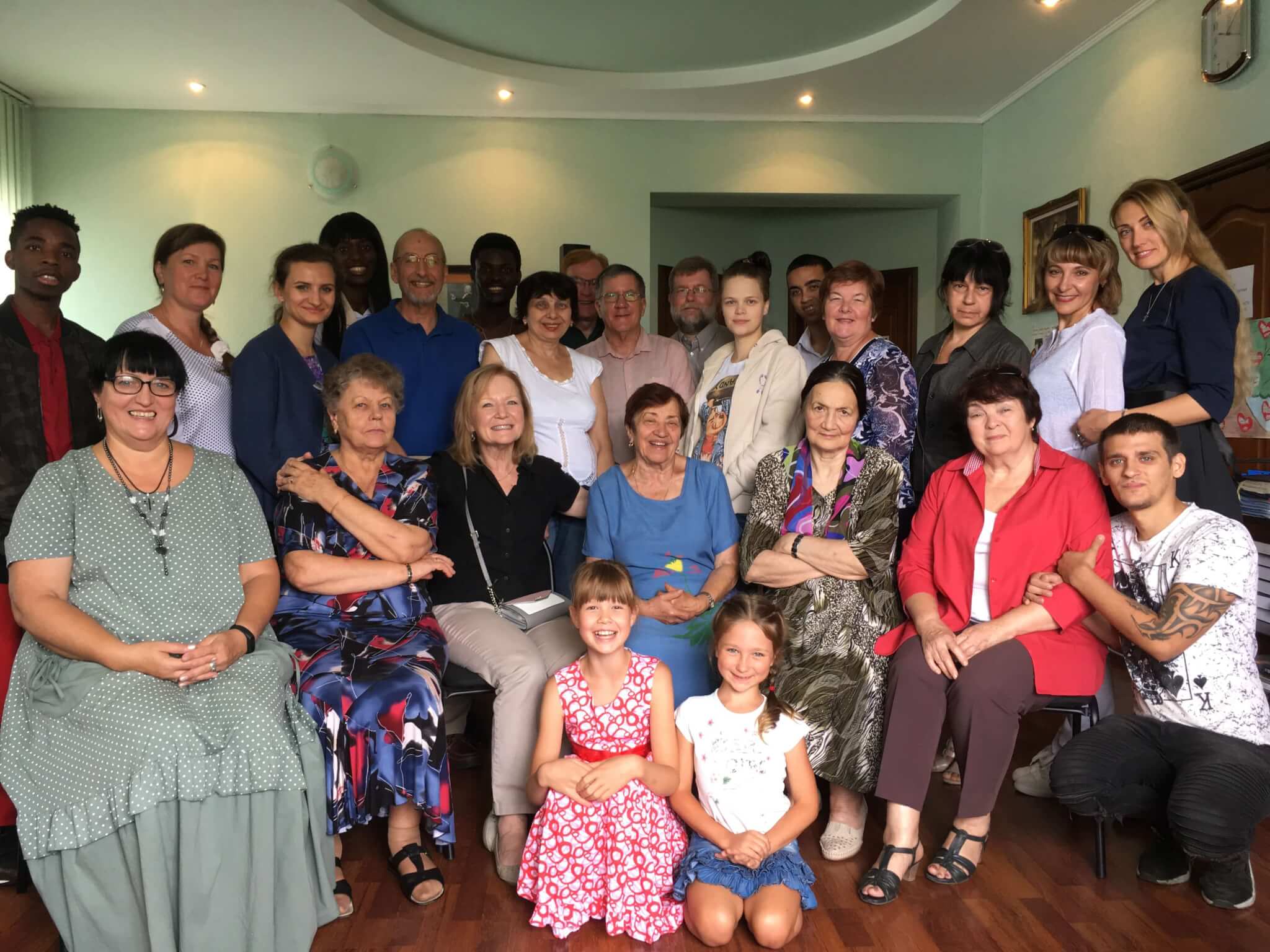 In addition to serving as district superintendent for the South District, the Rev. Irina Mitina (seated first row, far left) also pastors the Stavropol United Methodist Church. PHOTO: COURTESY OF CHARLES HARRELL
---
By Christie R. House
The Revs. Irina Mitina and Charles Harrell first met in 2006, and even though they live on different continents, they and the conferences they represent have maintained their connection for more than a dozen years. Their faith, mutual participation in God's mission in Eurasia and connection with Global Ministries' In Mission Together program have made their long-term relationship possible. For them, the global church can be expressed and experienced in local and personal ways.
The In Mission Together program is a global partnership network in which partners commit to one another through an agreement to participate equally as the body of Christ, using the skills and resources of each community.
Mitina serves with The United Methodist Church in Eurasia as the superintendent of the South District. Harrell is a retired elder of the Baltimore-Washington Conference who has been a key leader in the conference for the coordination of work teams traveling to Eurasia.
Projects and relationships
The Eurasia UMC uses Camp Kristall for retreats, seminars and conferences. U.S. work teams bring funds to buy tools and supplies for renovations. "The camp covers a wide territory," Mitina said, "so we have a lot of different tasks to be done. We improved the buildings, erected brick structures and completed a new roof."
But these physical activities are secondary for the Russians. "We also build relationships with each other," Mitina explains. "Russian people are more relationship-oriented, U.S. people, more project-oriented."
Harrell confirmed her assessment, but, he said: "We have a good combination. Both parts are important. When people have their hearts deep in this ministry, lives are changed.
Life-changing ministry
"When I took my first team from my congregation in Maryland, I asked for their impression of Russians," Harrell continued. "They gave a cold-war stereotype. But once they spent time with the people of faith in the Eurasian UMC, they admitted they were welcomed by warm and gentle people who are deep in their faith.
"One of our teams included a now-retired pastor who had been a fighter pilot for NATO during the Cold War. He had been trained essentially to dehumanize targets as 'the enemy.' But by the end of the trip, he shared testimony about how his time in Russia had changed him.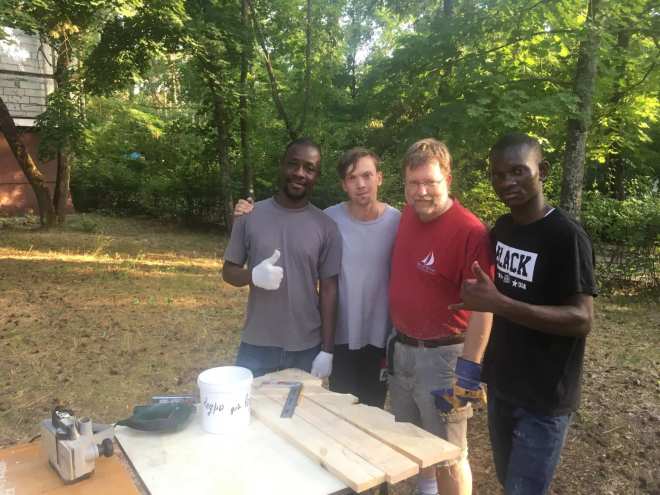 "A man in the Voronezh congregation who had flown MiGs (Russian Aircraft Corporation) in the Soviet air force was there that day. These two men may well have fought each other on the battlefield. But here in the church, they were together as brothers in Christ. There were hugs and tears – an amazing witness for all to see what God can do."
Mitina said the In Mission Together theology resounds with her. "Mutual ministry means we all have an important part in the mission. For us, it is important to see members of the global church with us, represented by these teams. It reminds us we are not alone."
Support the work of emerging and growing United Methodist mission churches with a gift to Evangelization and Church Revitalization, Advance #400400.
Christie R. House is a consulting writer and editor with Global Ministries.