Lily Maijama'a, Global Mission Fellow in Liberia, during orientation on a poverty alleviation initiative in the Ganta community, early March 2020. PHOTO: LILY MAIJAMA'A
December 2020 | ATLANTA
My name is Lily Maijama'a, a Global Mission Fellow from Nigeria serving with the West Africa Initiative of Liberia as a community worker. The initiative was established to aid in the recovery process of the 14-year civil war fought in the country. It focuses on agricultural development programs, poverty alleviation and food security.
I am involved in humanitarian service to help people in marginalized communities combat poverty and secure food for themselves; it is highly engaging work but life-changing. I'm always glad to find myself serving in a marginalized community, doing my part to transform lives. I encounter people with different needs and conditions who sometimes cause me to be very emotional and compassionate, realizing how economic and political systems marginalize people, limiting their ability to attain the abundant life that God provides for all. Many have no access to social amenities, good health, education, clean water or even good roads.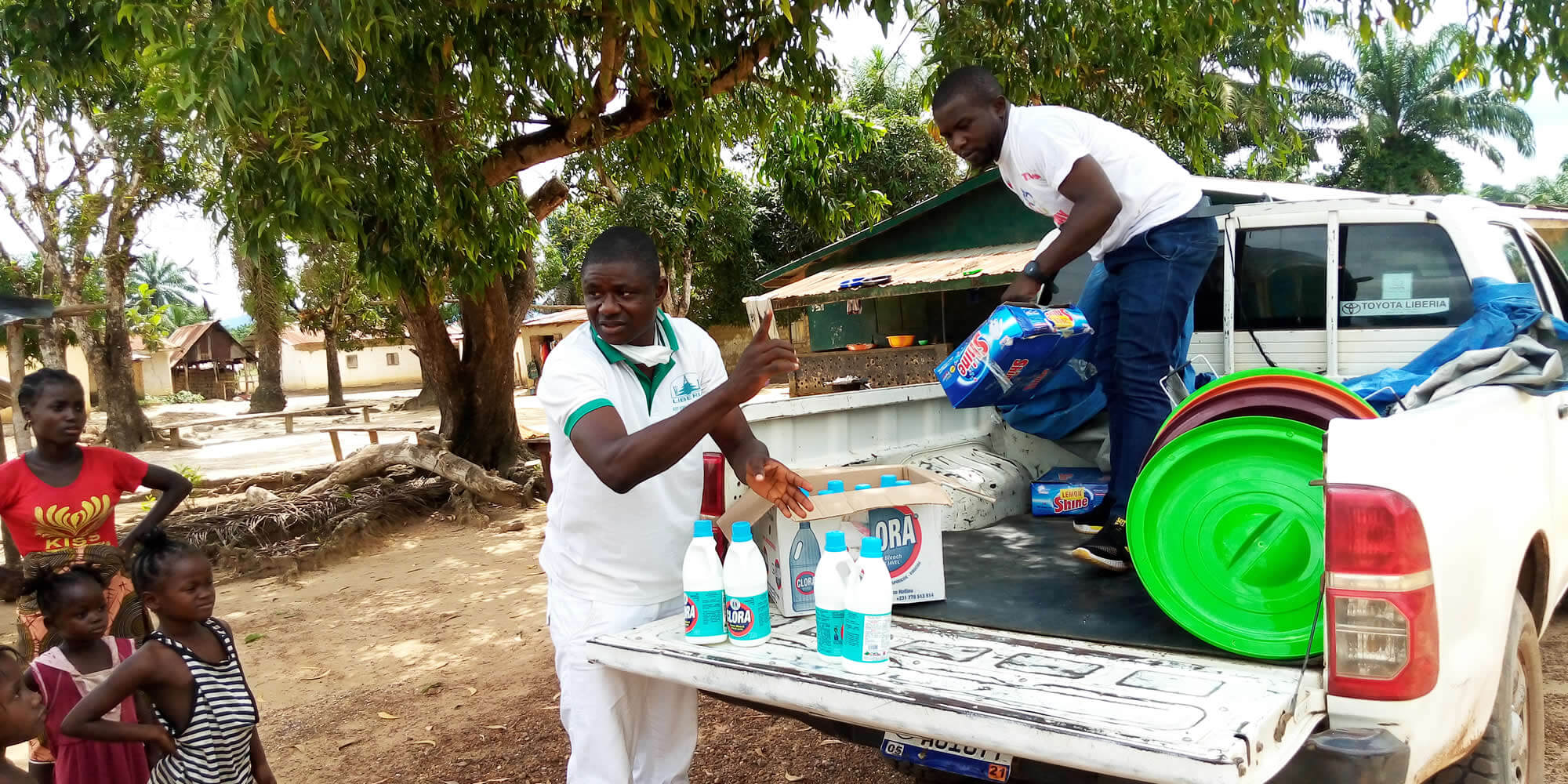 Maijama'a (in the truck) helps his supervisor distribute COVID-19 cleaning supplies and equipment in the Yelwa community, Liberia. PHOTO: COURTESY LILY MAIJAMA'A
During the early recognition of the COVID-19 pandemic, which brought the world to a standstill, tension was high. Fear of contracting the virus and the trauma that comes with it, coupled with being in a foreign land, made the world seem unsafe to me. The nation was in lockdown, and we had no chance to see a friend, neighbor, colleague or families, because everyone could be suspected of spreading the virus.
I was so stressed out, just hoping to survive. I couldn't stop thinking about the communities we serve, and all our efforts to combat poverty and help people to secure food for themselves, now in jeopardy because they were prevented from going to their farms and businesses. It seemed like our little effort was wasted. This thought repeated in my mind over and over, and I prayed that God would intervene.
At that point, when thousands were dying from the virus, I was invited to join a project on COVID-19 advocacy and awareness – distributing relief items (including food), incentives and preventive equipment to people in marginalized communities. For me, it seemed like a draconian decision to choose between my safety and the community I serve. Then a voice entered my mind, "Some must sacrifice for others to live, and others have sacrificed for the life I live today." I felt so vulnerable, but the power of love lifted me into service once again.
I committed myself to the task, to be part of the frontline workers to fight the virus in solidarity with people living in marginalized communities. With that surrender, I felt an extraordinary peace that I had never experienced before; I went gladly to serve. This
taught me more about the love of God and the sacrifice of Jesus, who delivers us from our sins.
Let love lead, every other thing will take shape.
Together in God's mission.
---
Lily Maijama'a is a Global Mission Fellow from Billiri, Gombe, Nigeria, serving with the West Africa Initiative in Liberia. WAIL was initiated in 2008 in response to the food crisis and high levels of food insecurity in Liberia and neighboring Sierra Leone. The program has been operating continuously in rural and insolated areas of both countries, with the support of various churches and denominational agencies in the United States, including UMCOR.