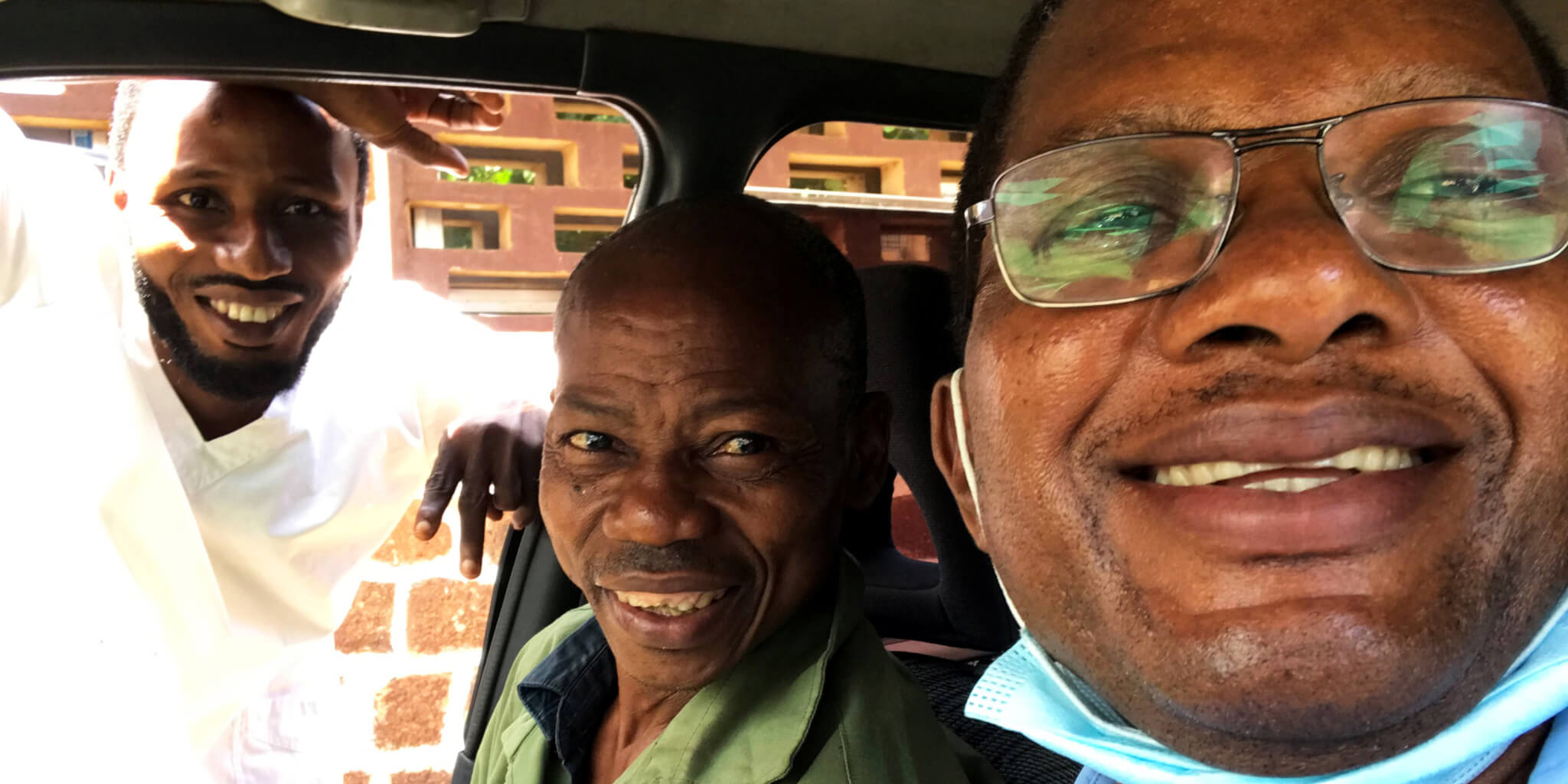 Missionary Dr. Tendai Manyeza (far right) with Jonathan (center) and an aid that helped Jonathan into Dr. Manyeza's car. PHOTO: TENDAI MANYEZA
By Tendai Manyeza
October 28, 2022 | FREETOWN, SIERRA LEONE
Jonathan, a physically challenged maintenance worker at the hospital, often catches a lift with me after work. In appreciation, Jonathan says, "May God give you long life." He is slow at walking to the vehicle and in getting in and out. Each time he took a ride with me, I would become anxious because, without fail, I would get caught in the end-of-day rush-hour traffic jam. Very often I wished I would not find Jonathan waiting, but at the end of many days, there he was. I would, however, not show my disappointment.
"Some people have failed to recognize angels visiting them and have missed out on God's blessings." These words by a preacher I heard came like a hammer to my mind as Jonathan was struggling to get into the vehicle after work one day. I paused for a while, calmed myself down, and gently helped him.
"Is Jonathan an angelic visitation to me that I am failing to recognize?" I pondered. His regular prayer "May God give you long life," too, came vividly into my mind. I convinced myself that God was not happy about my attitude toward Jonathan and wanted me to change. I thanked the Holy Spirit for that discernment. I am now very patient with him.
God taught me humility, tolerance and patience from this encounter. My wife, Natallia, had mentioned to me that I get irritated easily, that I am impatient and too critical of situations. She advised me to positively embrace situations as they came my way, but I always brushed her observations off. God then used Jonathan, a physically challenged worker, to teach me how to be patient, tolerant and humble.
I was reminded of 2 Chronicles 7:14, "if my people who are called by my name will humble themselves, pray and seek my face and turn from their wicked ways, I will hear from heaven, and I will forgive their sins and heal their land," a promise I now meditate on frequently. The power and life in this promise continues to grow in my spirit and soul, transforming me into the person God wants me to be as I serve in God's mission work.
Dr. (Paul) Tendai Manyeza, M.D., serves as a missionary doctor at The United Methodist Church Hospital in Kissy, Sierra Leone. Previously he served as a missionary doctor in his home country of Zimbabwe. His wife, the Rev. Natallia Manyeza, serves as a missionary pastor and lecturer at the United Methodist University in Freetown.
Global Missionaries
Global Ministries missionaries are a tangible connection between The United Methodist Church and mission. Through denominational or ecumenical ministries, missionaries bear witness to God's presence all around the world. They are called by God and sent out to serve by the church, usually placed in a new cultural context beyond their country of origin. Missionaries engage in ministry that is defined by mutuality and partnership, seeking to expand the mission of God already present and active in people and places.
Support the ministries of missionaries working around the world.