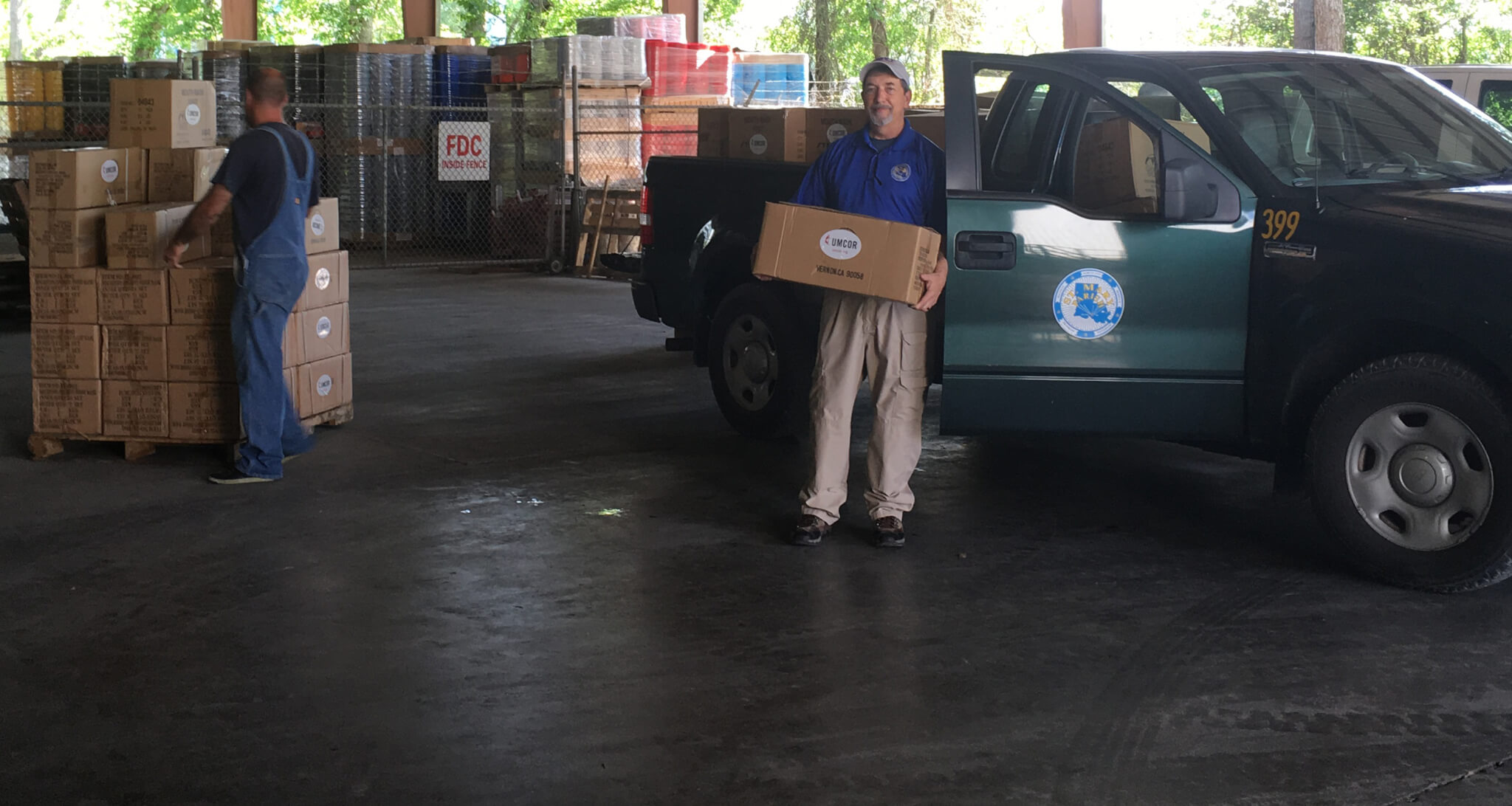 By Dan Curran
March 27, 2020 | ATLANTA
Needed supplies stored at the United Methodist Committee on Relief's Sager Brown Depot are being distributed to first responders in Louisiana as part of the agency's effort to help fight the spread of the novel coronavirus and the disease it causes, COVID-19. Coronavirus cases in Louisiana have spread faster in the first two weeks of the state's outbreak than they have in other states and countries across the world, according to news reports detailing an analysis by a University of Louisiana Lafayette professor.
More than 80,000 masks in sealed and unopened cartons purchased for future use are being distributed to first responders serving communities near UMCOR Sager Brown Depot. Amy Fuselier, director of UMCOR Sager Brown, contacted the state Office of Public Health to discuss areas of immediate need. They in turn directed Fuselier to the U.S. Department of Homeland Security, which is now coordinating the state's response, and DHS determined local first responders had an immediate need for the supplies.
"In normal times, United Methodists and friends of UMCOR make thousands of UMCOR relief supply kits," said Thomas Kemper, general secretary of Global Ministries, which includes the United Methodist Committee on Relief. "Now, some of these kit supplies are being used to support and protect first responders on the frontlines of the fight against COVID-19."
"One never knows the impact an UMCOR kit, or its parts, will have on someone's life," said Amy Fuselier, director of the UMCOR Sager Brown Depot. "This donation is a great example of UMCOR's efforts to address an immediate need and the impact of kit supplies being felt in unanticipated places."
UMCOR Sager Brown, located in Baldwin, Louisiana, serves as the repository, inspection site and distribution hub for the kits assembled by volunteers across the country.
Dan Curran is a communications consultant with Global Ministries.
Sources:
https://www.theadvertiser.com/story/news/local/2020/03/24/covid-19-cases-louisiana-coronavirus-spreading-faster-than-anywhere-world/2907504001/
https://hub.jhu.edu/2020/03/20/sars-cov-2-survive-on-surfaces/