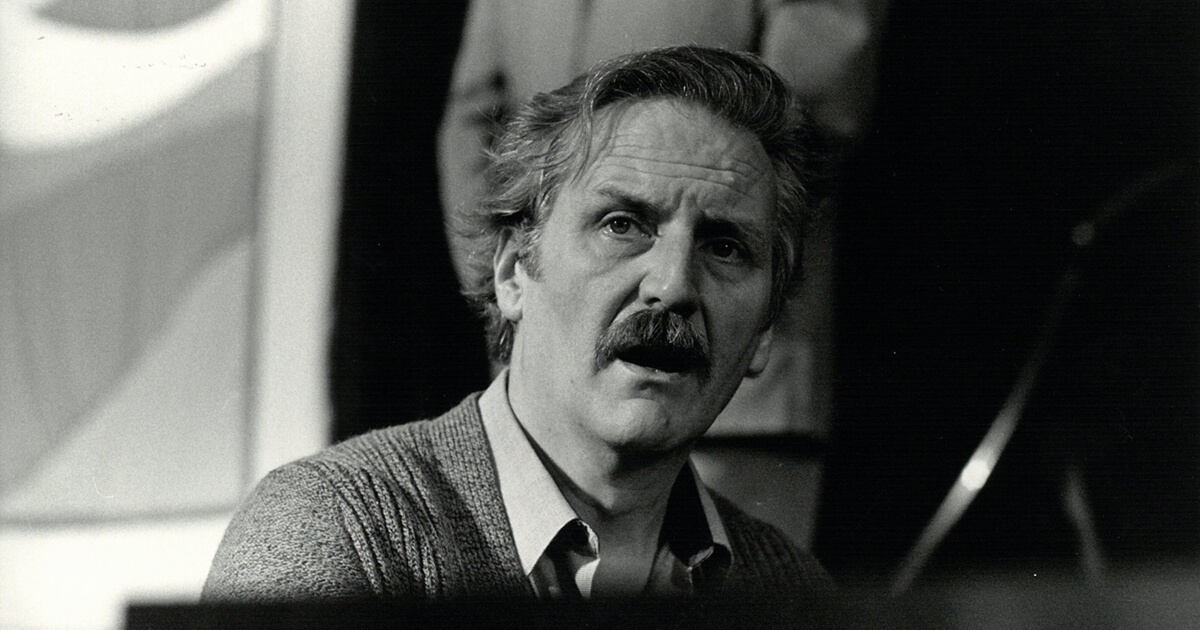 By S T Kimbrough Jr.
February 14, 2020 | ATLANTA
The Rev. Pablo Sosa of Argentina died on January 11, 2020, in Buenos Aires, at the age of 85. As one gives thanks for this gifted man's life, it is particularly important to recall his contributions to United Methodism.
Known for his countless songs of faith written so often in musical styles of Latin America, Sosa's first love was being a pastor of the Evangelical Methodist Church of Argentina. Having studied music and theology in the U.S., Germany and Argentina, he was multilingual and possessed a broad knowledge of international musical styles. For many years, he served on the faculty of ISEDET (Instituto Superior Evangélico de Estudios Teológicos) in Buenos Aires. At the annual meetings of the board of directors of Global Ministries, he frequently led the singing of songs from different parts of the world. United Methodist Women often engaged his talents for annual meetings, assemblies and mission studies.
When Global Ministries began its Global Praise program in 1994, Sosa was invited to become a member of the ecumenical Global Praise working group. Over 12 years, the group published 18 books of global song, strengthening the mission of Global Ministries in worship and witness.
Sosa's contributions to the Global Praise program were significant, as illustrated by the following examples of his songs and texts in Global Ministries publications:
Global Praise 1
#27, Gloria, Gloria, Gloria
#41, ¡Miren qué bueno! / O look and wonder
#61, Tuyo es el Reino / Yours is the Kingdom
Global Praise 2
#28, El cielo canta / Heaven is singing
#82, O Great Spirit, transcription of Nuxalk youth, Canada
#94, Este momento / This is the moment
Songs of Love and Praise (John Wesley Hymns)
#19, My Savior, how shall I proclaim
Songs for the World (Charles Wesley Hymns)
#16, Stranger unknown, thou art my God
Sosa's contributions, however, were not merely music and texts. He was a pastoral musician whose theological perception was reflected in discussions, lectures, sermons and other publications. In 2006, the Global Praise program published "Music and Mission: Toward a Theology and Practice of Global Song." Pablo contributed a vitally important chapter titled "Global Song and Globalization: Sharing God's Gifts." His opening paragraph reveals the basis of his life and ministry:
Promoting global song is imperative in a world in which people of various cultures and ethnic
backgrounds have more direct contact with one another through electronic and cyberspace media.
At the heart of the Judeo-Christian heritage is the foundational belief that all people are God's creation;
hence, their languages, cultures, and cultural expressions are a vital part of the creative process.
As the music and songs of peoples emerge from their soil, life, and culture and provide a glimpse into their
innermost being, it behooves those who claim to be followers of the Creator God—who reveals the divine,
creative self in Jesus Christ—to share with one another their songs. In sharing such songs, they
express their mutual affirmation of and respect for one another in creation, as followers of the
same God.
Sosa will be remembered for his multiple contributions to ecumenical conversation and worship. United Methodists give special thanks for this poet, prophet, musician and pastor of the Evangelical Methodist Church of Argentina who wrote songs of unity praising the Creator God of all people.

S T Kimbrough Jr. is the former director of Global Ministries' Global Praise program. He is currently a research fellow at the Center for Studies in the Wesleyan Tradition, Duke Divinity School.