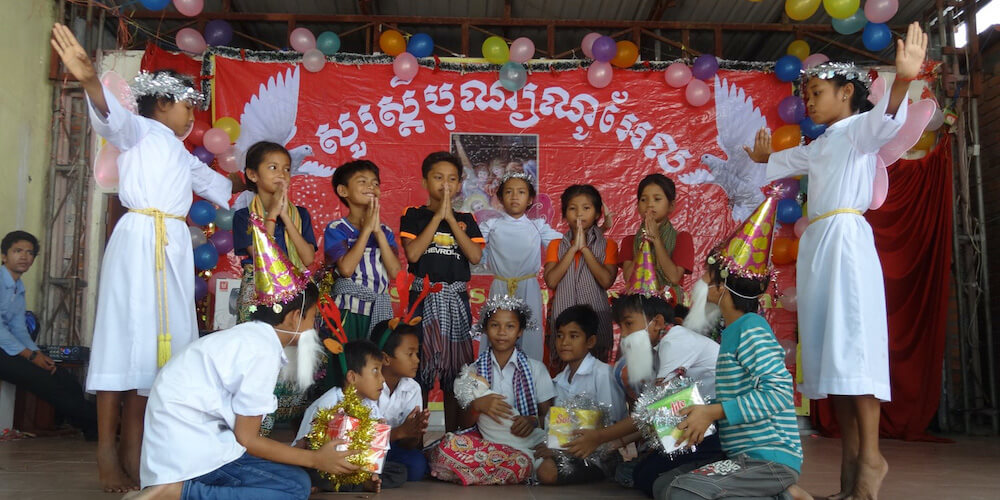 The annual Christmas pageant of the Street Children's Ministry, Methodist Mission in Cambodia, concludes with presents and celebrations. Missionary Clara Biswas is the director of the Street Children Program. PHOTO: CLARA BISWAS
By Elliott Wright
November 25, 2020 | ATLANTA
The United Methodist mission in Mongolia will be able to employ two persons in the field of Christian education next year through a program of small salary supplements provided by Global Ministries.
Nationals in Mission (NIM) grants totaling $605,362 were approved on November 12 by Global Ministries' board of directors. The funds are for positions, not specific individuals, geared to the mission needs of churches and partner organizations outside the United States.
Grants for next year will cover salary supplements for 182 mission-related positions in 60 countries, with the largest concentration of workers in Africa. The positions range from the manager of a program to build the capacity of small farmers in Burundi to a conference youth director in Nigeria; a pastor for migrants in Tunisia to a mission house coordinator in Nicaragua, and a worker with Roma children in Russia to a community ministries director in Laos.
One of the two Christian education positions in Mongolia will allow for a national to plan and develop Sunday school curriculum for children and youth and the other will support Christian education programs for congregations and church leaders.
NIM grants are made in the four current United Methodist areas of focus: leadership development, congregational development, ministry with the poor, and global health. Most of them range from $1,000 to $6,300, with a few lower and a few reaching $7,000.
Other grants for next year will include supplements for:
· Leadership development in Vietnam
· Advocacy for human rights in Colombia
· An Evangelism director for the East Congo Episcopal Area
· Communication in Sierra Leone, Albania and the Czech Republic
· New pastors in Poland
· Women's agriculture ministry in Côte d'Ivoire
· Outreach to street children in Cambodia
· Coordination of ecological ministry in the Philippines
Of the 182 positions for which funding was approved, a majority are in the annual (regional) conferences of Africa. Seventy three are in the area of congregational development, 67 in leadership development, 39 in ministry with the poor, and three in global health.
The goal of NIM is to build the professional and economic capacity of churches with limited financial resources, according to Roland Fernandes, general secretary of Global Ministries.
The total NIM allocation was less than usual because of overall budget reductions, caused by lower giving to denominational programs. Donations to NIM can be made to Advance #400400 (Evangelism and Church Revitalization).
Elliott Wright is an information consultant for Global Ministries