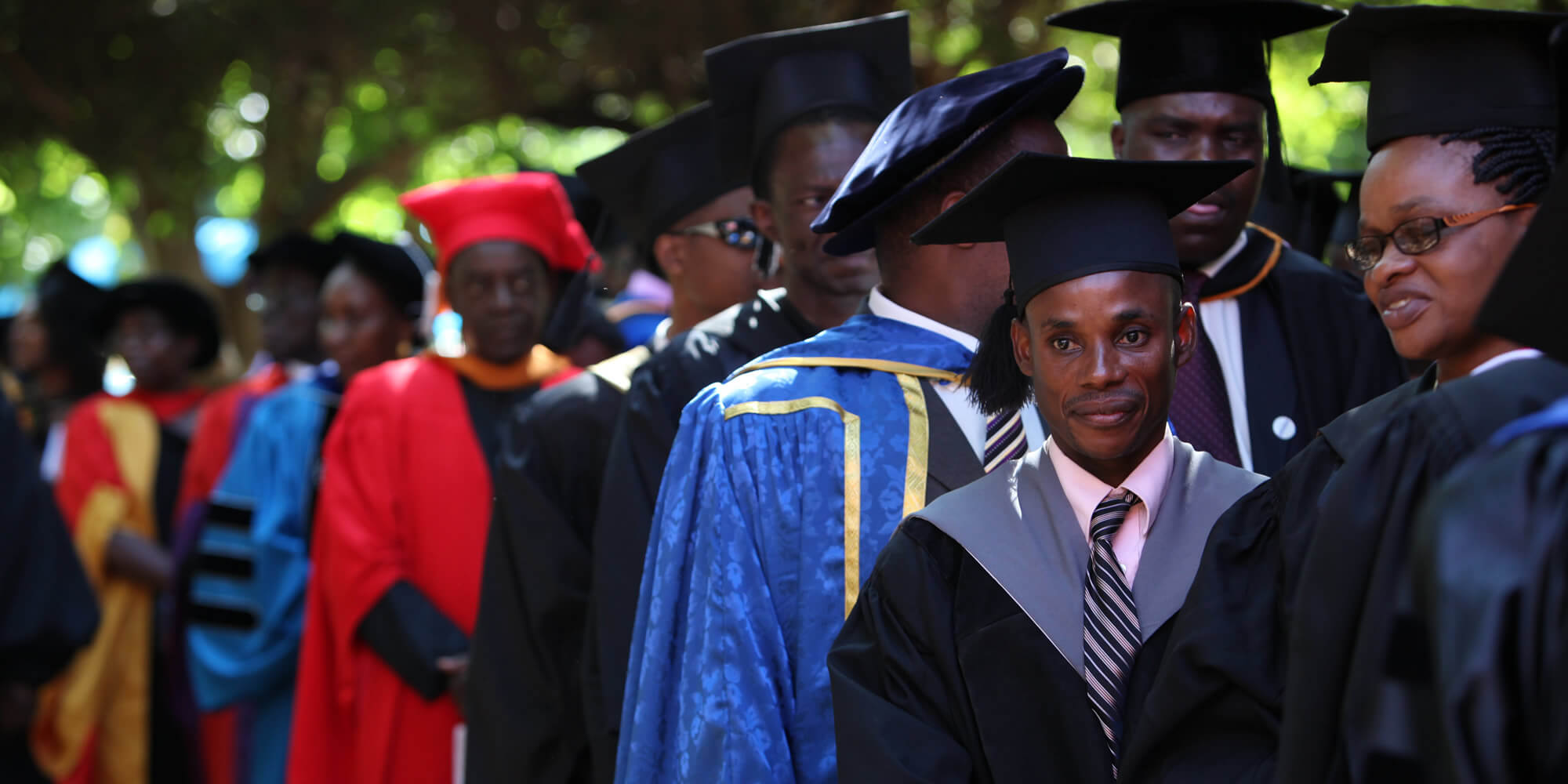 The Saturday, March 23, 2013 20th anniversary celebration of Africa University in Zimbabwe begins with a procession. Scholar Israel Eugenio Massango, from Mozambique, is working toward a master's degree in sustainable agriculture at Africa University. PHOTO: KATHLEEN BARRY, UM NEWS
By Elliott Wright
December 2020 | ATLANTA
Forty-four students from 16 countries will receive leadership development scholarships for the 2021-2022 academic year from Global Ministries, the worldwide mission agency of The United Methodist Church. Thirty-six of the scholars are new awardees.
Study stipends totaling $231,800 were approved on November 12 by directors of Global Ministries. The students are or will be enrolled in a wide range of fields within four current focus areas of The United Methodist Church: leadership development, congregational development, ministry with the poor and global health.
Among the new recipients are:
Muangeni Nelly Kongolo Tulume, from the Democratic Republic of the Congo, who is a candidate for a doctorate in dental surgery at Namibia University of Science and Technology, Windhoek, Namibia;
Israel Eugenio Massango, from Mozambique, working toward a master's degree in sustainable agriculture at Africa University in Zimbabwe;
Seonyeong Jeong, from the United States, studying for the Master of Divinity degree at Claremont School of Theology, currently relocating from California to Willamette University in Salem, Oregon;
Matri Joosua Hollman, from Estonia, studying for a bachelor's degree in music at the University of West London, United Kingdom;
Oanh Thi Kieu Le, from Vietnam, pursuing a Bachelor of Business Administration degree from Hutech University in his home country, and
Hasitha Roshan Fernando, from Sri Lanka, studying for a Master of Theological Studies at the McCormick Theological Seminary in Chicago.
Global Ministries' scholarships are intended to equip persons for service to church and community. They are open to international students and to racial minority students in the U.S. Grants may be for single or multiple years of study. The grants for next year range in size from $1,000 to $15,000. Regionally, a majority of the grant recipients are from countries in Africa.
Funds come from a variety of sources, including the World Communion Sunday Special Offering, endowments and bequests, and the basic mission budget. Those persons receiving support from the special Sunday offering are designated World Communion Scholars.
Of the new grants, 12 totaling $102,100 are in the congregational development category, 21 totaling $70,900 in leadership development, eight totaling $41,200 in global health, and three totaling $19,600 in ministry with the poor. The larger figures indicate greater pools of designated funds.
Elliott Wright is an information consultant with Global Ministries.