Restoring homes and hearts in Florida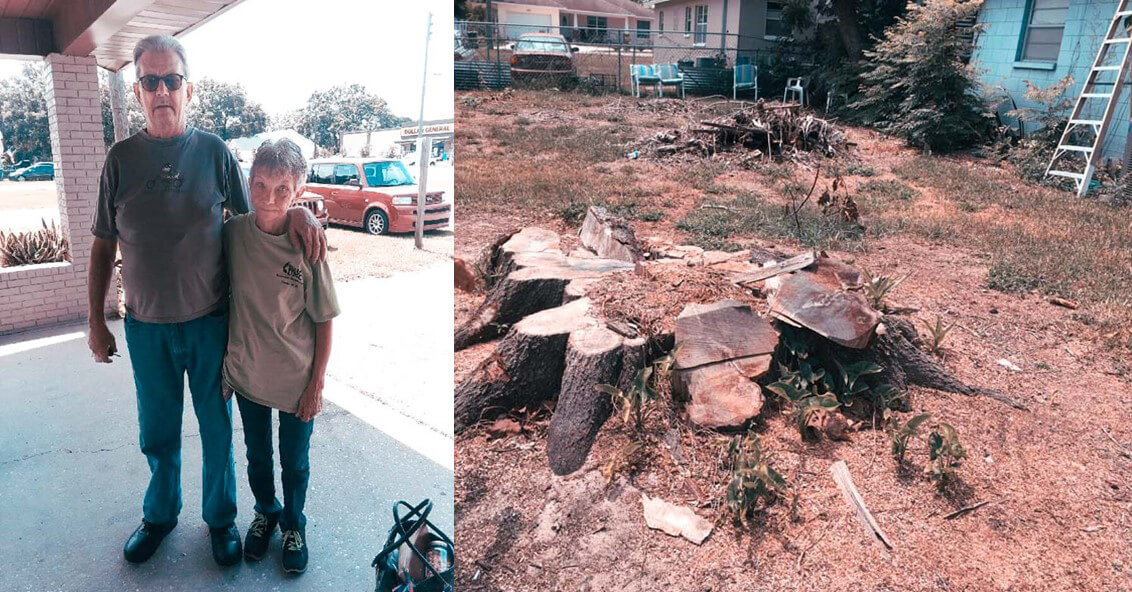 The Smiths were the first family in Polk County, Florida, to have their home reconstruction completed by Central Florida Recovery. Right: The spot in the Smith's backyard where the 100-year-old oak tree used to be. Photos: Courtesy Florida Conference
From the Florida Conference Disaster Recovery Ministry

Hurricane Irma engulfed the entire state of Florida in September 2017, the largest and most costly storm to date in Florida's recorded history. With the generous response of United Methodist giving from across the country, UMCOR has partnered with the Florida Conference, investing more than $9.6 million for storm recovery ministries and case management. Florida residents were also affected by hurricanes Hermine and Matthew in 2016, Maria in 2017 and Michael in 2018.

Please note that client names in this story have been changed to protect their privacy.
Mr. Smith (66 years old) and Mrs. Smith (57 years old) married in 2012, residing in a single-family home. When news of Hurricane Irma broke, the couple was in Indiana attending a funeral, and they were unable to return home immediately.

When they did return, they were stunned to see that a 100+ year old oak tree had fallen on their home, with some of the branches puncturing the roof. Mr. Smith is retired, and Mrs. Smith has been receiving Social Security Disability since September 2010. Both have been diagnosed with COPD, and Mrs. Smith had back surgery. She is limited in what she can do physically. In February 2018, Mr. Smith was diagnosed with esophageal cancer and underwent treatment at Moffitt Cancer Center in Tampa.

With the support of family, they were able to have the tree removed and the roof repaired, but large holes remained in ceilings throughout the home. After exhausting their financial resources, Mr. Smith reached out to area churches for assistance and was put on waiting lists. The Smiths were referred for Disaster Case Management services with the Florida Conference in May 2018.

With UMCOR's partnership, the Florida Conference developed a three- to five-year Disaster Recovery Ministry after Hurricane Irma, setting up response centers in five hard-hit regions of the state. Each center hired case managers, a construction coordinator, a volunteer coordinator and other staff as needed. UMCOR provided training for case management in the specific area of disaster recovery, and it continues to provide follow-up training periodically. The Smith family contacted the ministry at the Central Florida recovery center.

During the initial assessment visit to the Smith home, the construction coordinator noted a significant presence of black mold. Given Mr. Smith's medical concerns, the case was moved to a high priority status, and they were the first repair in Polk County. During the case management process, Mr. Smith shared that he had not attended church in more than 50 years, as he had a very negative experience as a child. The first volunteer team that worked on the Smith's home was a youth group that was also performing choir concerts in local United Methodist churches. Mrs. Smith attended the first concert and shared with Mr. Smith how much she enjoyed the performance. On the second evening, both Mr. and Mrs. Smith attended the performance. The couple felt very connected to the volunteer team, and they actively participated in prayer with them. As the team prepared to leave, they engaged in a circle of prayer around the couple. Mr. Smith asked Jesus to come back into his heart.

The Smiths experienced many ups and downs throughout the cancer treatment process and held tight to their faith. In October 2018, the family received the devastating news that the cancer had metastasized to Mr. Smith's brain, bones and lungs, leading to a terminal diagnosis. At this point, the team's highest priority was to ensure that all the finishing touches to the home were completed. The last volunteer team concluded most of the repair work on January 18, 2019, and the Central Florida construction coordinators nailed up the last piece of bathroom molding on January 24. On that day, Mr. Smith walked into the bathroom and said, "this is what I was waiting for, I no longer have to worry about leaving you (his wife) with this mess."

The Central Florida team and conference office staff members joined the family on January 31, 2019, for the first home dedication in Polk County. We shared stories of the journey, prayed, laughed and cried. The home was full of love and peace. Mrs. Smith reached out repeatedly to team members following the dedication to share that "it was the most beautiful experience."

At 1:44 a.m. on February 2, Mr. Smith left his place here on earth and is now in the arms of God. Mrs. Smith said her husband finally has peace, partly because of the work done to restore their home and their hearts.

The Florida Disaster Recovery Ministry has opened recoveries in Central Florida, Tampa Bay, Northeast Florida, Collier & Southwest Florida and Monroe County.
Your generous giving on UMCOR Sunday, March 31, ensures that UMCOR can respond quickly and in compassion to disasters like Hurricane Irma. Learn more about UMCOR Sunday here.