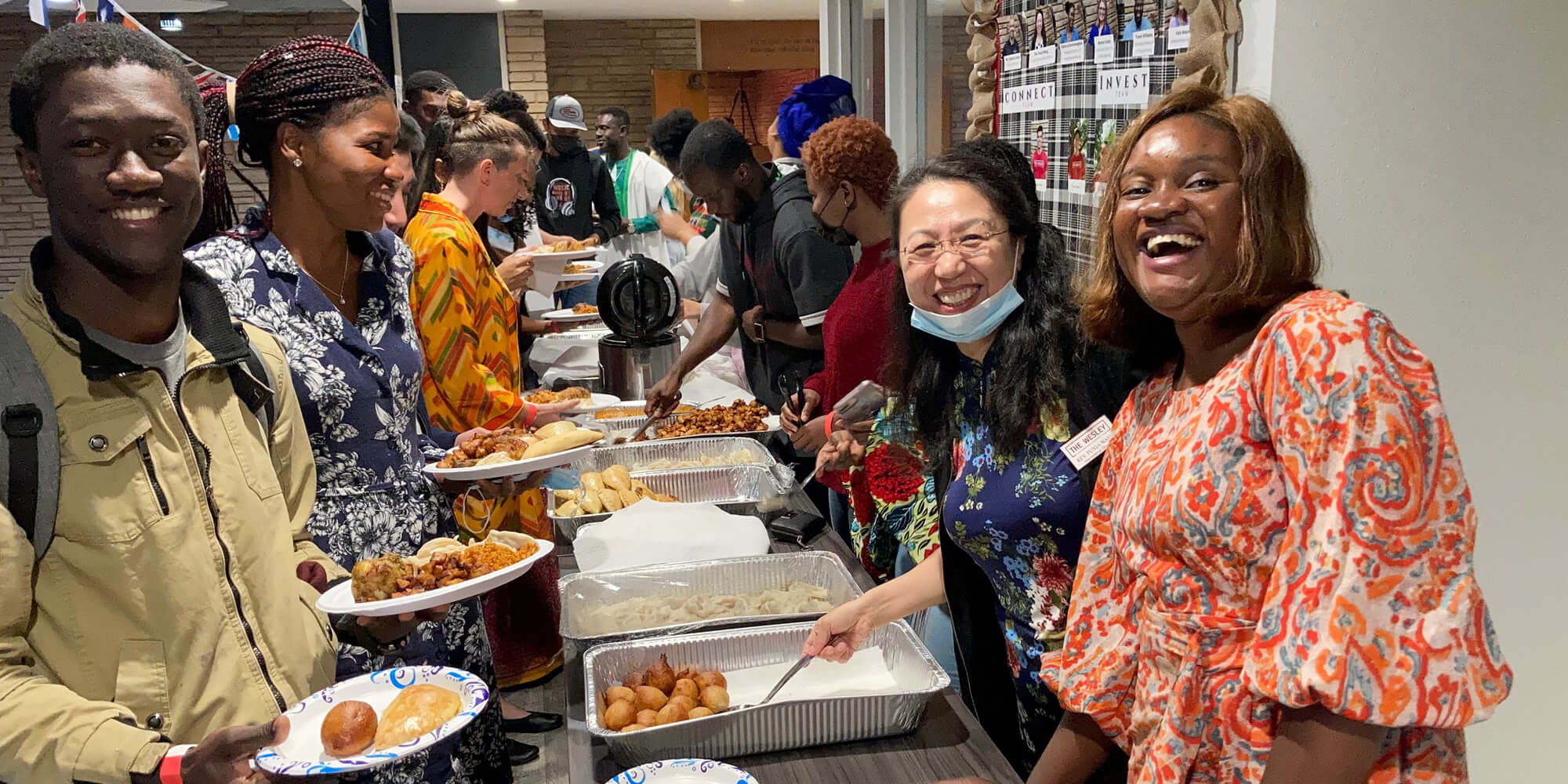 International students' dinner at the Wesley, University of Oklahoma.
Missionary Fuxia Wang is the server second on the right. PHOTO: COURTESY OF FUXIA WANG
By Fuxia Wang
April 15, 2022 | NORMAN, OKLAHOMA
Two other men, both criminals, were also led out with him to be executed. When they came to the place called the Skull, they crucified him there, along with the criminals – one on his right, the other on his left. Jesus said, "Father, forgive them, for they do not know what they are doing." And they divided up his clothes by casting lots.

Luke 23:32-34 (NIV)
Hear the good news from Good Friday: Jesus' suffering and death on the cross offers the redemption of sin and restoration of right relationship with God. The most significant thing about Jesus' suffering was that he was not, in any sense, the victim of circumstances. He was in control. Jesus said of his life in John 10:18, "no one takes it from me, but I lay it down of myself." It is terrible to be forced to endure such torture, but to freely choose it out of love is remarkable.
The love of Jesus never fails. On the cross, Jesus prayed even for his executioners, asking God not to hold their sin against them. In this, Jesus fulfilled his own command to "love your enemies, bless those who curse you, do good for those who hate you, and pray for those who spitefully use you and persecute you (Matthew 5:44)." On the cross, Jesus reserved no material possessions. He came down from heaven to redeem us. He let go of absolutely everything: "For you know the grace of our Lord Jesus Christ, that though he was rich, yet for your sakes he became poor, that you through his poverty might become rich." (2 Cor 8:9)
We are still in mission preaching the good news of grace and peace in Oklahoma and God's light shines brighter in the darkness. We experienced God's faithfulness and witnessed the light of hope during a time of challenge and uncertainty these last two years. The Wesley international ministries continue to thrive as we connect, invest and serve through practicing radical hospitality with the University of Oklahoma international students' community in Norman and beyond.
God has multiplied our Chinese ministry into a multiethnic ministry. We ministered to more than 320 different international students from 42 countries and five continents through weekly worship and Bible study, free dinners and English as a Second Language classes, monthly grocery trips and hiking trips in 2021. Three Chinese students prayed the prayers to receive Jesus as their Lord and Savior and received baptism as professions of faith during the pandemic. Glory be to God!
Prayer:
Gracious and loving God, great is your faithfulness. You rebuild and restore all that's broken, you redeem from the ruins, you return all that's stolen from your children. You give beauty for ashes, the oil of joy for mourning, the garment of praise for the spirit of heaviness. Help us press into this new season to keep our focus on Christ and be shining examples of hope to the world. Help us love and serve others. With God's grace and help, let us fix our eyes on Jesus, the author and perfecter of our faith, who, for the joy set before him, endured the cross, scorning its shame, and sat down at the right hand of the throne of God. In the name of Jesus, our Lord and Savior, Amen.
The Rev. Fuxia Wang, a Church and Community Worker from China, serves as the director of International Ministries at the Wesley, the United Methodist Wesley Foundation center at the University of Oklahoma in Norman and South Oklahoma City, Oklahoma