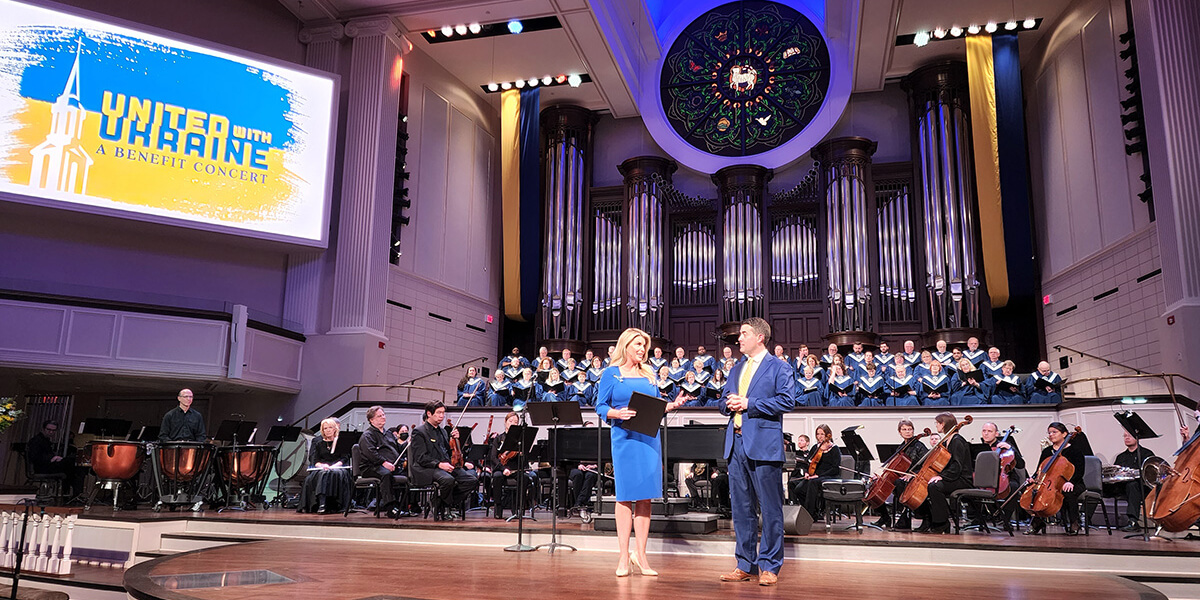 Lauren Przybyl, an anchor at Fox4 News in Dallas, and the Rev. Arthur Jones, senior pastor of St. Andrew United Methodist Church in Plano, Texas, host a March 21 benefit concert for Ukraine at the church. Since Russia's invasion of that country six weeks ago, more than $5 million has come into the United Methodist Committee of Relief for Ukraine-related humanitarian aid, and the total grows daily. PHOTO BY JENNY SKINNER.
By Sam Hodges
April 6, 2022 | UM News
From baking pound cakes to pounding drums in benefit concerts, United Methodists have been raising funds to help Ukrainians whose lives have been upended by the Russian invasion of their country.
There have been big individual gifts, too — notably $100,000 from a Korean American United Methodist.
In the six weeks since the Russian invasion began, the United Methodist Committee on Relief already has received more than $5 million for aid to displaced persons in Ukraine and refugees arriving in neighboring counties.
UMCOR has so far distributed $2 million, helping to provide food, water, medicine, shelter, transportation and other services for those on the run.
The agency is preparing for a long-haul effort, given that some 4 million Ukrainians have fled the country and a prolonged siege would certainly swell that number.
"Humanitarian response for people displaced by war or natural disasters requires careful action to alleviate immediate suffering and also to lay the groundwork for the building of communities," said Roland Fernandes, top executive of the United Methodist Board of Global Ministries and UMCOR. "UMCOR has an excellent track record in pulling together resources to cover extended needs."
Fernandes personally accepted a $100,000 donation from an anonymous woman from the Korean Church of Atlanta, which is in the Atlanta suburb of Duluth. Bishop Young Jin Cho, interim pastor of the church, delivered the check on March 30.
The woman wrote Fernandes a letter noting that the plight of Ukraine reminded her of the Korean War, in which her father fled North Korea as a boy and received a helping hand in South Korea from a Methodist pastor.
"It is my family's hope and prayer that this gift can extend the church's reach for providing aid — just a little bit more," she said of the donation.
Apart from her gift, the Korean Church of Atlanta has collected more than $37,000 for Ukrainian relief.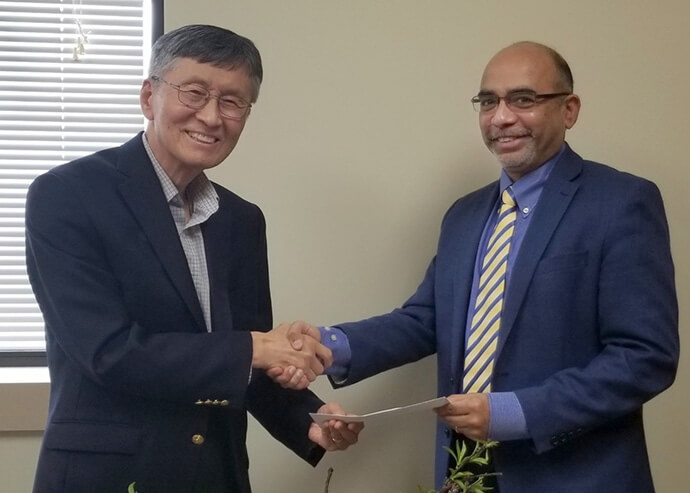 Meanwhile, examples of United Methodists raising funds for that cause are mounting, and surely the youngest is 9-year-old Smith Wilson.
His mother, Emily Wilson, said the boy paid close attention as their pastor, the Rev. Ashley Jenkins of Senoia United Methodist Church in Senoia, Georgia, spoke in a worship service about the plight of Ukrainians and about UMCOR as a vehicle for response.
"He said, 'Mom, I want to do something. I want to help,'" Emily Wilson said.
Smith would go on to make a presentation in church, inviting people to sample pound cakes that he would sell for $18, to raise money for UMCOR's Ukraine response.
Pound cakes are a Wilson family specialty, and the whole family — including Smith's three older brothers and especially their grandparents — has been involved in the baking, selling and delivery of pound cakes and icebox cookies.
"We've made and sold over 190 pound cakes," Emily Wilson said. "One day I sifted 48 pounds of flour."
The donation tally for the Smith-led effort stands at about $3,700.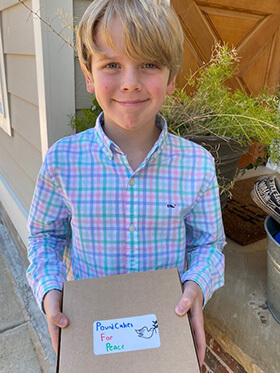 "All our hearts are bleeding for what's happened in Ukraine," Emily Wilson said. "This (fundraising campaign) has been a 'happy' amidst the sad."
At St. Andrew United Methodist Church in Plano, Texas, the shocking reports of bombed-out cities in Ukraine, as well as the resulting flood of refugees, made an impression that led to quick action.
"It was a matter of us saying, 'Do we want to do something?' And, of course, the answer was, 'Yes,'" said the Rev. Arthur Jones, senior pastor.
The church's traditional worship director, Taylor Davis, decided a benefit concert could be pulled together quickly. He drew on the church's chancel choir, but also on instrumentalists from the area, including players from the Dallas Symphony Orchestra and Fort Worth Symphony.
The March 21 event featured a performance of Mussorgsky's "The Great Gate of Kiev," among other orchestral works. Vocal numbers included "Hush," "What a Wonderful World" and "Let There Be Peace on Earth."
The evening concert drew about 500 people from the church and the broader community, despite a tornado warning that night. Between ticket sales and donations, the concert raised more than $57,000.
Donations are still coming in, but Jones said the money would be delivered to UMCOR soon.
"Our prayer is that we can turn tanks into tractors and swords into plough shares," Jones said.
Christ United Methodist Church in Sugar Land, Texas, held a benefit concert for Ukraine on March 27, with proceeds split between UMCOR and Samaritan's Purse.
Along with music, the crowd heard remarks from Texas Conference Bishop Scott Jones and taped remarks from Eurasian Area Bishop Eduard Khegay. Despite being based in Moscow, Khegay has been outspokenly critical of the invasion.
The Rev. Chappell Temple, Christ Church's senior pastor, said about $27,000 was raised.
"This is what the church should do, isn't it," said Temple, who did mission work in Eastern Europe as a seminary student. "I think God smiles when we do something like this."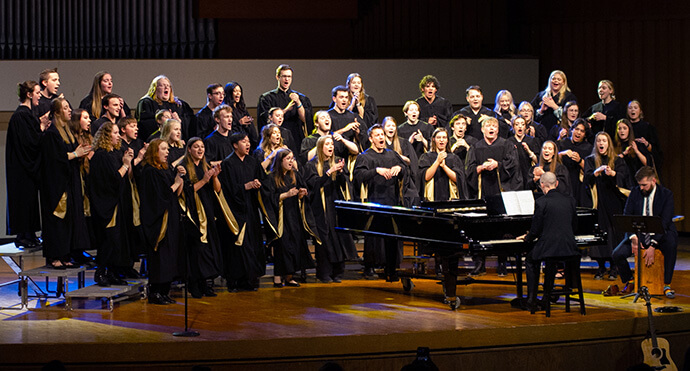 Yet another benefit concert was held March 28 at United Methodist-affiliated Nebraska Wesleyan University, in Lincoln.
The event featured Nebraska Wesleyan's choral ensembles as well as children from the Nebraska Academy of Vocal Arts. Viktor Khanzhyn, a Ukraine native and Nebraska Wesleyan economics professor, sang the Ukrainian national anthem.
Ton Trenney, the university's choir director, said the concert had already been scheduled. The Russian invasion prompted the decision to make the event an UMCOR fundraiser.
Certain songs took on new meaning, given the focus on helping a hurting country.
"It was a great example to me that the spirit leads us to hear the things we need to hear in any moment," Trenney said. "That was a gift."
The event has raised about $2,000, with the total still climbing.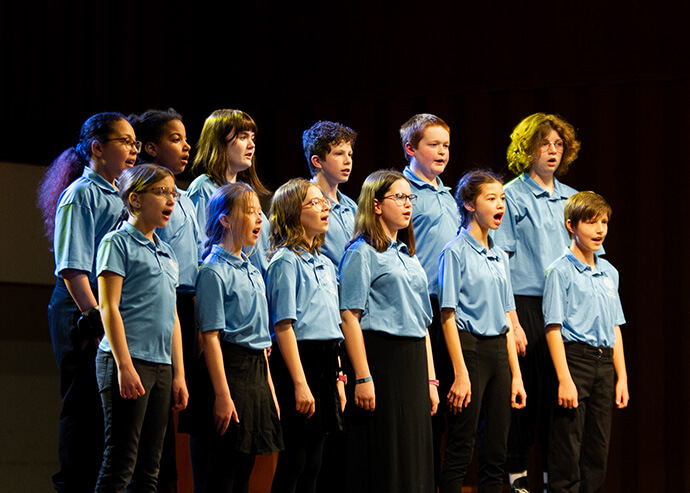 "I got another check for $500 from someone who was unable to attend the concert but was so grateful for what the young people had helped to do," Trenney said late last week.
Local news outlets have covered other United Methodist-related efforts for Ukraine:
Lane told her local paper that she had an "angel tap" to undertake her effort and was advised by her pastor to forward the T-shirt sales revenue to UMCOR.
The agency appreciates all the money that's been arriving — and the votes of confidence.
"We are heartened by the gifts that have been received in support of UMCOR's efforts to assist those in need," Fernandes said.
Hodges is a Dallas-based writer for United Methodist News. The Rev. Thomas Kim contributed.