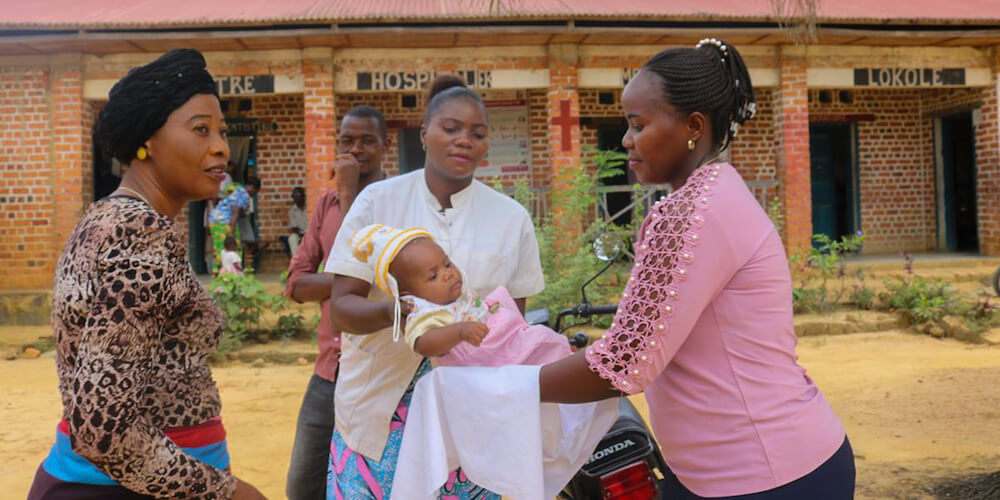 By Chadrack Tambwe Londe
Nov. 19, 2020 | UM News
As Congo continues to battle COVID-19, The United Methodist Church is celebrating two wins: the end of both a second Ebola outbreak this year and a measles epidemic that killed more than 7,000 children.
Several of the church's hospitals and clinics helped the government vaccinate children against measles and other diseases, especially in the most remote areas of the country.
On Nov. 18, Congo's Minister of Health, Dr. Eteni Longondo, announced the end of an Ebola outbreak in Equateur Province, which was declared June 1. There were 55 deaths reported in the western Congo outbreak, which came on the heels of a nearly two-year outbreak in eastern Congo that killed more than 2,200 people.
The end of the measles epidemic was declared Aug. 26. Congo has experienced recurrent measles epidemics for the past decade, but infections increased significantly in June of 2019, quickly overwhelming the country's health system.
Longondo acknowledged that insufficient resources and recurrent conflicts in eastern Congo hampered efforts to stop the spread.
Dr. Damas Lushima, health coordinator for the church in East Congo, touted the church's work in vaccinating children against measles.
"The church has worked with the Congolese government and made a significant contribution to achieve the eradication of this epidemic," he said. "United Methodist hospitals and health workers have been working in immunizing children across the country."
Dr. Alexis Ngoy Kasole Maloba, the church's health coordinator in North Katanga, said United Methodist teams are able to vaccinate children even in the most remote areas.
"We have agreed to take part in these massive vaccination campaigns in an effort to make our modest contribution to the eradication of measles and other vaccine-preventable diseases," she said.
United Methodist Bishop Gabriel Yemba Unda visited several of the church's health facilities in the Tunda and Kibombo districts in September and praised the efforts in rural communities.
"Within the framework of social evangelism and under the slogan 'Raise and Build,' we are building medical structures every day and bringing health care to places where thousands of people were forced to travel hundreds of kilometers to find the nearest hospital," he said.
With funding from the United Methodist Board of Global Ministries and other partners, the church has helped build hospitals and clinics in places where the government had no medical facilities. United Methodists also have provided health education to doctors and nurses.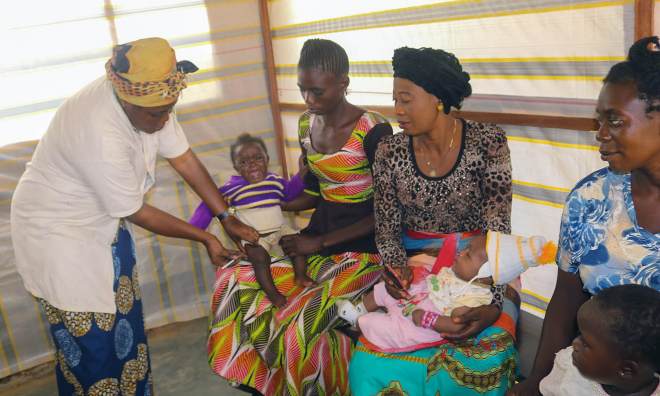 In addition to measles and the two Ebola outbreaks, health workers also battled cholera and the bubonic plague this year alongside COVID-19.
There have been more than 11,900 confirmed COVID-19 cases and more than 320 deaths since the start of the pandemic. The country's capital, Kinshasa, remains the epicenter.
The United Methodist Committee on Relief has provided 13 Sheltering in Love grants worth $200,165 to the church in Congo. The program was created to help United Methodists and denominational partners assist vulnerable populations dealing with food security and other needs related to the pandemic.
Unda said he is proud of the church's work and gives thanks to God that United Methodists are able to make a difference for the good of the population.
"We welcome the contribution of The United Methodist Church in the area of health. We expect to continue in this way for the years to come," he said.
Lushima said treating and vaccinating people for measles and other diseases is more difficult because of insufficient infrastructure and insecurity in the region. A lack of information also complicates matters.
"During vaccination campaigns, teams are often confronted with certain resistance from some families who think that the vaccine is a means of killing their children," he said.
Catherine Mutombo, a mother who lives not far from Lokolé United Methodist Hospital in Kindu, regularly brings her grandchildren to be vaccinated.
"Often, it is vaccinations against polio, measles and other diseases … and it is our hospital in Lokolé that vaccinates our children," she said.
In the ecclesiastical district of Tunda where the first Methodist missionaries settled in 1922, a single United Methodist General Hospital set up by the missionaries still operates.
"Thanks to our medical structure … people in this health zone can access quality health care. Tens of thousands of children are vaccinated regularly to fight against several diseases," said Dr. Michel Sakaungu, medical director of the hospital. "We United Methodists are helping the Congolese state to vaccinate children in this area where the state has not had medical facilities for several years."
Sakaungu added that the church will continue to provide health care to those in need.
"As long as the church will exist on earth, we will also be there to provide health care to thousands of people … (to allow them to) stay healthy to continue worshiping their God, Jesus Christ the Savior of mankind," he said.
Londe is a communicator for the East Congo Conference.