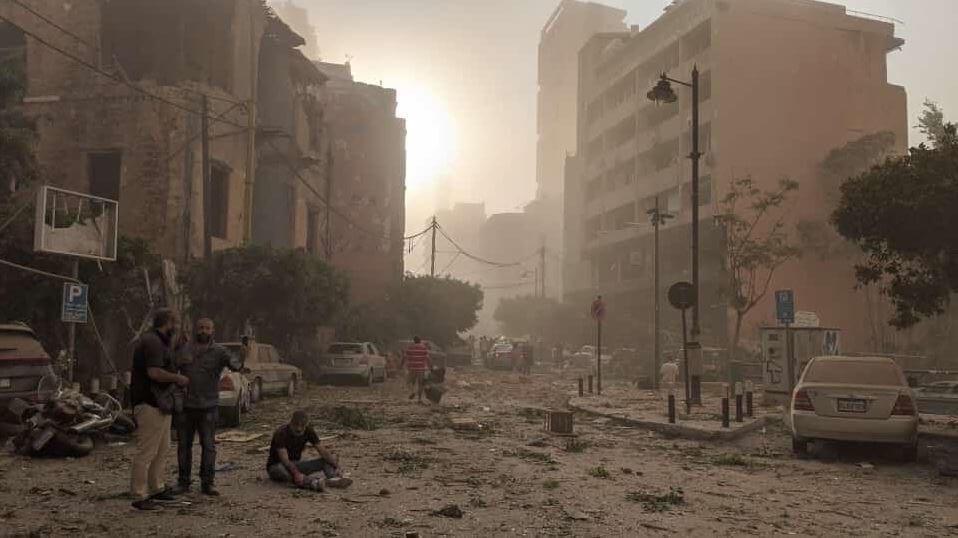 Just after the blast, as neighbors congregate, still dazed by what they experienced. PHOTO: EMMA DALBY, NORWEGIAN CHURCH AID
---
By Stacy Jones
The people of Beirut, Lebanon, are attempting to rebuild their lives and livelihoods after the port blast that destroyed much of their city this summer.
The economic, political and civic crises that had beset Lebanon in recent years were tragically amplified on August 4, 2020, when a hangar at the Port of Beirut ignited, detonating an estimated 2,700 tons of stored ammonium nitrate.
The Beirut blast killed at least 180 people, injured 6,500 and left some 300,000 people homeless. More than 70% of city's buildings were impacted by the explosion, with estimates of up to $15 billion in damages. In densely populated Beirut, some 100,000 people lived within a mile radius of the blast. Shock waves tore through buildings and windows, making shrapnel of flying glass and debris.
The United Nations began mobilizing assistance to Lebanon soon after the blast, calling on international relief organizations for help. To date, UMCOR has provided several grants to existing and new partners in the region to aid in the process of relief and long-term recovery.
The Middle Eastern Council of Churches received an UMCOR grant to provide immediate assistance in the form of water, sanitation, and hygiene items (WASH) and food to affected communities.
"They are a fixture for relief in the community and have plans to coordinate with other organizations in the area to support the immediate needs of disaster-affected people," said Katie Hills Uzoka, program manager for UMCOR's International Disaster Response unit. "MECC has the resources and connections to effectively manage both large- and small-scale projects."
UMCOR worked with two additional grantee organizations for the first time – both of which came highly recommended. The Forum for Development, Culture and Dialogue received a grant to provide two months' worth of food assistance for 75 households totaling 375 people, as well as psychosocial support for vulnerable children and adults affected by the explosion. This includes direct individual support for 16 children and two workshops for 40 children and adults.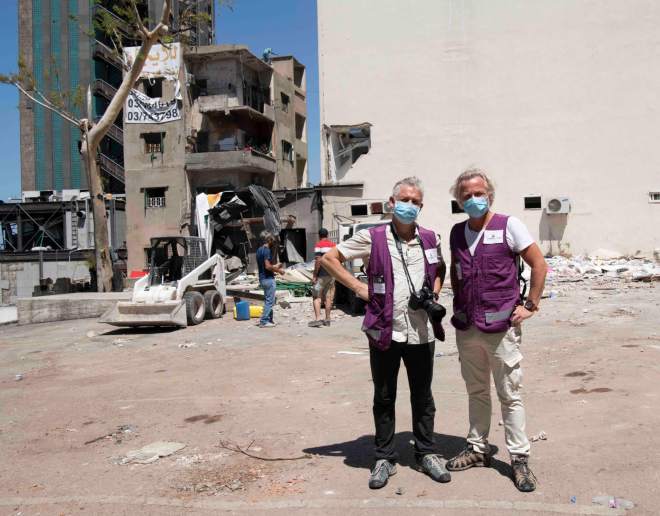 "I lost everything in one second—11 years of my life. My house, my husband, my clinic, my work, my cars—everything! God just saved my two children. They are all I have right now, thank God," said Bernadette, a Beirut resident being helped by the Forum.
The third organization to receive a grant, the Joint Christian Committee's Department of Service to Palestinian Refugees, used the funds to provide essential nonfood items for 15 households including bedding, cooking supplies and nylon sheeting for temporary privacy and protection from the elements.
"This is the time to help a country that has hosted Palestinian refugees for so many years, and we intend to do whatever we can to show our gratitude to Lebanon with help from friends and partners like UMCOR," said Sylvia Haddad, JCC executive director.
In early October, UMCOR also approved a grant to ACT Alliance, a coalition of 135 churches and faith-based organizations, to provide ongoing support to Beirut survivors through the relief phase and into recovery.
"This could be a long-term recovery. The people of Beirut are not only dealing with immediate impacts on their homes, livelihoods and survival but the longer-term effect of the trauma of dealing with this event on top of the existing history of war and trauma in Lebanon," said Hills Uzoka. "There's no end to the need there in the foreseeable future."
With your donation, you can help bring hope to the people of Beirut, Lebanon, who will be affected by this disaster for years to come. Give to UMCOR International Disaster Response and Recovery, Advance #982450.
Stacy Jones is a freelance writer and editor in the Atlanta area.