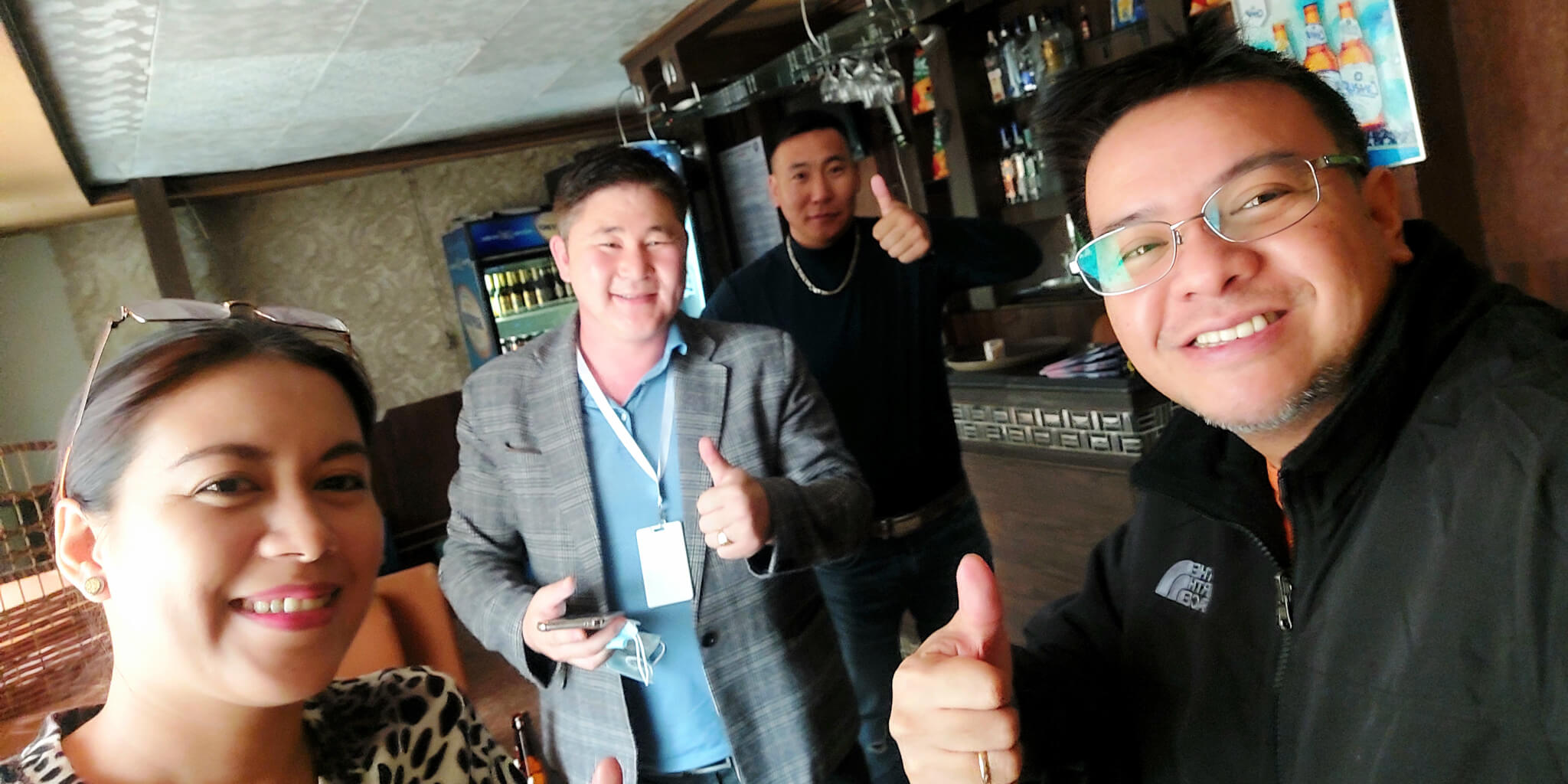 Strangers become friends in Mongolia. Dexter Fernandes Ceballos (front right) and Laraine Abobon-Ceballos with a stranger that helped them order lunch (light blue) and the waiter. PHOTO: DEXTER FERNANDEZ CEBALLOS
By Dexter Fernandez Ceballos
October 28, 2022 | ULAANBAATAR, MONGOLIA
As a United Methodist clergy member from the Philippines, my missionary assignment is to serve the "coldest capital city in the world," Ulaanbaatar, Mongolia.
When I accepted this assignment, I knew that I would be serving this very vast and cold place and began watching videos about the country, its history, geography and culture. I was inspired but also a bit cautious because the people seemed reserved and a bit distant from foreigners. This could be because of their history, cold weather, or, in my case specifically, that only a few people speak English and I don't yet speak Mongolian, making communication difficult.
But since we arrived, there have been many instances that have changed my perceptions about the Mongolian people. When we arrived at the airport, for instance, some church leaders warmly welcomed us, despite their struggles to speak in English, and they helped us acclimate during our first day.
On our second day, my wife Laraine and I decided to take a walk to explore our area and do some community mapping. After a long walk, we were so hungry, and we saw a small restaurant-bar. We tried to order, but the menu was all in Mongolian. There were no pictures and we didn't even have internet data on our phone to use a translation app. The waiter could not understand our English, so we could not decide what or even how to order.
Then a big Mongolian guy across our table approached us and the waiter. Though he spoke very little English, he understood the word "beef." We were not sure what kind of dish we picked, but he assured us it was beef.
While waiting for our orders, we had a little conversation with this stranger and told him that it was just our second day in the country. After a while, we were startled to see that our order came with an extra dish. The stranger told us that this extra dish was a traditional Mongolian food and it was his gift to welcome us to Mongolia.
Ulaanbaatar may be referred to as the "coldest capital city," but we have found the people be warm and kind-hearted, even to strangers like us. Some may be reserved and distant when dealing with foreigners because of the language barrier, but their body language shows their willingness to connect, especially when they hear the words Sain Bain uu, which means "hello" in their local language.
Although I am still struggling with it, I am eager to learn Mongolian to better relate to people in this remote corner of God's world and further experience their warm hospitality and friendship.
The Rev. Dexter Fernandez Ceballos and his family arrived in Ulaanbaatar, Mongolia, in October 2022. Originally from the Philippines, he begins missionary service as the country director for the United Methodist Mongolia Mission Initiative.
Global Missionaries
Global Ministries missionaries are a tangible connection between The United Methodist Church and mission. Through denominational or ecumenical ministries, missionaries bear witness to God's presence all around the world. They are called by God and sent out to serve by the church, usually placed in a new cultural context beyond their country of origin. Missionaries engage in ministry that is defined by mutuality and partnership, seeking to expand the mission of God already present and active in people and places.
Support the ministries of missionaries working around the world.