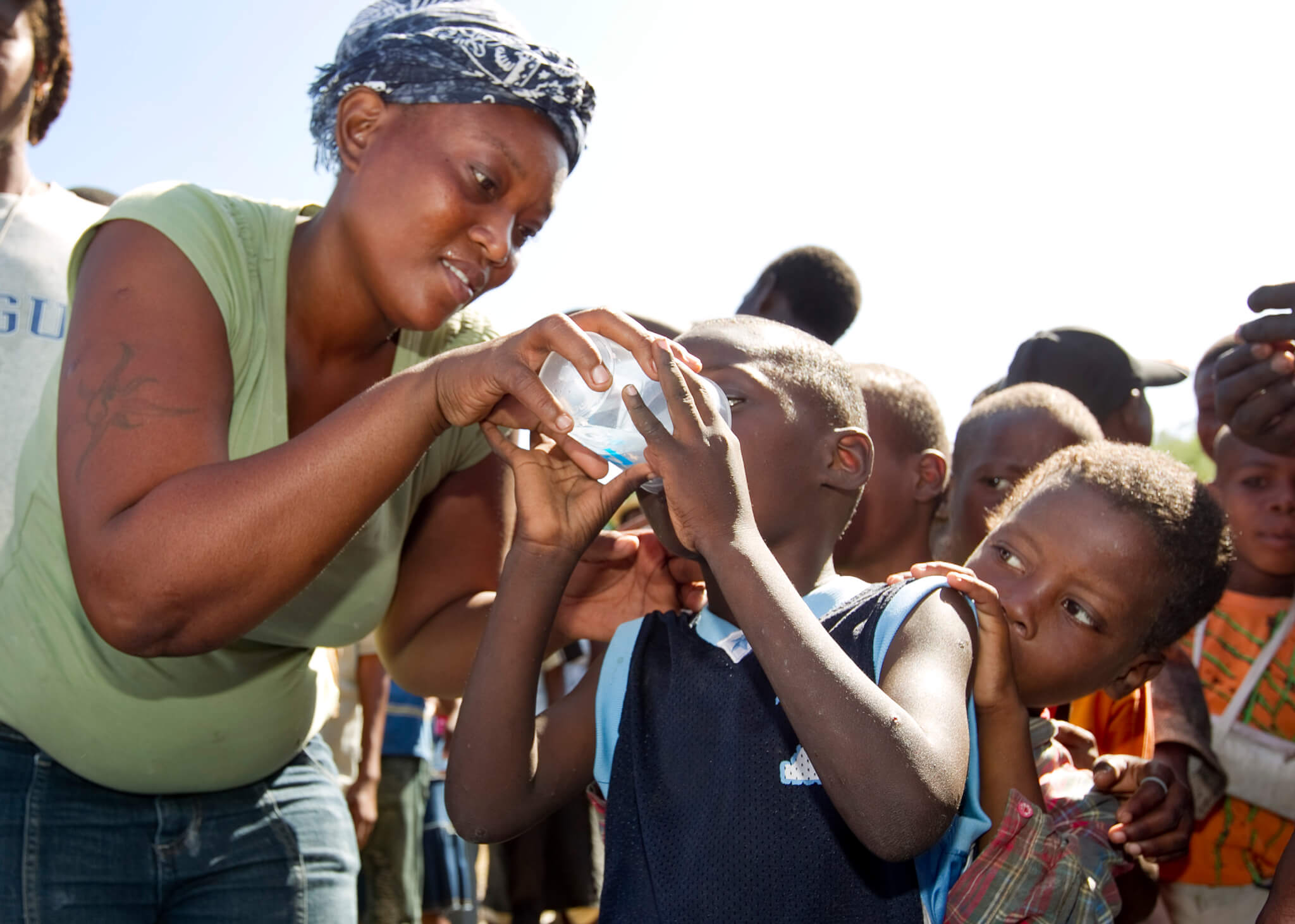 Sharlene Jean offers a sample of treated drinking water to a child living in a makeshift camp in Gresier, Haiti, after the 2010 earthquake. UMCOR and partner agencies provided water treatment supplies to the camp. PHOTO: Mike DuBose, UMNews
---
November 5, 2021 | ATLANTA
Media Contact:
Dan Curran for Global Ministries/UMCOR
770-658-9586
DanCurran@CurranPR.com
Working to help Haiti recover from the August 2021 earthquake that killed more than 2,000 people and affected more than 800,000 others, the United Methodist Committee on Relief (UMCOR) has awarded new grants that will be used to improve access to health care through the creation of new mobile health clinics and the installation of six water purification systems.
Haiti, which is still struggling with the aftermath of the magnitude 7.0 earthquake of 2010, was hit hard by this year's magnitude 7.2 earthquake, followed by torrential rains from Tropical Storm Grace. The earthquake and tropical storm combination destroyed much of Haiti's already fragile infrastructure, including damaging 59 health facilities, 27 of them severely, according to storm assessment reports (Flash Appeal OCHA, August 2021).
Thanks to a new UMCOR grant approved at the October 2021 Board of Directors meeting, the Methodist Church in Haiti, a part of the autonomous Methodist Church in the Caribbean and Americas, will be able to establish new mobile health clinics and deploy them to 28 churches in the Jeremie Circuit and 14 churches in the Leon Circuit. One medical team will be deployed one day per week for six months with locations determined by a doctor charged with organizing and evaluating visits. In addition to clinics operated by the church, Heart 2 Heart International will conduct mobile medical clinics at two remote sites one week per month for six months.
Improved access to potable water is an important part of the new UMCOR grant. A water filtration project will install units at six different locations to provide safe drinking water to the local populations. Consisting generally of a kiosk, tank and filtration system, the project will increase access to an adequate supply of potable water, which is essential for the population to break the cycle of communicable water-borne diseases such as dysentery, cholera and typhoid.
"Just a few months ago, Haiti experienced a second devastating earthquake that was almost as powerful as the horrific event of 2010," said Roland Fernandes, general secretary of United Methodist Global Ministries and UMCOR. "UMCOR is committed to playing a role in Haiti's recovery when, even now, some people must walk more than a day to reach medical care and millions more are still dealing with the impacts to infrastructure in their communities."
In August, UMCOR received a gift from First United Methodist Church of Roanoke Rapids, North Carolina, to honor their former pastor and UMCOR's former director who died of injuries caused by the 2010 earthquake in Haiti. First United Methodist Church's donation of $25,000 and subsequent donations to UMCOR have been matched by the agency and directed toward this grant.
"Sam Dixon is one of those contemporary sisters and brothers in faith who stand with the saints and martyrs of old in blessing us after their passing," Bishop Thomas Bickerton of New York, president of UMCOR, said in acknowledging the memorial gift. "It's not a matter of funds but of the fact that you can't say 'thank you' enough to Sam Dixon. We thank his church for their witness to his memory."
Support for UMCOR's response to the present disasters in Haiti may be directed to Advance #982450, UMCOR International Disaster Response and Recovery, online at https://umcmission.org/advance-project/982450; or send checks to Global Ministries/UMCOR, P.O. Box 9068, New York, NY 10087-9068, with Advance #982450 on the memo line; toll-free phone, via credit card: 888-252-6174.
For more information, visit www.umcmission.org.
##
About the United Methodist Committee on Relief (UMCOR)
Founded in 1940, the United Methodist Committee on Relief (UMCOR) is the global humanitarian relief and development agency of The United Methodist Church. A part of UM Global Ministries, UMCOR works in more than 80 countries worldwide, including the United States and its territories. The agency's mission, grounded in the teachings of Jesus, is to alleviate human suffering with open hearts and minds to all people. Working in the areas of disaster response and recovery and migration, UMCOR responds to natural or civil disasters that are interruptions of such magnitude that they overwhelm a community's ability to recover on its own. Learn more about Global Ministries by visiting www.umcmission.org or by following www.facebook.com/GlobalMinistries and Twitter.com/UMCmission.