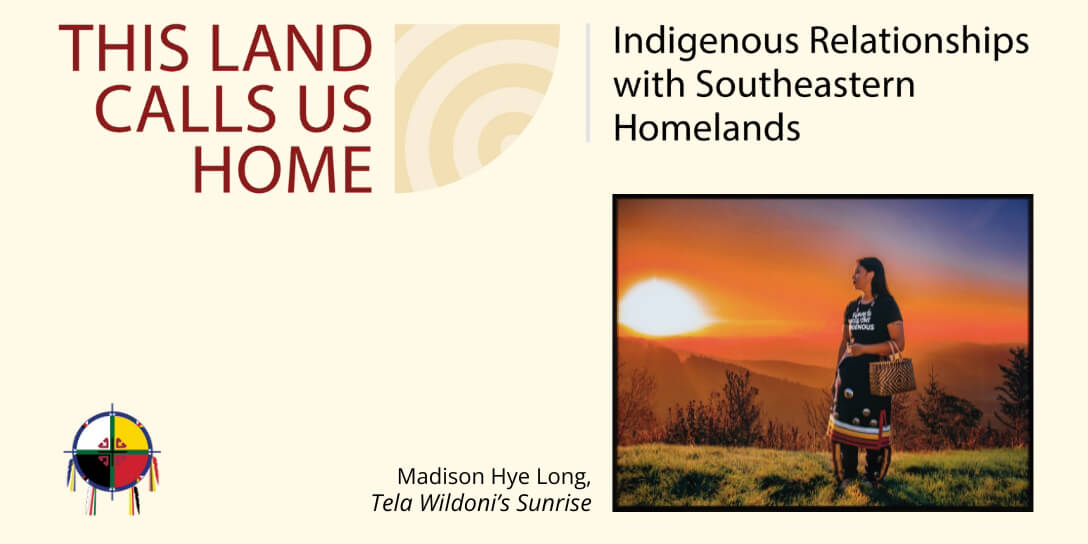 ATLANTA – Native American personal and collective relationships with their ancestral lands will be the focus of "This Land Calls Us Home: Indigenous Relationships with Southeastern Homelands," an exhibit that will open Nov. 6, 2023, at Hartsfield–Jackson Atlanta International Airport.
Featuring more than 60 works by 26 contemporary Native American artists and designers, the exhibit is presented by the General Board of Global Ministries of The United Methodist Church (Global Ministries), in collaboration with the church's Native American Comprehensive Plan, which supports and amplifies the voices of Indigenous peoples to promote increased public understanding about contemporary Native American identity and experience. The exhibit is presented as part of the ATL Airport Art program and will be on display in the gallery space of Concourse T North.

"This Land Calls Us Home" features the work of contemporary Native American artists and designers as they display how ancestral homelands are integral to their present lives through visuals and literature. The works express the visions and voices of Cherokee, Mvskoke and other Native Americans living within, near and beyond the Southeastern homelands.
The exhibit title reflects the contemporary relationships of Native American peoples with their regional roots, and suggests that they return to their origins, spiritually and literally, to reconstruct an identity fragmented by history. Five basic relationship categories are included in the installation: community and autonomy, communication and expression, heritage and legacies, identity and diversity, and nature and nurture.
The project was led by the Rev. Chebon Kernell, a Seminole/Muscogee* scholar and educator. When he conceived the project, he led Native American programming for Global Ministries and now serves as executive director of the Native American Comprehensive Plan of The United Methodist Church. In 2020, with the support of Global Ministries and its related Native American programs, Kernell led a team of museum professionals and other Native American scholars to develop an exhibit that would convey the ongoing ties Native American people maintain with homelands in the Southeastern United States. Native American leadership on Global Ministries' board, as well as from other boards of United Methodist agencies and entities, provided perspective and guidance for the exhibit.
"This installation will be seen by tens of thousands of daily airport visitors," said Kernell. "We have also launched an accompanying website for the exhibit, umcmission.org/thisland, that will provide global reach for this exhibit, further amplifying the voices of Native American and Indigenous peoples."
"This Land Calls Us Home" features art and artists primarily selected for how effectively they address contemporary issues pertinent to Native American relationships with ancestral homelands in the Southeastern United States. The artists and works express contemporary issues, while they also parallel historical themes. The artists and subject matter were also chosen with consideration for the exhibit audience and setting, which calls for art objects that can be enjoyed for their simple visual power and beauty. Most of the featured artists are Muskogee, descendants of ancient Mound Builders and Cherokee peoples indigenous to the region.
"Global Ministries is pleased to partner with representatives from our denomination's Native American community to present this exhibit for display at Atlanta's airport," said Global Ministries' chief executive Roland Fernandes. "The installation offers a unique opportunity to help facilitate a greater understanding of Native American and Indigenous peoples of the Southeast. Many of the artists have close ties to specific ancestral sites now in the Greater Atlanta and Georgia region, which may also be of special interest to travelers visiting the Atlanta area."
The exhibit will be on display in the gallery space of the T North Concourse near gates T12-T15 for a year starting Nov. 6, 2023. View the exhibit website at umcmission.org/thisland.
The General Board of Global Ministries
The General Board of Global Ministries, which includes the United Methodist Committee on Relief (UMCOR), is the worldwide mission, humanitarian relief and development agency of The United Methodist Church. Founded in 1819, Global Ministries today supports more than 200 missionaries in over 60 countries, including the United States. It has personnel, projects and partners in more than 110 countries. Learn more at www.umcmission.org.
Hartsfield-Jackson Atlanta International Airport
ATL is the first airport in history to serve more than 100 million passengers in one year and continues to top passenger totals worldwide. The Airport boasts an annual direct economic impact of $66 billion in the state. A frequent recipient of awards of excellence, ATL is recognized for its leadership in concessions, operations, sustainability, architectural engineering and construction. For more information, visit www.atl.com.
*"Muskogee" is the way the tribal name is often spelled in Oklahoma while "Muscogee" is the form often used in the homelands of Georgia and Alabama. Alternately, the Native American language spelling "Mvskoke" is often used today. All forms are often followed by the term "Creek" the name given to the tribal group by Europeans long ago and still familiar to many.
# # #
DIGITAL IMAGES AVAILABLE UPON REQUEST