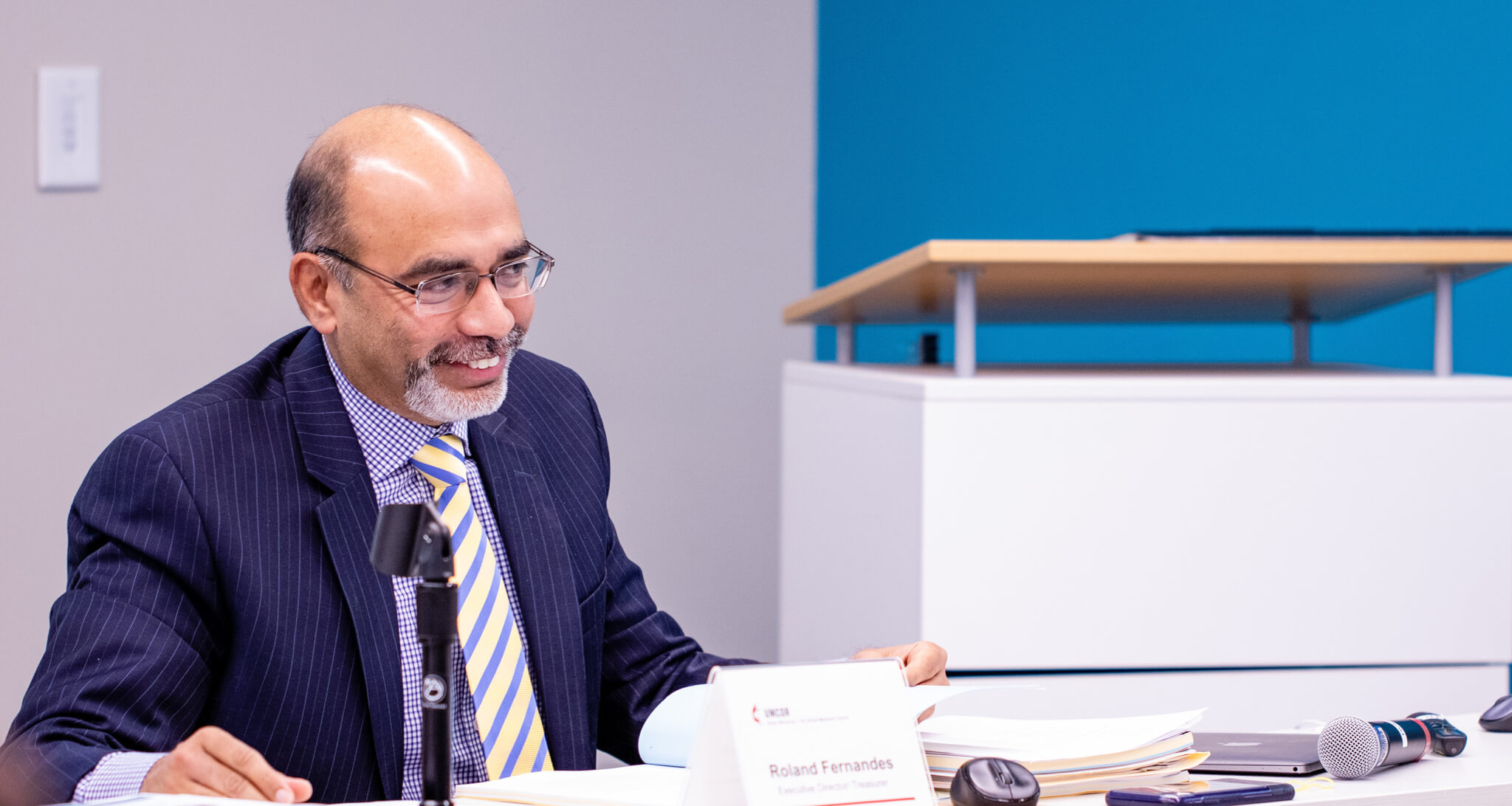 September 9, 2020 | ATLANTA
For Release: IMMEDIATE
Media Contact:
Dan Curran for UMC GM
770-658-9586 (cell) – DanCurran@CurranPR.com
Roland Fernandes, a dedicated servant leader and experienced administrator, has begun his term as general secretary of the General Board of Global Ministries, the worldwide mission agency of The United Methodist Church. In this role, he will also serve as general secretary of the United Methodist Committee on Relief (UMCOR).
A layman originally from India, Fernandes was elected to serve as general secretary (chief executive) of Global Ministries by the agency's directors on March 20, 2020. Fernandes succeeds Thomas Kemper, who chose not to stand for reelection and has returned to his native Germany to be with his family. Kemper, who will continue as consultant to the agency until the end of the year, will work with WesPath and the pension program for the United Methodist central conferences.
Fernandes has been with Global Ministries since 1995, filling key roles, including leadership of UMCOR, the denomination's humanitarian relief and development agency. He has been both chief operating officer and chief financial officer of Global Ministries/UMCOR since 2003 and has several times served as interim general secretary.
"The opportunity to serve as general secretary of Global Ministries is one I welcome with a sense of deep humility," said Roland Fernandes. "These are uncertain times for many and I am honored to lead this agency, which is so essential to our church's faithful response to God's grace in Jesus Christ. We will get through these difficult times only by working together."
"Global Ministries and UMCOR are fortunate to be able to have access to Roland's expertise and leadership as general secretary," said Bishop Hee-Soo Jung of the Wisconsin Episcopal Area, president of Global Ministries. "Fernandes understands the spiritual, social and economic realities of global mission. He has a firm grasp of what it means to place and support missionaries, work with communities devastated by disasters and disease and collaborate with partners within and beyond the United Methodist connection."
Fernandes and his wife, Liesl, are members of North Decatur United Methodist Church in suburban Atlanta, where he serves as treasurer. He grew up in Kolkata, India, and graduated from St. Xavier's College and School, Kolkata, and Calcutta University. Following graduation with a Master of Commerce degree, Fernandes became a Chartered Accountant (CPA equivalency in the British system). He served as chief internal auditor of the Methodist Church in India (MCI) from 1988 through 1994. In that role, he was an officer of the MCI and part of the church's core leadership.
In 1995, Fernandes joined the then World Division of Global Ministries as a missionary assigned as area financial executive for India, a post he held for two years, adding the Philippines to his portfolio in 1996 following the sudden death of the World Division's financial officer there. He joined the staff of Global Ministries in New York in 1997 in the Financial Services area of UMCOR.
Over the last 27 years, Fernandes has been involved in every aspect of the work of Global Ministries and UMCOR. He has been treasurer of UMCOR since 2000 and has served as executive director. For two decades he played a key leadership role in the UMCOR nongovernmental organization/International Programs unit, which included 15 field offices until the last of the field offices was transitioned into a local NGO at the end of 2019.
Global Ministries has recently celebrated the 200th anniversary of the founding of its oldest predecessor, the Missionary Society of the Methodist Episcopal Church. The agency has personnel, projects and program partners in more than 120 countries, with missionaries in 70.
For more information about Roland Fernandes, read this story from March 2020.
##

About the General Board of Global Ministries of The United Methodist Church

Global Ministries is the worldwide mission and development agency of The United Methodist Church. Founded in 1819, Global Ministries today supports more than 350 missionaries in over 70 countries, including the United States. It has personnel, projects, and partners in 120 countries. Learn more about Global Ministries by visiting umcmission.org or by following www.facebook.com/GlobalMinistries and www.Twitter.com/UMCmission.