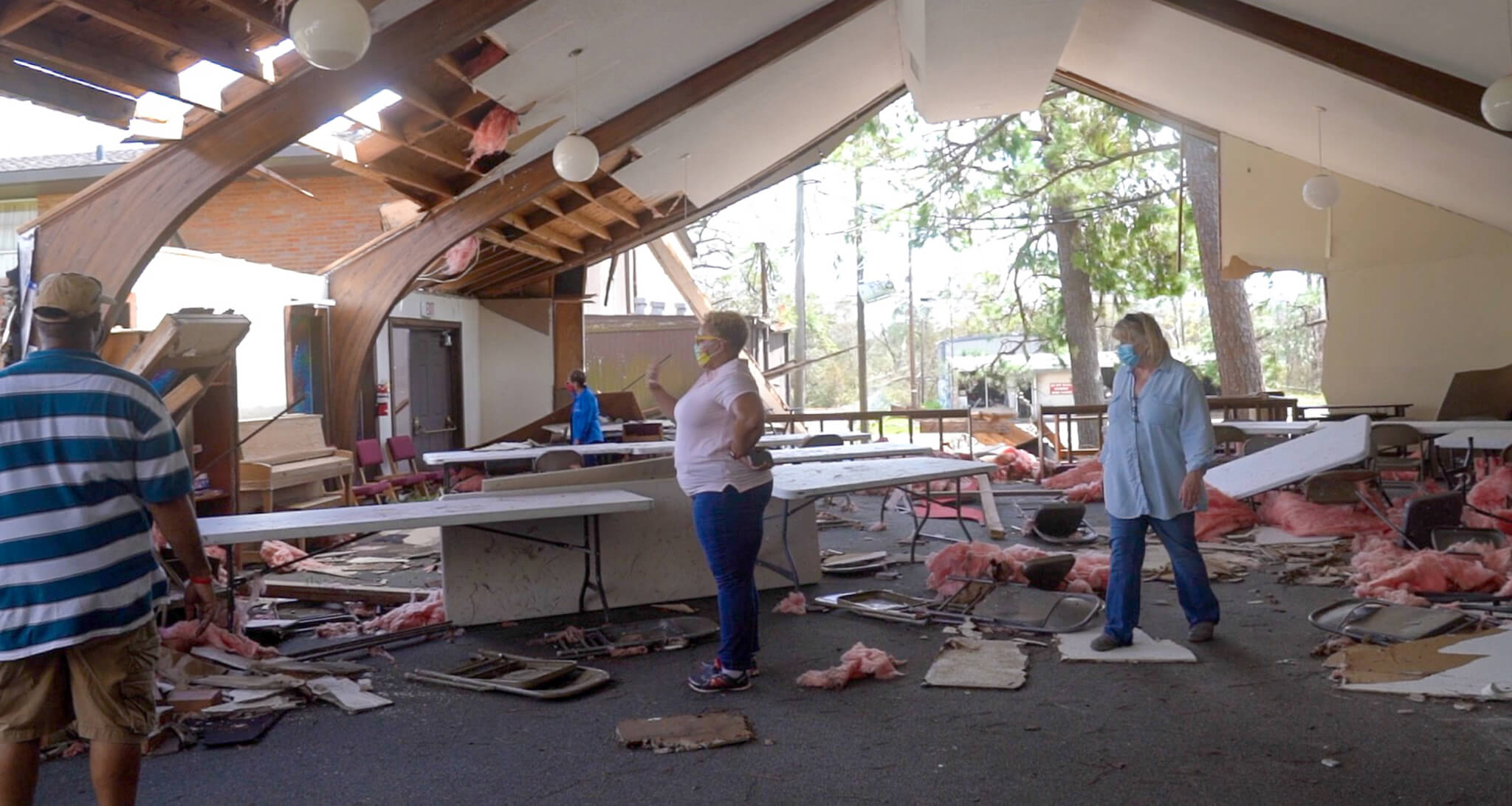 By Dan Curran
September 4, 2020 | ATLANTA
Early assessments of the devastation in south Louisiana caused by Hurricane Laura indicate the region should expect to be in a state of recovery for a three to four year period, according to the United Methodist Committee on Relief and local conference disaster response leaders.
Hurricane Laura, which at landfall on Aug. 27 was more powerful than Hurricane Katrina, was a Category 4 Atlantic hurricane that tied an 1856 hurricane as the strongest one on record to make landfall in Louisiana, as measured by maximum sustained winds.
More than 200,000 customers in Louisiana remained without power as of Thursday, Sept. 3, according to the Louisiana Public Service Commission. The total deaths related to the storm has risen to at least 24 in Texas and Louisiana combined. Eight of those deaths in Louisiana are related to carbon monoxide poisoning from generators.
At present, the Louisiana state emergency declaration has been expanded to 14 parishes. With ongoing assessments further inland, it is expected that number will grow exponentially.
Anecdotal reports indicate there are thousands of evacuees in hotels across Texas, Mississippi and in New Orleans.
Elaine Burleigh, the Louisiana conference disaster response coordinator trained by UMCOR, has been in close contact with Lara S. Martin, interim director of UMCOR's U.S. disaster response. Martin and her team have been providing guidance to Burleigh and other conference DRCs in impacted areas as they coordinate disaster response efforts and plan their recovery programs.
UMCOR issued grants to address immediate needs to United Methodist conferences in Louisiana, Mississippi and Texas. Along with pre-positioning supplies, UMCOR is now adding to that support with more cleanup kits and masks, and with school kits for distribution to evacuee children. UMCOR continues to leverage the expertise of the U.S. disaster response team, along with these resources, to support communities across the multistate response and recovery effort.
"Hurricane Laura's 150-mile per hour winds caused such severe damage that the health and well-being of the people of the region will be impacted for years to come," said Roland Fernandes, general secretary of Global Ministries and UMCOR. "We are praying for the people of the region and hoping the 2020 hurricane season turns out to be better than predicted."
"UMCOR is best known for our disaster case management work supporting repairs and connecting families to existing resources and government programs on the ground," said Martin. "However, with Hurricane Laura, the region will need an outpouring of support in order to respond to the pressing needs being discovered day-by-day, and so we can also plan together for the long-term recovery from this devastation."
For reference, UMCOR's Hurricane Sandy recovery efforts concluded after five years and its Hurricane Harvey program ended after three years.
Early estimates said the region could be without power for four to six weeks. This is now more likely to be three to four months due to damage to the infrastructure.
In northeast Texas, the most severely impacted communities appear to be Orange County, Beaumont, Jasper and Newton.
UMCOR has provided support and counsel to conference disaster response coordinators in Texas, helping them respond to Hurricane Laura-related needs.
Currently, state and federal authorities are working with homeowners to conduct self-assessments that then become registrations for service (a new FEMA process for disaster survivors).
Dan Curran is a public relations consultant for Global Ministries and UMCOR.