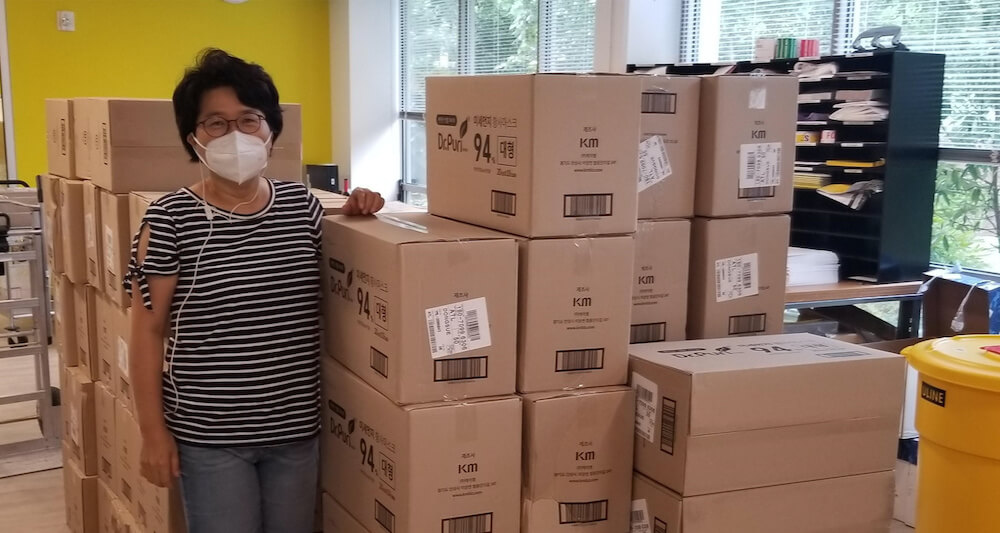 July 15, 2020 | ATLANTA
For Release: IMMEDIATE
Media Contact:
Dan Curran for UMC GM:
770-658-9586 (cell) – DanCurran@CurranPR.com
Seeking to help in the battle against COVID-19, a top hospital in Seoul founded by a missionary doctor has shipped 10,000 face masks to Atlanta-based Global Ministries for distribution to retired United Methodist missionaries. A gesture of hope and love for missionaries living in the United States and worldwide, the recipients of the gift will include missionaries whose work over the years has included mission with the people of South Korea.
On Tuesday, July 7, 2020, the 10,000 KF94 face masks, a gift from the Office of the Chaplain at Severance Hospital of Yonsei University Health System in Seoul, arrived in Atlanta. Global Ministries, the worldwide mission and development agency of The United Methodist Church, received the masks. In accord with the direction and wishes of Severance Hospital, the agency is now in the process of organizing and distributing the masks to retired missionaries, not only those who served faithfully in Korea, but also in other communities and countries worldwide.
"This very generous gift from the people of South Korea is a moving testimony to their heartfelt love for those who have served The United Methodist Church over the years in roles such as evangelists, church planters, doctors, nurses, social workers and teachers," said Thomas Kemper, general secretary of Global Ministries. "The generosity of Severance Hospital will enable us to provide urgently needed face masks to retired missionaries who for many years served selflessly in mission in Korea and other countries throughout the world."
"During the days when our country didn't even have a concept of hygiene, missionaries built our hospitals to offer medicine," said Do-Heum Yoon, M.D., Ph.D., president and CEO, Yonsei University Health System. "With this shipment of masks we can't repay the love, but we still remember the love of missionaries."
Starting in late July, a first batch of the face masks will be shipped to a select group of 180 missionaries who served in South Korea and other regions. The missionaries, all of whom currently reside in the United States, live in 38 different states. The pandemic is restricting the organization's ability to mail masks to retirees residing outside of the United States at this time. Due to the limited supply not all retired UM missionaries will receive masks. A second batch to another select group of approximately 450 missionaries will be shipped in early August.
In addition to coming at a critical time during the pandemic, the gift also comes during the 70th anniversary year of the start of the Korean War, beginning June 25, 1950. For its part, Global Ministries is actively working with other faith communities and partners worldwide toward a formal peace treaty, replacing the armistice of 1953, to fully end the war and make reconciliation and reunification on the Korean Peninsula possible.
Methodist missionaries have long been engaged in Korea, including the Rev. Dr. James T. Laney and his wife, Berta. Laney is president emeritus of Emory University and a former United States ambassador to South Korea. From 1959 to 1964, he served as a Methodist missionary teaching at Yonsei University. At an event held at Global Ministries in Atlanta, Laney received
the 2019 World Methodist Peace Award from the World Methodist Council in recognition of his continuing efforts for peace on behalf of the people of Korea.
##
About the General Board of Global Ministries of The United Methodist Church
Global Ministries is the worldwide mission and development agency of The United Methodist Church. Founded in 1819, Global Ministries today supports more than 350 missionaries in over 70 countries, including the United States. It has personnel, projects, and partners in 114 countries. Learn more about Global Ministries by visiting www.umcmission.org or by following www.facebook.com/GlobalMinistries and Twitter.com/UMCmission.