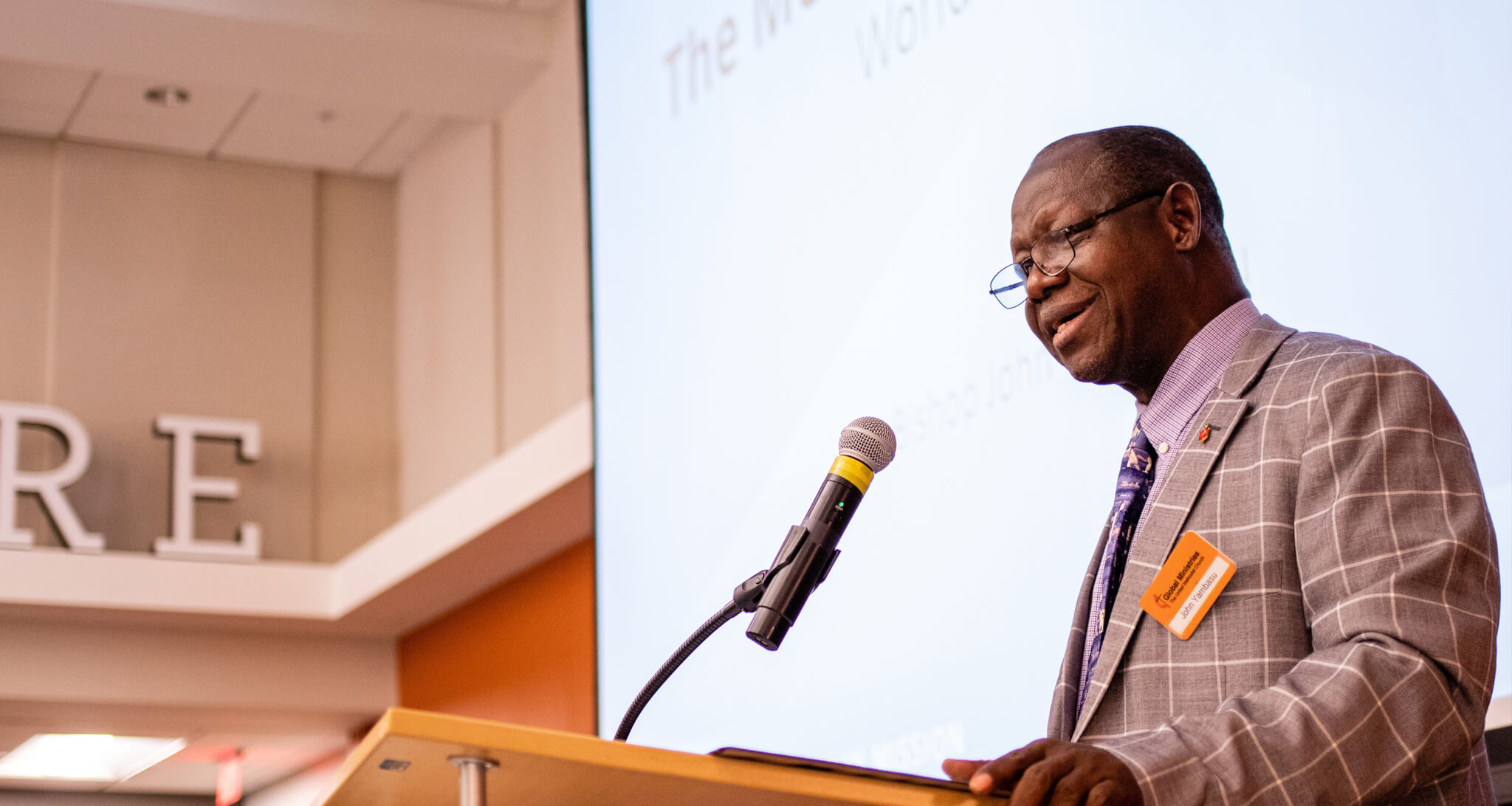 By Elliott Wright
August 17, 2020 | ATLANTA
"Bishop John K. Yambasu of Sierra Leone stood like a giant in the worldwide mission of The United Methodist Church" the president of the General Board of Global Ministries said of the West African episcopal leader, vice president of the mission agency, who died in a road accident outside of Freetown on the morning of August 16, 2020.
"We loved our brother, John Yambasu," Bishop Hee Soo Jung of Wisconsin wrote in a message to Global Ministries' directors. "He has influenced the whole church and especially the Africa central conferences. Our church mourns with his family and the Sierra Leone Episcopal Area." His death occurred just a few hours before Bishop Yambasu would have taken part in a virtual meeting of the Global Ministries' executive committee.
Bishop Yambasu, 63 and to turn 64 on August 24, filled many pivotal roles in United Methodist mission. In addition to his church-wide responsibilities at Global Ministries, he was president of the United Methodist Africa College of Bishops and, as such, was instrumental in a broad range of mission initiatives across the continent. He was recently elected chancellor of Africa University, the continentwide United Methodist school in Zimbabwe.
"Bishop John Yambasu is irreplaceable in the life and mission of The United Methodist Church," said Thomas Kemper, the retiring general secretary of Global Ministries. "He was the voice for health, justice and peace in all matters sacred and secular." Kemper called Yambasu a "colleague, friend, and brother. Born on the same day and month in the same year, we often joked that we were twins, only born by different mothers, he in Bo and I in Hamburg. The last time we met in person was when he was in Atlanta for medical treatment early this year. We spent many hours talking about family, Africa and the church." See full Kemper statement here.
Both Jung and Kemper stressed Yambasu's commitment to the welfare and unity of The United Methodist Church. "His passion and love for The United Methodist Church has been shown in significant ways and we will remember his vital vision for its unity and sound mission," Jung said.
Kemper recalled a recent email in which the bishop said, commenting on attempts to extend into the African church American disputes over the denomination's future, "Africa has already decided to remain United Methodist and that is who and what we are."
Molly McEntire, a layperson from Florida who is secretary of the Global Ministries board of directors, said she was "devastated" by the news of the bishop's death. "He and I had many conversations about The United Methodist Church," she recalled. "He reminded me constantly of how important the global connection was and to make that a priority. He also reminded me to always make mission a priority and to take care of each other. The impact he made on the world was huge."
McEntire and Kemper noted areas of mission in which Yambasu had been particularly active in recent years, including response to the 2014-2016 outbreak of Ebola in West Africa, care for those uprooted by mud slides in Sierra Leone and steps to increase food security in Africa. In the time of Ebola, the bishop was instrumental in rallying Sierra Leone's religious communities, regardless of faith identities, to work together in helping families prevent the spread of the disease. He had a long-term commitment to creative response to natural disasters of many kinds.
From his position as president of the Africa College of Bishops, Yambasu promoted the convening of a United Methodist summit on "Agriculture and the African Church: A Call to Action" in January 2019. In a keynote sermon he called for better stewardship in the use of church land in food production and more focus on training "faithful farmers." Such a program is now in operation.
The bishop was widely influential across United Methodism in Africa. For example, in 2018 he helped to broker reconciliation within the church in Burundi after a schism lasting a dozen years. His style was calm, his focus steady and his faith evident, as could be seen when he presided over sessions of the Global Ministries board of directors in the president's occasional absence.
Born in Sierra Leone, Yambasu was educated at United Methodist mission schools and is a graduate of Njal University, where he studied agriculture, and the Candler School of Theology, Emory University, where he completed the Master of Theology degree. He was ordained a deacon in 1987 and an elder in 1990. He pastored churches in Moyamba and Freetown but decided to concentrate on Christian education and youth ministry. The Harford School for Girls in Moyamba was among the institutions in which he taught. He became Sierra Leone Conference's director for Christian education and youth ministries and founded the Child Rescue Centre in Sierra Leone.
In 2000, Yambasu was commissioned as a West Africa regional missionary in a ministry to children and youth related to Global Ministries through the sponsorship of the then Women's Division (now United Methodist Women). He was elected to the episcopy in 2008.
John and Millicent Yambasu's five children are Rebecca, Adima, John, Emmanuel and Elizabeth.
Thanksgiving to God was offered for the life and ministry of John Yambasu and for his leadership in mission at the Global Ministries' executive committee's virtual meeting on August 17, and prayers were extended for his family, the United Methodist people of Sierra Leone in the loss of their leader and for the whole church he served.
Elliott Wright is an information consultant for Global Ministries.