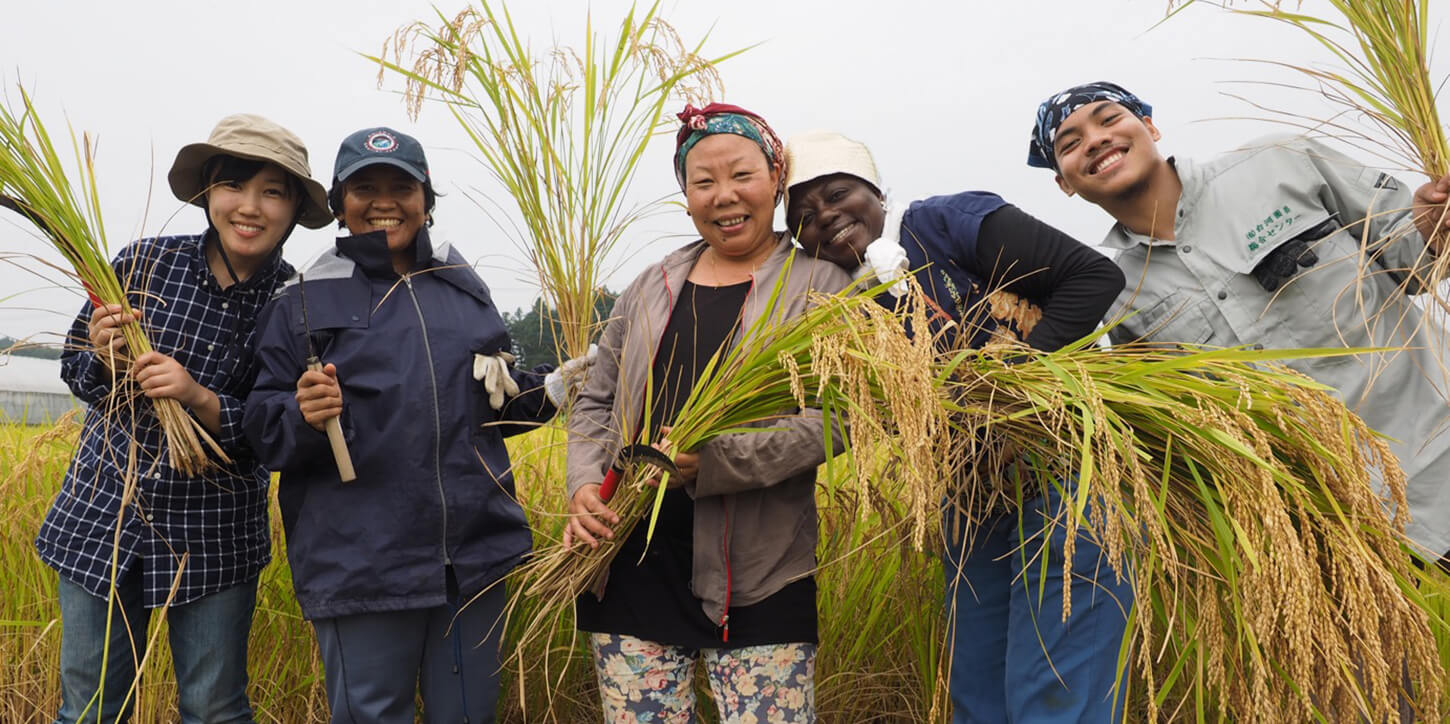 By Christie R. House
October 17, 2019 | ATLANTA
Global Ministries' Board of Directors, meeting in Atlanta, Oct. 10-12, conducted critical global business on behalf of the United Methodist denomination and voiced their commitment to connect Methodists across the world and across political and theological spectrums for mission and ministry. Especially in a fractured world, mission offers opportunity and purpose for all Methodists to find common ground to spread the love of God to all people.
From the opening sermon, delivered by Bishop Hector F. Ortiz-Vidal of the Methodist Church of Puerto Rico, to the closing communion, officiated by Bishop John Yambasu, episcopal leader for the UMC in Sierra Leone, a message of encouragement urged directors to refocus conversation in their local communities and regions on mission.
Ortiz admitted that there seems to be no solution for divergent opinions in The United Methodist Church today, or even a consensus about agreeing to disagree on different interpretations of Scripture or beliefs about moral behavior and ethics, which create barriers to working together. He urged directors to focus instead on mission, spiritual renewal, and living in God's peace, a message echoed by Yambasu later in the meeting. Though no solution seems apparent and conflict increases, "Jesus Christ makes the impossible possible," Ortiz said.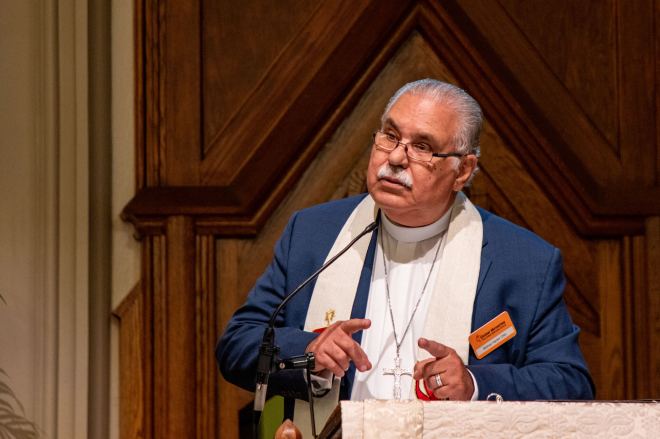 The role of mission in answering God's call
Thomas Kemper, Global Ministries' general secretary, continued the theme by illustrating, in practical terms, the ways that mission embraces the strength of the church, bringing people together for God's greater purpose despite human fractures. He highlighted the work of the Roundtable for Peace on the Korean Peninsula, held in November 2018, which brought together key leaders to discuss lasting peace between the Koreas. The Agricultural Summit, held in Johannesburg in January, brought together leaders, lay people and missionaries from across the African continent to consider church-sponsored agricultural projects to build up mission in communities, raise funds, and meet peoples' basic needs.
Kemper saw signs of hope in returning sacred ground in Upper Sandusky, Ohio, to the Wyandotte Nation of Oklahoma last month, and opportunity in an invitation by Robert Redfield, of the Centers for Disease Control, for churches and other faith-based institutions to partner with the CDC for health initiatives across the U.S.
"We have a historic responsibility," Kemper said as he contemplated Methodism without UMCOR and Global Ministries. "We cannot just walk away from the missions entrusted to us."
Signs and celebrations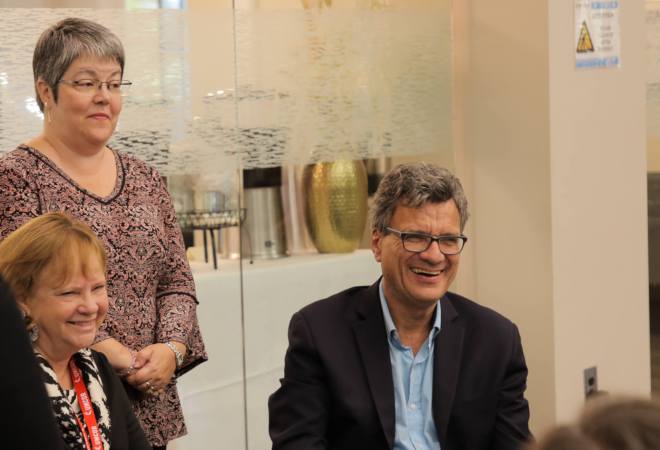 During the opening worship, directors celebrated a milestone for the Encounter with Christ Permanent Fund. The Rev. Cynthia Weems of the Florida Conference and Karen DiStefano of the Oklahoma Conference announced that after 25 years of fundraising, which has made possible 15 years of grants, the fund has reached $1 million in grant distributions to ministries and projects in Latin America.
Established in 1992, Encounter with Christ is a mission partnership of Global Ministries, the Council of Evangelical Methodist Churches in Latin America and the Caribbean (CIEMAL), and the Methodist Church of the Caribbean and the Americas (MCCA). Encounter is a central UMC funding source for evangelism and outreach projects developed throughout the Latin American and Caribbean region. When the permanent fund reached $1 million in 2005, the interest from the fund could be drawn to fund grants for projects approved by the partners. Evangelism with young people in the MCCA, Christian education for children in the Dominican Republic and motivating and training youth workers in Guatemala are some of the ministries supported this year.
Directors also received a gift of $24,272, given by the Methodist Church in Puerto Rico to the United Methodist Committee on Relief for disaster response work in the Bahamas. Puerto Ricans understand the devastation caused by Hurricane Dorian on a deep level, given their experience with hurricanes Irma and Maria two years ago.
New partnership for asylum initiative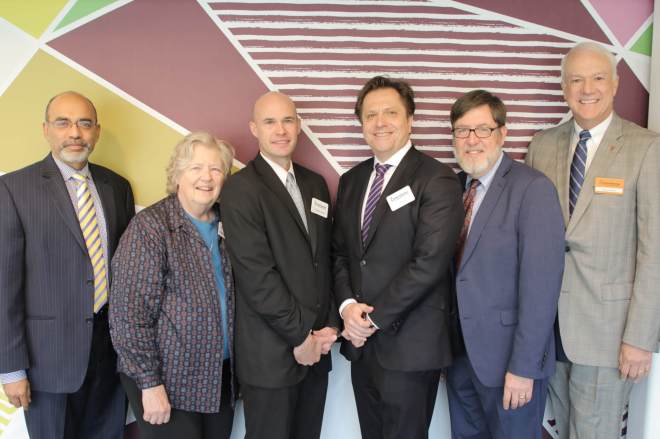 UMCOR directors approved a total of $5,982,153.11 in grants for disaster relief in the U.S. and internationally, and projects covering Sustainable Development, Global Migration and Global Health.
Among the approved grants were $617,180 for U.S. Disaster Response for programs in the Oklahoma and Great Plains conferences. International grants totaling $486,359.22 were approved for disaster management programs in the Mozambique and East Congo episcopal areas. Grants of $3,072,002 for Sustainable Development included partnerships with Dig Deep for the Navajo Water Project and other water, sanitation and hygiene (WASH) projects, support for South Sudan, and programs that provide assistance along the U.S.-Mexico border.
Global Health grants totaling $1,824,611 included health system strengthening in Burundi, Imagine No Malaria grants in the Democratic Republic of the Congo, Maternal and Child Health grants, and U.S. health projects in Texas, Georgia and Virginia.
With the directors' approval, UMCOR's Global Migration office announced the launch of a new three-year, $1.8 million pilot project designed to provide wrap-around services for asylum seekers in three major U.S. cities. Partnering with Church World Service and National Justice For Our Neighbors, this initiative will offer resettlement support and legal assistance for those claiming asylum in Houston, New York and Miami.
In preparation for the 2020 General Conference, directors and staff discussed ways to work as vessels of peace in what is predicted to be another unsettling denominational meeting. Building on the statement they released in April 2019, "United in God's Mission," they planned for practical ways to share their views in their annual conferences and with the global church. "We believe that the work God has called us to do represents what is right with the global church. We believe we have an opportunity to work for healing, peace and reconciliation – no matter what form the future of United Methodism takes."
Christie R. House is the senior writer and editor for Global Ministries.