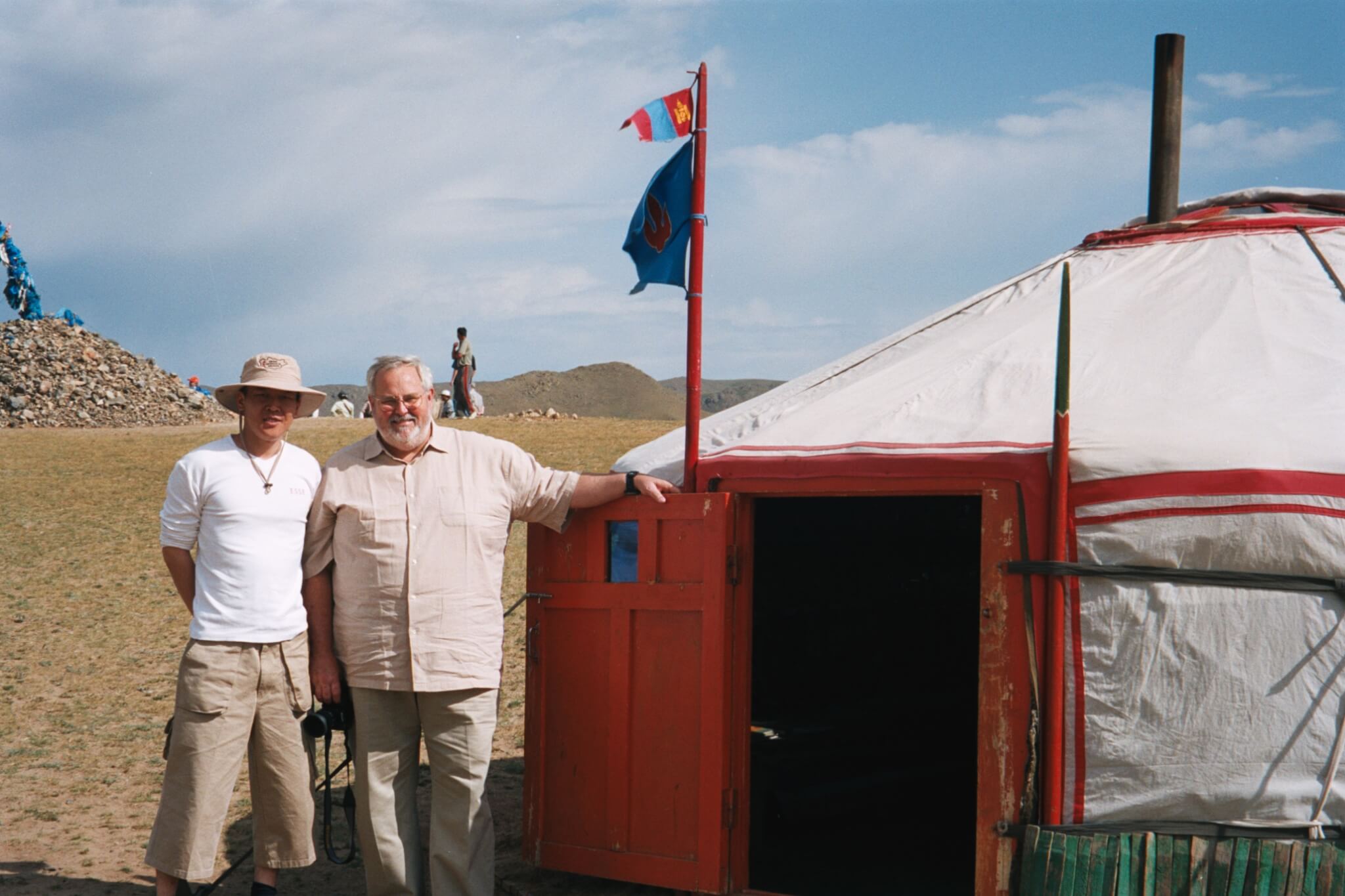 Sam Dixon, right, in Mongolia. PHOTO: UMCOR
August 30, 2021 | ATLANTA
For release: IMMEDIATE
Media Contact:
Mary Lou Greenwood Boice
Director of Communications, Global Ministries
770-625-7795
By Elliott Wright
The memory of the Rev. Dr. Samuel W. Dixon is strong and at work in the First United Methodist Church of Roanoke Rapids, North Carolina, a decade after the former pastor and denominational mission leader died of injuries caused by the 2010 earthquake in Haiti.
The congregation in coastal Halifax County has donated $25,000 in Dixon's honor to the United Methodist Committee on Relief (UMCOR) to assist survivors of the August 14, 2021, Haiti earthquake, which killed more than 2,000 people, injured thousands more, and left 1.5 million homeless. The quake on Haiti's southern peninsula was followed by torrential rain from Tropical Storm Grace.
Dixon was director of UMCOR at the time of his death a little more than a decade ago. He was in the Caribbean country in January 2010 with an ecumenical group exploring options for improving the economy in the acutely poor country.
UMCOR, a unit of the General Board of Global Ministries, will match Roanoke Rapids' memorial gift from other sources, according to Roland Fernandes, who is the general secretary of Global Ministries and UMCOR. "It is a gift from the heart and we are deeply appreciative. Sam loved the Roanoke Rapids church and its people. He often spoke of how hard it had been to leave the congregation when he was invited to come to Global Ministries."
"Sam Dixon is one of those contemporary sisters and brothers in faith who stand with the saints and martyrs of old in blessing us after their passing," Bishop Thomas Bickerton of New York, president of UMCOR, said in acknowledging the memorial gift. "It's not a matter of funds but of the fact that you can't say 'thank you' enough to Sam Dixon. His death had strokes of tragedy; his life was remarkable in faith, brimming with hope and steadfast in love. He affected and affects us."
In announcing the donation, the leadership team of Roanoke Rapid's church said, "We have been blessed beyond our dreams and wish to assist Haiti, which Sam loved so much…It is our hope and prayer that this gift helps meet the needs of the people of Haiti."
Dixon was pastor of the Roanoke Rapids church in 1996-98, immediately prior to his joining the staff of UMCOR. He held several top executive positions in Global Ministries before becoming head of UMCOR in 2007.
The 2010 earthquake killed some 230,000 people and devastated most areas of Haiti. Dixon and companions were trapped for 55 hours in the rubble of the collapsed Hotel Montana, near Port-au-Prince. Dixon died before he could be rescued. Another Global Ministries' executive, the Rev. Clint Rabb, director of the Mission Volunteers program, also died of earthquake-related injuries. Other staff and former staff, some injured, survived.
UMCOR launched a sustained global Methodist response to the 2010 earthquake, establishing Haitian partnerships that are also valuable in 2021, notably with the Methodist Church in Haiti, a part of the autonomous Methodist Church in the Caribbean and Americas.
The First United Methodist Church of Roanoke Rapids is a mission-minded, prayer-centered congregation focused at present on two-maxims, according to a church statement, "count our blessings" and "do no harm." The Rev. Dr. Tracy C. Sexton is the current pastor. Cindy Dixon, Sam's wife, is a member of the church.
Support for UMCOR's response to the present disasters in Haiti may be directed to Advance #982450, UMCOR International Disaster Response and Recovery, online at https://umcmission.org/advance-project/982450; or send checks to Global Ministries/UMCOR, P.O. Box 9068, New York, NY 10087-9068, with Advance #982450 on the memo line; toll-free phone, via credit card: 888-252-6174.
##
About UMCOR and the General Board of Global Ministries of The United Methodist Church
Founded in 1940, the United Methodist Committee on Relief (UMCOR) is the global humanitarian relief and development agency of The United Methodist Church. A part of Global Ministries, UMCOR works in more than 80 countries worldwide, including the United States and its territories. The agency's mission, grounded in the teachings of Jesus, is to alleviate human suffering with open hearts and minds to all people. Working in the areas of disaster response and recovery, sustainable development, and migration, UMCOR responds to natural or civil disasters that are interruptions of such magnitude that they overwhelm a community's ability to recover on its own.
Learn more about Global Ministries by visiting umcmission.org or by following: facebook.com/globalministries and twitter.com/umcmission.