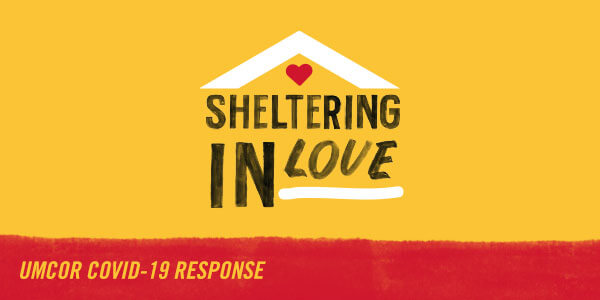 By Linda Bloom
May 28, 2020 | UM News
In Louisiana, a United Methodist congregation converted its food pantry to a drive-thru operation after the coronavirus pandemic disrupted vital food assistance when the local school closed.
In Ecuador, Methodists are assisting quarantined families in two hard-hit low-income neighborhoods where the church has had a presence for more than eight years.
In the Philippines, church workers, as well as some front-line workers, were excluded from the list of Filipinos receiving government-provided cash assistance because of the pandemic. In the Baguio area, United Methodists have stepped in to help.
All three emergency projects are among those approved for grants from the UMCOR COVID-19 Response Fund of the denomination's relief agency, launched in late April. The Board of Global Ministries is the parent organization of the United Methodist Committee on Relief.

After four weeks of grant request reviews, $966,069 in grants had been approved by May 28. The total amount raised so far is $1,148,249, from nearly 6,500 unique donors. The mission agency has supplemented those funds, raising the total available for COVID-19 assistance to $1.3 million.
But grant applications for the COVID-19 Response Fund keep coming in, said Thomas Kemper, top executive for Global Ministries. "We have hundreds of requests," he said.
Normally, many churches would conduct a special offering the Sunday after an UMCOR emergency response was announced, Kemper pointed out. But churches aren't holding in-person worship because of the pandemic and "that is hurting us" in achieving higher donation totals, he said.
First United Methodist Church of Leesville in Vernon Parish, Louisiana, was approved for $10,000 in the first round of grants, which will allow the extension of the drive-thru food pantry through the summer.
That's important, said the Rev. Sung Woo "Sean" Cho, pastor, because there will be no food assistance available from the shuttered schools or recreation center in Leesville. "We are so glad and so appreciative," he added.
With the U.S. Army training base at Fort Polk nearby, area residents include both younger military families and retired members of the military, as well as a significant ethnic minority population that is African American, Latino and Filipino, Cho explained. His congregation, with a regular attendance of 50 to 65 members, includes a mix of older residents and younger families.
First Church has run a food pantry for more than 40 years and building relationships has been as crucial as providing nutritious meals. "Our place is not just a distributing center but also a place to make friends," the pastor said.
After the state closed schools on March 17, Cho asked his food pantry volunteers — some of whom were at higher risk for COVID-19 — if they wanted to continue. The volunteers were willing to do so if there was an alternate plan with less physical contact.
The drive-in food pantry was born, attracting more than 80 families the first week. "They just come and pick up and say hi," Cho said. "Then we bless each other."
Food and food security, including safe water, are the primary emphasis for the grants, along with personal protection items. Infrastructure and salaries are not covered, Kemper noted, unless those represent only a small amount of the grant.

"Every week we are turning the money around that is coming in," he explained. "We have really simplified the normal grant process to make it fast and very specific this time. We will not do this for any other grants."

In fact, the normal, nonemergency grant-making process can take several months. "It's not just the grant, but it's a whole dialogue around the grant," he said. "It's a very different timeline."
Initially, about 70% of the COVID-19 grants were for U.S. ministries, mainly because those applications arrived earlier. Now, Kemper said, "we are very intentionally having a larger percentage going outside the United States."
An international grant of $20,000 was approved for the Evangelical Methodist Church in Ecuador for its work with quarantined families in two neighborhoods located in Guayaquil and Quevedo, the cities with the greatest impact from COVID-19. The church has local leaders who coordinate with the community.
The coronavirus crisis unfolded quickly in Ecuador, said Sara Flores, a United Methodist missionary, in a video conversation with Kemper. It happened as people were coming home from school vacation trips to different places, especially Spain. "The crisis was too quick and too big," she said. "Everything collapsed — the health system, the hospitals, everything."
People in poorer neighborhoods don't often have internet connections, Flores said, but they do have cell phones. Part of the church's response with 300 vulnerable families includes virtual information on prevention and care, along with psycho-emotional and spiritual accompaniment through phone contact.
Global Ministries has supplemented the special appeal with additional funding sources for COVID-19-related programs, including solidarity grants to health boards in Africa. Grants also have been made to Native American communities. The mission agency's Asia office in Seoul, Korea, has set aside funds to support partners in providing food items and simple sanitizers, Kemper said.

As with other emergencies, UMCOR will set aside 10 percent of the fund to support pastors' salaries outside the United States. "We have some areas that asked for food aid specifically for pastors," Kemper noted.
One of those areas was the Baguio Episcopal Area in the Philippines, which has been approved for a grant of $19,998 to extend food and WASH (water, sanitation and hygiene) aid to church workers and front-line workers — most of whom are not church members — who have lost salaries because of the pandemic.
This will complement work already underway. Bishop Pedro M. Torio Jr. said the Baguio area had raised funds to send cash assistance to 315 of the lowest-paid pastors and deaconesses, completing the first wave by the end of May. A second wave that will include lay ministers should be finished by the end of September.
"We thought we were giving such a small amount of money, but they responded with grace and gratitude," Torio told UM News in an email. "This is God's work!"
Thirty districts also raised funds to complement this bishop's initiative and the government assistance program. "Many of the districts have maximized their mobility and they are now on their fourth or fifth wave," he wrote. "They have distributed food and relief packs to their most vulnerable neighbors within and beyond their areas of responsibility."
Bloom is the assistant news editor for United Methodist News Service and is based in New York.
Article originally found on UMC.org.