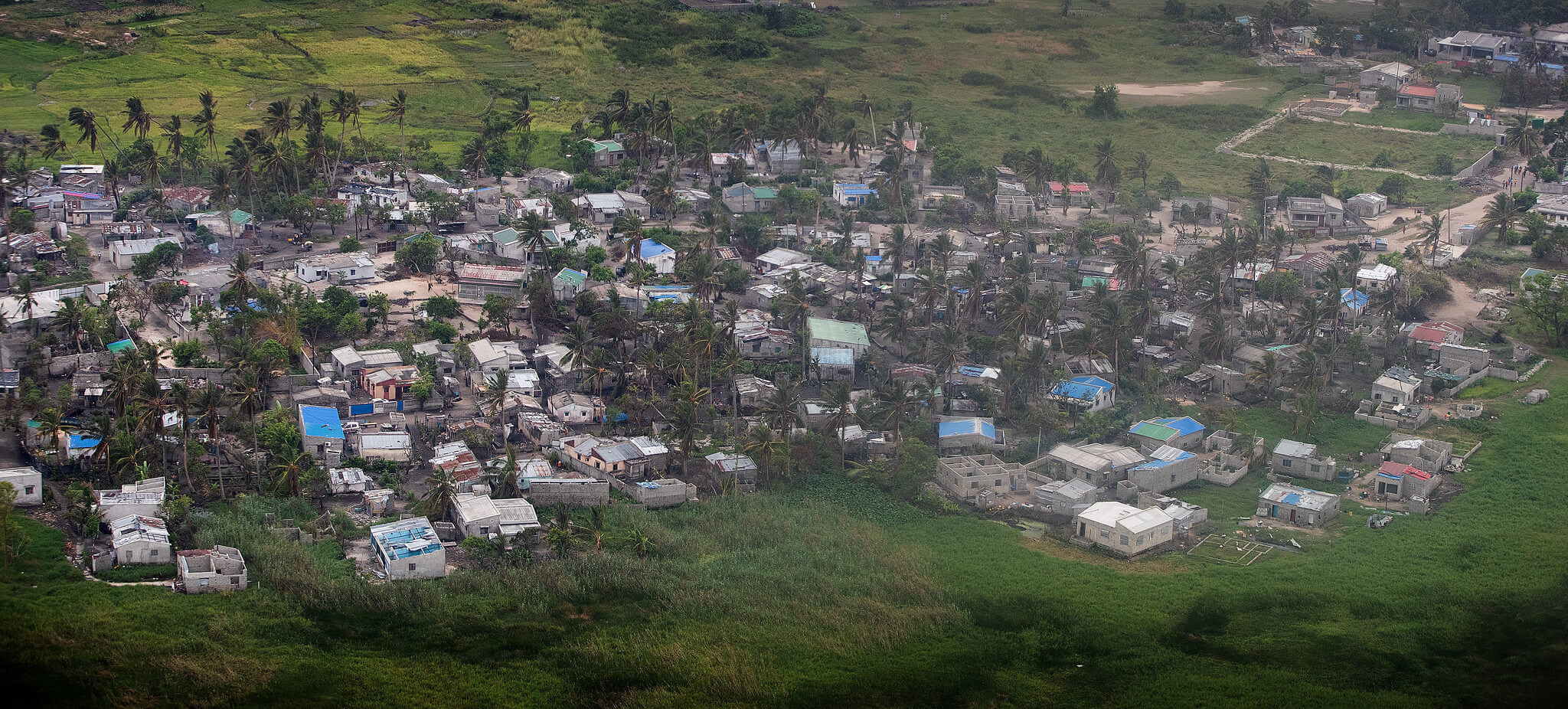 Homes under repair are covered with blue emergency tarps or still open to the sky weeks after Cyclone Idai tore through Beira, Mozambique. PHOTO: MIKE DUBOSE, UM NEWS.
---
By Roland Fernandes
February 3, 2021 | ATLANTA
The United Methodist Church in Mozambique is in urgent need of prayer and other signs of solidarity as the southern African country experiences continuing civil unrest and renewed destruction from cyclones and flooding.
Reports coming to the General Board of Global Ministries indicate extensive displacement of people and widespread fear as a result of the actions of armed Islamist groups and clashes between those groups and the Mozambique military, aided by Portugal. The clashes, which started two months ago, are particularly intense in the North Annual Conference.
"Our church members are gravely impacted," reported Bishop Joaquina Filipe Nhanala, leader of the Mozambique United Methodist Church, which consists of two conferences, North and South. "The situation is becoming worse and worse as the attacks have resumed. The flow of people from the north to other parts of the country is overwhelming."
The central part of the country, according to church sources, is plagued by armed conflict between the government and an insurrectionist group that broke away from the opposition political party. The fighting has destabilized people and the government.
Meanwhile, Cyclone Eloise, which struck the third week of January, has left thousands homeless and destroyed food crops. The British Broadcasting Corporation (BBC) in late January reported that 5,500 families in the central province of Manica were stranded by flooding without access to aid and that 800,000 hectares of crops had been destroyed there. Parts of the country were severely damaged by storms in the last two years and more bad weather is forecast for February.
The United Methodist Committee on Relief (UMCOR), in consultation with Bishop Nhanala, is preparing emergency response to the humanitarian need.
I encourage all United Methodists in their individual and corporate prayer to remember our sisters and brothers in Mozambique, identifying with their courage and their need, asking God to surround them with grace and fill them with the love of Jesus Christ.
Donations for disaster relief in Mozambique should be made to UMCOR International Disaster Response and Recovery, Advance #982450.
The United Methodist Church of Mozambique traces its origins to 1890. In addition to her responsibilities in Mozambique, Bishop Nhanala is also the vice president of the General Board of Global Ministries.
Roland Fernandes is general secretary of Global Ministries and UMCOR.