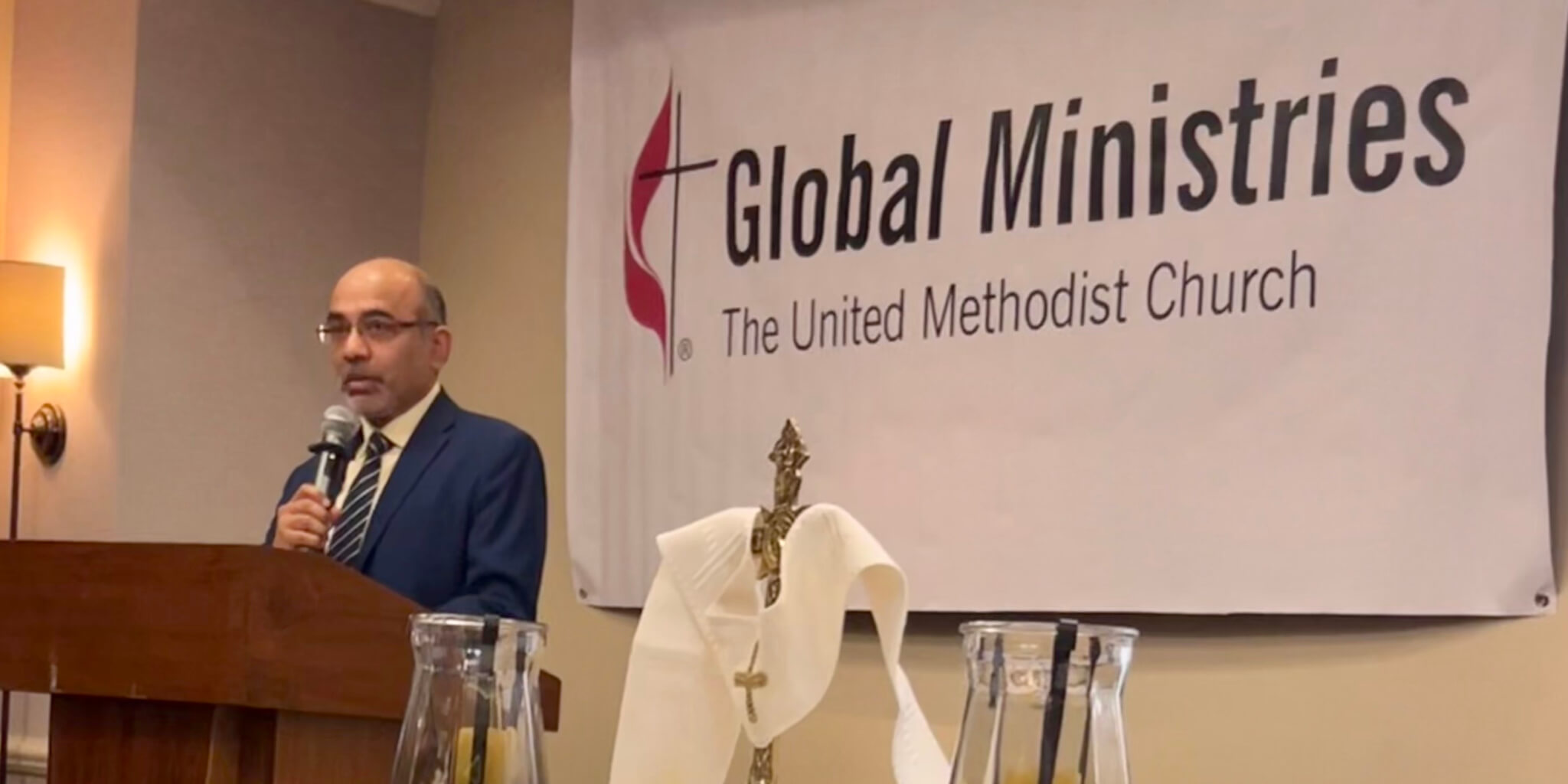 By Elliott Wright
April 20, 2023 | MAPUTO, MOZAMBIQUE
The achievement of a global Christian community that reflects the love of God and performs good deeds of benefit to all is the goal of the chief executive officer of Global Ministries.
Roland Fernandes, general secretary of the denominations' General Board of Global Ministries, developed the theme "Spurred to Love and Good Deeds in Such a Time as This" in his semiannual report to agency directors, meeting for the first time outside of North America. Global Ministries includes the United Methodist Committee on Relief (UMCOR).
Three United Methodist mission-focused meetings are being held in Mozambique between April 17 and 26. The director's sessions were preceded by an Africa Mission Partners Consultation and followed by an Africa Regional Missionary Gathering.
The Africa Mission Partners Consultation is the first event in a series planned over the next year as Global Ministries engages in critical strategic conversations to discern how God is leading United Methodists in mission. African partners participating in the event wanted to develop new and strengthened partnerships that recognize and utilize African assets, build capacity and develop leadership within African conferences, moving the church in Africa toward greater self-sustenance.
"We have been given this time to discern the future of mission," Fernandes said. "This is best done by listening to our partners."
Fernandes' report to directors was the first he has been able to give in person since he became chief executive of Global Ministries in late 2019. The five previous were delivered by digital link (zoom) because of the coronavirus pandemic and visa issues. The spring 2023 directors' meeting is taking place in Mozambique, and one later in the year in Cambodia, to allow the 37 directors from around the world to attend.
The scriptural theme for the Maputo meeting is from the tenth chapter of the New Testament Letter to the Hebrews, which describes a Christian community "unswerving" in its faith, where members spur one another toward love and good deeds. Fernandes projected such a global community for United Methodists and said that diversifying the location of where the agency directors convene is "a symbol of our recognition of the unity of the United Methodist community in faith and mission" around the world.
Fernandes reviewed the creative work in planning for present and future mission initiatives in the months during which the pandemic and other factors interrupted or slowed usual operations. He said: "We have studied and refined our program catalogue, established greater operational accountability, promoted broader collaboration within and beyond the agency, become more deliberate in gauging our impact and initiated more effective communication practices."
In addition to COVID-19, Global Ministries/UMCOR in recent years has encountered changing climate, recalcitrant racism and uncertainty about the future of The United Methodist Church.
Considering future mission programs, the general secretary said he would like to see more emphasis on environmental sustainability ministries, "especially education promoting the reduction of humanity's – and the church's – carbon output. The churches have a key role to play in education about the care of the physical and natural world."
He announced the creation of a portfolio for Peace and Justice within his office. "While these – peace and justice – are values that Global Ministries has long endorsed, it is time for a much stronger action agenda to counteract growing racism, nationalism and violent political activism. The goals of peace and justice demand a great deal from each of us as Christians, from the church and from Global Ministries. The scope is global."
Fernandes called attention to an action of UMCOR in designating an additional $5 million for the Yambasu Agriculture Initiative that involves the annual (regional) conferences across Africa. He described the project, named for the late bishop of Sierra Leone, as "enlisting sustainable agriculture in the cause of both food security and income production for local churches and annual conferences. It puts land the church already owns into broad-based use. It can serve as a tool of evangelism through the promotion of community welfare and prosperity and hopefully will play a significant economic role in Africa's United Methodist Church of tomorrow."
He reported that UMCOR's response to the needs of persons displaced by the Russian invasion of Ukraine more than a year ago continues to be strong. "As of the end of March, we had approved 43 grants in 12 countries totaling just short of $17 million with another $1.5 million in process," he said. "Expenditures to date are targeted to assist more than 438,300 persons. Total contributions received for the Ukrainian crisis stand at $27.7 million, meaning we have unspent funds that will be essential in the rebuilding process. Relief and recovery in a war situation have their own special challenges. Limited resettlement of Ukrainian refugees is taking place, including in the United States, where we partner with Church World Service, one of the officially recognized resettlement agencies."
The full report can be found here.
Elliott Wright in an information consultant for Global Ministries and UMCOR.