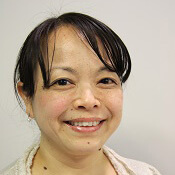 Serving At: Asian Rural Institute (ARI)
Home Country: Japan, Asia and Pacific
WAYS TO REACH ME:
Satomi McCurley is a missionary with the General Board of Global Ministries of The United Methodist Church, serving as church and community ministries coordinator at the Asian Rural Institute (ARI) in northern Japan. Her husband, Jonathan McCurley, is also a missionary at ARI.
The Asian Rural Institute is an ecumenical ministry that seeks to build an environmentally healthy, just, and peaceful community in which all persons can live to their fullest potential. The institute is rooted in the love of Jesus Christ. It trains rural leaders for lives of sharing and working in grassroots communities, primarily in Asia, Africa, and the Pacific region. It emphasizes sustainable agriculture, sound ecological practices, leadership development, and community development. Since 1973, ARI has trained more than 1,300 women and men from more than 50 countries throughout Asia and Africa.
The institute and Global Ministries are strong mission partners. Satomi engages in efforts to build creative relationships between ARI, churches, and social institutions in the Northern Tochigi Prefecture, a former rural area becoming increasingly urbanized. She focuses particularly on youth, children, and music ministries.
Satomi is from Okinawa, Japan. At ARI, she is a member of the local Nasushiobara Church of the United Church of Christ in Japan. She has worked in child development and as a home helper.
She did not grow up in a religious home. Actually, Satomi was introduced to the Christian faith through gospel songs she and a roommate learned as young adults. While singing gospel music, she met a missionary who began to study the Bible with her and connected Satomi with the church. She was baptized in 2002 and two years later enrolled in Ikoma Bible School in Nara. "I spent three years learning the Bible and about ministry," she says. "I also started to think about mission service and my future."
Satomi further developed her understanding of faith in conversations with Jonathan, who she would later marry, and who became a United Methodist missionary in 2009. Living with him at ARI, she says, has taught her about God's love for rural people: "I can see God's hand and love in creation and have learned much about the need to care for the land and creation, with humans being one part of that creation."
Of her call to mission, Satomi says: "As I have worked with people who are hurting and those who do not know Jesus, my heart has been pulled by God to give my life to touch these people with the gospel."