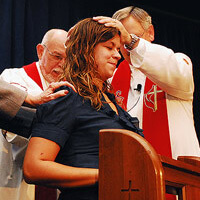 Serving At: Mission Advocate for Northeastern Jurisdiction
Home Country: United States of America, North America
WAYS TO REACH ME:
Becky Parsons is a missionary with the General Board of Global Ministries of The United Methodist Church serving as mission advocate for the Northeastern Jurisdiction in the United States. She assumed the position in 2017, having been commissioned as a Church and Community Worker in 2009.
Mission advocates are missionaries who serve the annual conferences, districts, and local churches of their assigned jurisdiction by connecting the church in mission to Global Ministries. The work of a mission advocate focuses on missionary support through The Advance, sharing mission news locally and around the world, and celebrates how our gifts to mission magnify Christ's love from everywhere to everywhere.
Becky previously served as the executive director of the United Methodist Community Outreach Program, which teaches children to read by third grade, ensures food security for families, and empowers parents to become the guiding lights for their children's future.
Born in Florida and raised in Henryville, Pennsylvania, within the Eastern Pennsylvania Annual Conference, Becky is a member of the Wooddale United Methodist Church in East Stroudsburg. She attended Florida Southern College, Lakeland, earning a bachelor's degree in the humanities in 2005; she then enrolled in the Theological School at Drew University, Madison, New Jersey, graduating with an M.Div. degree in 2009.
"My faith continues to be a journey every day, and it is defined by the beauty of God's presence in each moment," she says. "My faith is strengthened by the daily struggle of people who confront evil, seek justice, make peace, bear witness to God's love, and care for God's creation."
Becky served as an intern in a Communities of Shalom ministry in Horntown, Virginia, in the summer of 2008, and was chaplain at Camp Lake Stephens in Oxford, Mississippi, in the summer of 2009. She has special gifts in music, dance, and liturgy; she is a student of yoga and Kumdo (a Korean form of fencing), and enjoys writing.
Of her call to mission, Becky says: "I was interning on the Eastern Shore of Virginia at the Agape Children's Community Center, and one day as I was reading to the kids during rest time, all was quiet except the sound of my voice. It was in that moment that I knew my call was to be with people in a profound and very present way. Through the tears, sorrows, laughter, struggle, pain, joys, anger, and hurt, I know there is healing… God's call was a lowly hum, always there, always pulling me, and the voices of the people around me filled with splashes of color, rays of vitality and soul-searching strength."