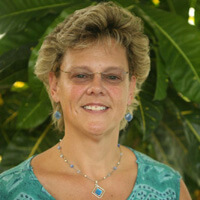 Serving At: MCCA: Belize-Honduras District
Home Country: United States of America, North America
WAYS TO REACH ME:
Sandra K. Raasch is a missionary with the General Board of Global Ministries of The United Methodist Church serving as Volunteers Coordinator. She formerly worked in mission finance in Honduras.
Sandra was commissioned as a missionary in 2005. At the time she said: "God has been grooming me for this call all my life by giving me a heart for people, an ability to receive a finance degree, and to participate in mission trips, and by leading me to a church home, where I found Christ and have been able to deepen my walk through Bible study, meeting brothers and sisters in Christ, and finding my spiritual gifts of administration and hospitality."
Sandy was born in Cape Girardeau, Missouri and attended the University of Missouri in Columbia, earning her Bachelor of Science in business administration and finance in 1987. Before beginning her mission service, she owned and managed a business, worked for four different companies in Kansas in supervisory positions, and volunteered for numerous charitable organizations through her church.
Sandy is a member of the United Methodist Church of the Resurrection in Leawood, Kansas. Her parents, Harold and Becky Raasch, live in Overland Park, Kansas, and also attend the same congregation.
Email Me