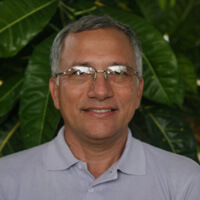 Serving At: Methodist Church of Mexico, Southeast Conference
Home Country: Nicaragua, Latin America and the Caribbean
WAYS TO REACH ME:
Miguel Mairena is a missionary with the General Board of Global Ministries of The United Methodist Church. Miguel and Nan McCurdy are serving with Give Ye Them to Eat (GYTTE) in Puebla, Mexico. Give Ye Them to Eat was founded in 1977, as a social outreach project of the Methodist Church of Mexico to combat hunger and poverty in the rural sector. The primary goal of "Give Ye Them to Eat" is to strengthen the capabilities of marginalized people and communities to meet their basic needs, and to determine and sustain a just and integrated development process so people can achieve the full promise and potential of their life as a child of God. Participatory methods and development tools are used to create conditions in which change can take place from within the communities. GYTTE uses people-centered approaches to development. It is through our various programs that this goal is achieved.
Miguel was a Mission Advocate in the denomination's Western Jurisdiction from 2014 to 2018, helping United Methodists participate more fully in global mission. From 1997 to 2014 he was a missionary in Nicaragua working with women and youth in human rights.
For Miguel the words of Jesus from Mathew 25:40 are a guide for mission: "I tell you the truth, whatever you did for one of the least of these brothers and sisters of mine, you did for me."
Miguel is a lawyer and has a master's degree in criminal law. In Nicaragua he provided legal counsel to women dealing with situations of physical, psychological, and economic violence. He also counseled men about reproductive responsibility and to prevent violence against women. He and Nan worked for many years with the Women and Community Association of San Francisco Libre.
A theologian at heart, Miguel weaves religious reflections into his personal encounters while going about his daily work. Miguel also studied Christian education at Wesley Theological Seminary.
Coming from a large, religious, impoverished Nicaraguan farming family, Miguel had few opportunities to study until he was 20 years old, when he began first grade. Growing up on an island in Lake Nicaragua he learned farming, fishing, and boat skills, and worked during his teens as a mechanic and boat driver.
Most of his studies took place during the years of the Sandinista revolution. He then worked in community and agricultural development projects serving farmers and war veterans through the Nazarene Church, World Vision, and two different ecumenical centers. He is grateful to have had the opportunity to continue studying as an adult and constantly encourages other adults to keep studying.
Miguel and Nan have an international and blended family that includes three daughters and three sons. They are members of the Baltimore-Washington Annual Conference.