Love and relief for Venezuelan migrants
With the help of an UMCOR grant, the Methodist Church of Peru remodeled the Church of Miramar in the San Miguel District of Lima to provide a shelter and service hub for migrants arriving from Venezuela. Venezuelan children in this "House of Hope" gather for choir practice. PHOTO: METHODIST CHURCH OF PERU
---
By Christie R. House
The United Methodist Committee on Relief has partnered with Methodist churches in three South American countries to help meet the needs of arriving Venezuelan migrants. About 4.6 million, or 16% of the country's population, have left Venezuela. Methodist congregations in Peru, Colombia and Brazil confirm that most of the migrants they encounter are women, children and families separated from loved ones. Many arrive with little or nothing.
A "Voice for the Voiceless" in Colombia
Colombia has received over 2 million Venezuelan migrants, more than any other country. The Methodist Church of Colombia used an UMCOR grant to create multiple information-sharing community clubs for kids and parents called "A Voice for the Voiceless." These centers, in eight locations across the country, spread the word online and in person about available services and government resources. A second emphasis focuses on pregnant women and women with infants needing maternal-child health services.
Johimary Victoria Ortega, age 6, and her family participate in the project's Girón Kid's Club. Johimary had never attended school. Unfortunately, there was no space in the three-month preparatory class for her to join. She was very sad, but she showed up the next day anyway to see if there was an opening.
When another child dropped out, Johimary enrolled. Belky Hernandez, the program coordinator says: "During the three months she participated, she learned to read, write and form sentences, and she enjoyed every class she attended." Johimary entered public school and started first grade this year.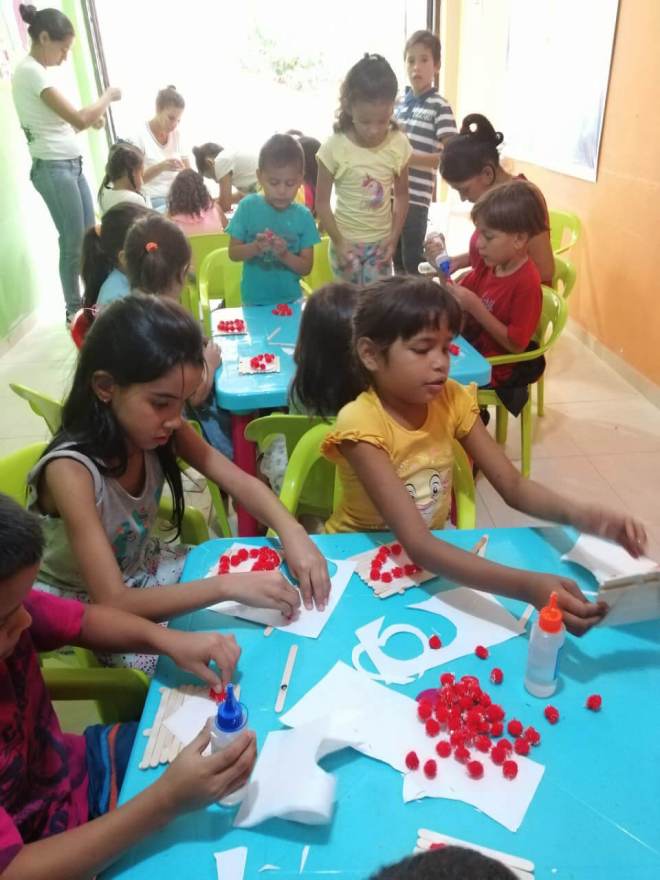 A "House of Hope" in Peru
Peru hosts the second largest Venezuelan population in South America, at more than 1 million. Carmen Mollo, who directs the Methodist Church of Peru's Casa de la Esperanza (House of Hope) in Lima, says the first refugees arrived three years ago, a few at a time. Now, the pace of migration increases.
UMCOR's support provided an opportunity for Miramar Methodist Church in the San Miguel District to remodel its building as a family shelter. Arriving migrants told of trauma throughout their journeys: assault, loss of money and possessions, and reaching Peru with nowhere stay.
An emergency kit leads to more in Brazil
The Brazilian state of Roraima receives an average of 1,300 Venezuelan migrants daily. An estimated 32,000 live in Boa Vista.
An UMCOR grant with the Shade and Fresh Water project enabled the Boa Vista Methodist Church to create and distribute emergency kits to migrants on the streets. The kits provide immediate relief but also bring the migrants to the church, where they can find other services and register for resettlement.
Charlys Daniel Morffi had been sleeping at the bus station for six months. He received an emergency kit and asked if he could come to a worship service. Then he joined the Shade and Fresh Water project.
The first door that opened for him was his emergency kit from the Methodist church. He registered for resettlement and a place was found for him in Betim, Minas Gerais state. There, he found a job, rented a house, and brought the rest of his family from Venezuela to Brazil.
A gift to UMCOR Global Migration, Advance #3022144, will help to meet the needs of migrants around the world who flee their home communities when they run out of other options to improve their situations.
Christie R. House is a consulting writer and editor with Global Ministries.