Celebrate Black History
Within the history of Methodist mission, we celebrate the calling, commitment and vision of African Americans.
Below are four of the many examples of unique and lasting contributions of African Americans in mission.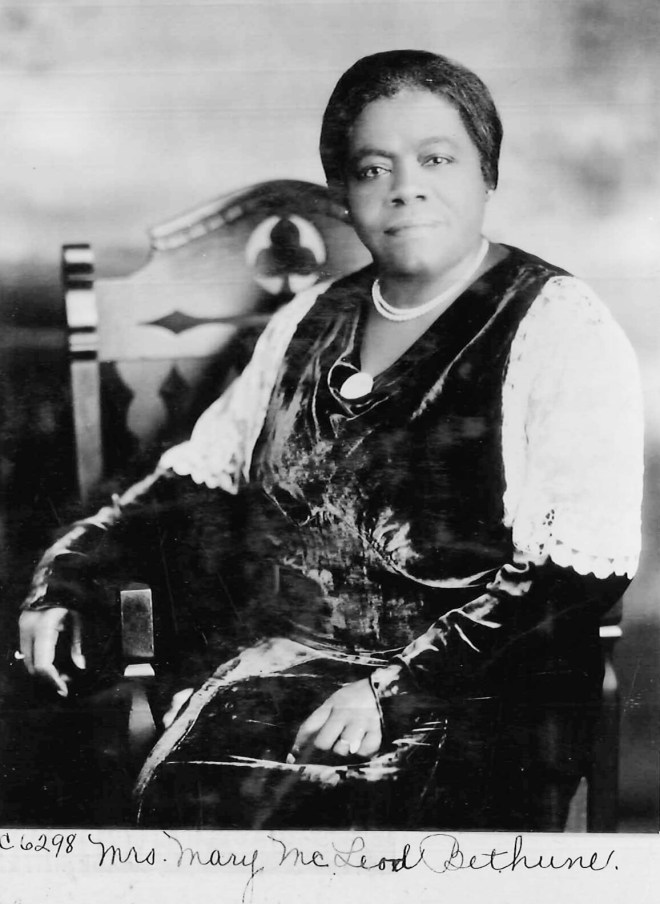 ARCHIVES AND HISTORY MISSION ALBUMS PORTRAITS 5, PAGE 36
Education and equality: The work of Mary McLeod Bethune (1987 – 1955)
"Invest in the human soul," Mary McLeod Bethune declared. "Who knows, it might be a diamond in the rough." And invest Bethune did. This incredibly accomplished public servant founded the school that became Bethune-Cookman College as well as a training school for nurses, advised the White House, founded the National Council of Negro Women, worked towards integration of the Red Cross and served four times as a delegate to General Conference.
Bethune was born in South Carolina in 1875 to Sam and Patsy McLeod, both former slaves. She recognized the importance of access to education and devoted a significant portion of her life to educational issues. She founded the Daytona Educational and Industrial Training School for Negro Girls in 1904 in Daytona Beach, Florida. In 1923, it merged with the Cookman Institute and became a coeducational college. She also founded the Mary McLeod Hospital and Training School for Nurses in 1911, which at the time was the only school of its kind that served African-American women on the East Coast.
In addition to her considerable educational initiatives, Bethune worked tirelessly for civil rights. During the First and Second World Wars, she advocated for integration of both the American Red Cross and the Women's Army Auxiliary Corps. She worked extensively with the National Association of Colored Women's Clubs, before founding the National Council of Negro Women in 1935. During the Roosevelt administration, she advised the White House on minority affairs, and after her death she became the first black woman to be honored with a statue in Washington, D.C.
During Bethune's lifetime, the predecessor denominations of The United Methodist Church included the Central Jurisdiction, which effectively ensured segregation within the church. As Methodist leaders began to work toward unification in the 1930s, Bethune argued vehemently for the elimination of the Central Jurisdiction and a more inclusive denominational structure. She served on the Woman's Division Committee on Minority Groups and Interracial Cooperation and as a delegate to General Conference four times. She identified proudly as "a Methodist woman in mission" until her death in 1955.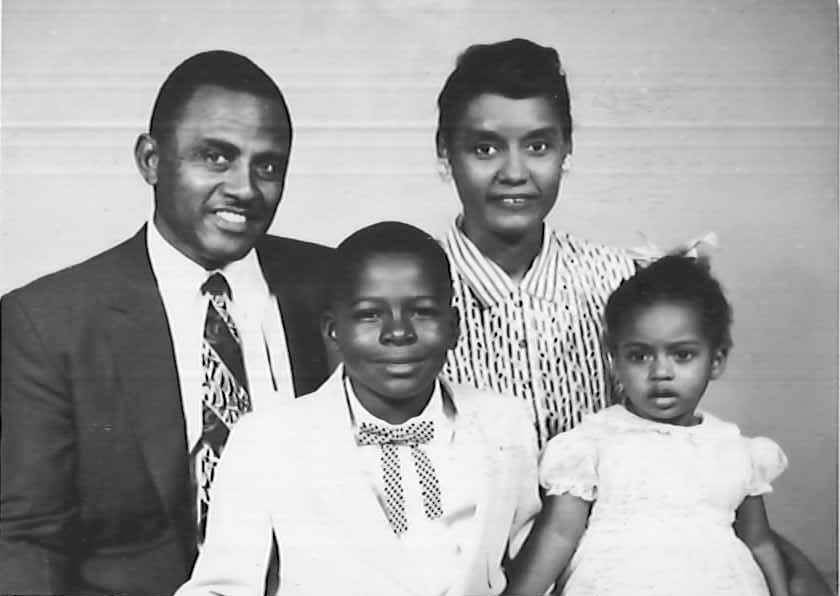 Ulysses S. Gray, Vivienne and family, 1956. ARCHIVES AND HISTORY, MISSION ALBUM PORTRAITS 9, PAGE 113
Ulysses Samuel Gray (1913 – 2009): Methodist missionary to Gbarnga, Libera
The Rev. Ulysses Samuel Gray served as a missionary with the Methodist Board of Missions at the Gbarnga Mission Station in Bong County, Liberia, for nearly 27 years (1948-1974). His wife, Vivienne Newton Gray, also served the station as a teacher and administrator (see her biography https://methodistmission200.org/gray-vivienne-newton-1917/). Ulysses, known as "U.S.," served as mission superintendent, pastor for the Gbarnga church and agricultural advisor for the mission station. He and Vivienne, one of a few African American couples assigned as international missionaries by the Board of Missions of the Methodist Church in the 1940s, oversaw the building and management of the church, homes, school, and the first gymnasium is the region. In 1959, U.S. Gray built the Gbarnga School of Theology where he taught and encouraged his students to become pastors in the Liberian Methodist Church.
Ulysses Gray was an ordained pastor of the Texas Annual Conference. Born in 1913 to James Gray, Jr., and Ora Glass Gray in Franklin, Texas, he received his local preacher's license at age 13. He attended Wiley College for two years and then transferred to Clark College in Atlanta. At the same time, he attended Gammon Theological Seminary on the campus. He met Vivienne Newton on the campus of Gammon and they were married in 1945. In 1947, he graduated from Clark College with a Bachelor of Arts Degree and a year later, from Gammon with his Bachelor of Divinity.
Ulysses and Vivienne Gray were honored with the Liberian Star by the Liberian government for their nearly 27 years of work in mission in Gbarnga. The Liberian Star medal is the highest honor that can be awarded to a civilian in the country. After retirement, the Grays returned to the United States, where Rev. Gray served as a pastor in the Texas Conference. Ulysses Samuel Gray passed away in 2009 at the age of 96.
Biography compiled by Christie R. House.
Sources: "What Good Does United Methodist Mission Do?" by Boyce Bowdon, "New World Outlook," September-October 2010.
"Texas Annual Conference of the United Methodist Church 2010 Journal, Memoirs," by Bishop Bennie T. Warner.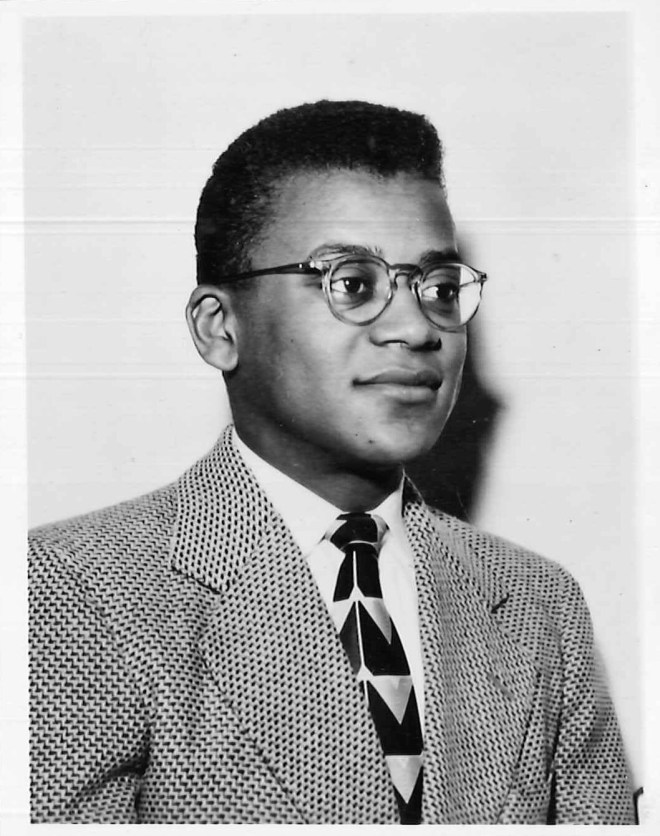 James Lawson, 1950s. ARCHIVES AND HISTORY, MISSION ALBUM PORTRAITS 7, PAGE 87
James M. Lawson, Jr.: Civil rights leader and short-term missionary to India
Lawson was born in Uniontown, Pennsylvania, in 1928, one of nine children of a U.S. Methodist pastor and a Jamaican mother. He took much of his attitude toward others from his mother, who did not believe in violence. Lawson grew up in Massillon, Ohio, where he became a good student in predominantly white schools.
He entered Methodist-related Baldwin-Wallace College in Berea, Ohio, where he joined the Fellowship of Reconciliation (FOR) and became interested in the nonviolent methods of Mahatma Gandhi. He must A. J. Muste, the executive secretary of FOR, and others in the pacifist movement, including James Farmer, Bayard Rustin, and Glenn Smiley.
Although he initially registered for the draft, he became a conscientious objector at the time of the Korean War and was sentenced to three years in federal prison. Baldwin-Wallace refused to grant his degree because of his prison sentence. Entering prison in April 1951, he served until May 1952, when he was paroled. He returned to college to obtain his degree, then became a short-term missionary of The Methodist Church to Nagpur, India, where he was an instructor at a Presbyterian school, Hislop College. Lawson was surprised to find that some Western missionaries did not like Gandhi and considered him a troublemaker. But Lawson considered that Gandhi had exemplified Jesus' teaching of love.
Lawson returned to the U.S. in 1956, did postgraduate work at the Oberlin Graduate School, and also received a degree from Boston University. He met Martin Luther King, Jr., who urged him to find a way to serve in the South. Lawson accepted an invitation from FOR to develop nonviolent methods for African-American students in Nashville, Tennessee. In the fall of 1959, he began voluntary training workshops for college students there, and shortly after the Greensboro sit-ins, Nashville students started sit-ins on February 13, 1960. In the ensuing months, students continued to protest, and the lunch counters were desegregated, but not before Lawson was expelled from Vanderbilt and jailed.
Lawson participated with King and others in the civil rights protests throughout the 1960s. He was a founding member of Black Methodists for Church Renewal in 1968. In 1974, he was appointed pastor of Holman United Methodist Church in Los Angeles, where he served for many years. He served the denomination as a member of its agencies and continued to articulate concerns for justice in the U.S. and peace abroad. In October 1996, he received the distinguished alumnus award from Vanderbilt University, despite never having received a degree there.
Taken from Linda Gesling, Mirror and Beacon: The History of Mission of The Methodist Church, 1939-1968. (New York: General Board of Global Ministries, The United Methodist Church, 2005), p. 206.Tags: Black Methodists for Church Renewal, Boston University, Fellowship of Reconciliation, India, James Lawson, Ohio, Pennsylvania, Race, Social Justice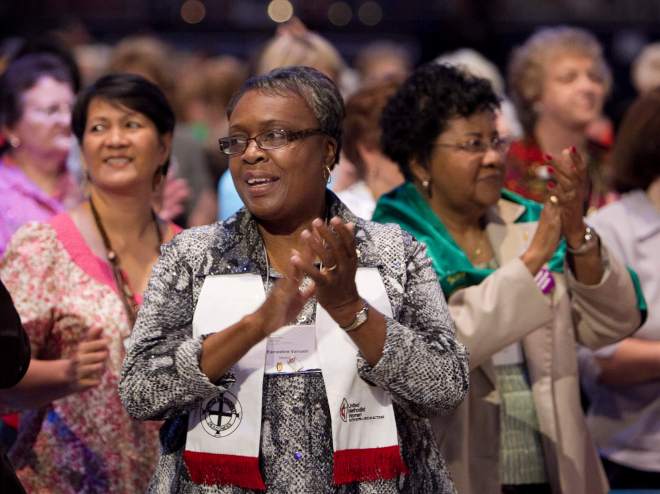 Earnestine Varnado at the Women's Assembly, 2010. PHOTO: MIKE DUBOSE, UM News
Earnestine Varnado: Church and Community Worker serving as parish nurse.
My journey into Church and Community ministry began (without my knowledge), when I was a young teen. I enjoyed going to the local school on Sunday after church to help register community residents for oral Polio vaccinations. I thought it was an honor to be asked by my teachers to assist with this community activity. I always thought I was third, well really fourth (my elderly great aunt lived with us) in command at home until my three orphan cousins came to live with us. Then I was the oldest sibling.
I graduated from high school and received a scholarship to Alcorn A&M College (now Alcorn State University) and majored in chemistry, with the idea that I could work and then get a master's degree in Sociology later. After attending Alcorn, I developed an interest in nursing and our local hospital was just being built. I was accepted into the first nursing class in 1971. I worked at the local hospital for six years and went to work at the McComb Children's Clinic for the next 18 years. My duties included staff nurse, making rounds with the pediatrician, and instructing mothers about infant care at home.
I served as a Home Health Nurse and thought this is what I'd always wanted. Then I saw an advertisement in our local paper for a 12-hour per week opening for a part-time Parish Nurse at a local church mission. When we heard "parish," we thought of Louisiana. I applied and was hired. The part-time status lasted four months, but I was already doing 40+ hours. The pastor/director called and asked if I would consider a full-time position, as funds had become available through a Department of Housing and Urban Development (HUD) grant. I prayed, accepted—and it has been a joy.
That project (Project Forward), now with St. Andrew's Mission, was accepted as a United Methodist Project with General Board of Global Ministries and I was commissioned as a Church and Community Worker in 1998. Later, in 2006, I was consecrated and commissioned as a deaconess.
I serve at St. Andrew's Mission as Parish Nurse and helped with the opening of the first Free-Health Clinic in our area. We have eight volunteer physicians, a nurse, and a receptionist, presently. I coordinate community health fairs (at schools, churches, malls), blood drives, screenings at our activity center, and as instructor for First-id/CPR, parenting, anger management, and Bible studies.
St. Andrew's Mission has three thrift stores and a partnership with a fourth. It supports a food ministry that serves hot, balanced meals twice weekly and provides food subsidies to the elderly and handicapped. An activity center serves people 45 years and older. Other ministries include a free health clinic, Mission House for homeless men, and the most recent addition—the Job Incubator, with space and support for small business owners.
Throughout all these years, my mission statement, chosen in 1998, is still relevant to where I'm called:
"Seek the peace and prosperity of the city to where you're called. Pray for it. If it prospers, you too shall prosper." (Jeremiah 29:7)
Taken from New World Outlook magazine, Fall 2017 issue. Used by permission.