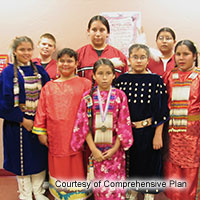 Project Information
Developing leaders and churches within the Native American community
Describe the need affecting community
Native American people fall at the bottom of the economic ladder in the U.S., with many reservation areas considered the poorest parts of this nation. Therefore, the majority of ministry done by NACP falls within the category of ministry with the poor. In order for most indigenous persons to participate in training opportunities offered through NACP (and the general church), financial assistance is required.
How will this Advance project help to address the need?
Our project through The Advance will help with this need by providing a scholarship for the registration fee ($100) for sixty individuals who otherwise could not attend a Leadership Development event sponsored by NACP. The registration fee represents the participant's contribution toward their sleeping room, meals, handout materials and other event-related items. NACP events are typically three day/two night training sessions.
Describe the primary goal of the project
The primary goal of this project is the enhancement and development of leadership skills for Native American United Methodists. Long term impact will be an increase in the number of these people taking on leadership responsibilities within the local church and having a positive impact on the vitality of the local church.
Describe the change you would like to see in the community as a result of this Advance project
We would like to see a ripple effect radiating out from the leadership development training event. Others would be impacted by what they are witnessing in these people who return to their home church and home communities. Others would be encouraged to also participate in future events. These people would show enhanced leadership skills and activities.
Contact Information